What If...The Charlotte Hornets Never Traded Kobe Bryant?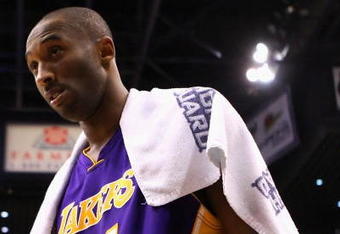 Christian Petersen/Getty Images
Hindsight is always 20/20, but it proves even more gut wrenching when you're talking about saving a city's franchise.
In the 1996 NBA draft, the now relocated Charlotte Hornets selected Kobe Bryant with their 13th selection overall. They would eventually trade his draft rights away to the Lakers for center Vlade Divac.
Looking back now, the Hornets obviously would never have done the deal, though Bryant insistence that he not play for Charlotte was going to override any decision the Hornets made. Still, what could have been?
First you have to understand the love affair between the Hornets and the city of Charlotte. Getting an NBA franchise in 1988, the Hornets didn't go long until they became on of the most popular teams in the NBA. In fact, in the 1996-97 season, the Hornets ranked first in the league in attendance.
Prior to that season, the Hornets did have an obvious need for a center. Trading away star big man Alonzo Mourning the season before to the Heat had left a void in the post. They did get Anthony Mason from the Knicks, but lack of a big man became the issue.
So that combined with Kobe's teenage lust for the big city kept the Hornets away from a future superstar.
If the Hornets could have worked something out with Bryant, their '96-97 starting lineup would have probably looked something like this:
C Matt Geiger (came over from the Heat in the Mourning deal)
F Anthony Mason
F Glen Rice
G Kobe Bryant
G Muggsy Bogues
Not a bad lineup considering Rice had his best year statistically in that season, earning him Second Team All-NBA honors.
If Bryant had stayed in Charlotte, the local fans might not have completely abandoned owner George Shinn for his questionable moves. Alonzo Mourning was a big fan favorite in the Queen City, as was Larry Johnson, and Shinn dealt them both. Keeping Kobe Bryant and benefiting from his surefire HOF career would have been a big boost for Shinn, whose public image will always be disgraced, in the Charlotte area at least.
So the 1996-97 season would be played with Geiger in the middle and Mason as the power forward. The Hornets didn't have a draft pick in 1997, but in 1998 they selected Ricky Davis from Iowa. Davis has had a decent career, but if the Hornets have Kobe, they don't need another shooting guard.
So in the '98 draft, they then could grab the guy at the 21st spot that the Pacers ended with in the 25th spot: Al Harrington.
And then, in the perfect world of what could have been, the Hornets would be set with their first round pick in 1999, who actually was point guard Baron Davis.
Your lineup then looks like this for the 1999-2000 season:
C Elden Campbell
F Derrick Coleman
F Mason/Harrington
G Kobe Bryant
G Baron Davis
An All Star caliber lineup for sure. With Rice and Geiger gone, Coleman and Campbell would take over their respective spots.
And all this could've been if Kobe had stayed.
Back to reality: in 2002, the Hornets attendance dropped to dead last in the league, despite just six years before being the best. The city's frustration with Shinn's decision making and various moral failures was a fury taken out on not just him but on the entire Hornets franchise.

After failing to strike a deal for a new arena, Shinn relocated the Hornets to New Orleans. However, Charlotte was promised an NBA franchise, and they did get one in the Bobcats two years later. But the new blood in town has yet to taste the successes of their Hornets predecessors.
As for Kobe, we all know what happened to him after that draft day in July of 1996. Eleven All-Star appearances and four championship rings, and a guaranteed spot in the hall of fame.
But oh what fun it is to think...what if Kobe had been a Charlotte Hornet for life?
This article is
What is the duplicate article?
Why is this article offensive?
Where is this article plagiarized from?
Why is this article poorly edited?

Los Angeles Lakers: Like this team?