Penn State Buries Ball, Brandon Lafell, and LSU In The Mud Bowl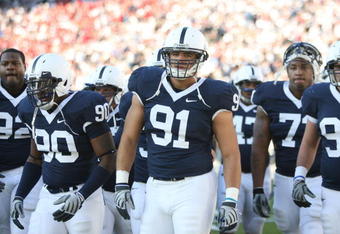 Hunter Martin/Getty Images
Orlando, FL—With roughly (this word will be used a lot) .36 seconds remaining on the game clock, and the LSU trailing Penn State 19-17 in the Capital One Mud Marsh and Mayhem Bowl, sophomore QB Jordan Jefferson connected with senior WR Brandon Lafell on a short screen to the middle of the field for a four yard gain, which brought the Tigers to the 49-yard line.
The play call—screen to the middle of the field on a route well short of the first down marker with no remaining timeouts—has been decried by fans and media, who continue to question Les Miles' time management skills.
Once Lafell went down, the Tigers hurried to the spot in order to line up for the "clock it" play—formerly known as a spike—to stop the clock with approximately .24 seconds left.
As they lined up, Penn State's senior LB Navorro Bowman wrestled to remain on top of Lafell—who he outweighs by roughly 30 pounds—and the football, while precious time ticked off of the clock.
One of the Pac 10 officials—who were repeatedly mistaken for certain SEC officiating crews that have struggled this year—was right on top of the play, but seemed to make no attempt to get Bowman off of Lafell, nor spot the ball for scrimmage.
LSU's senior right tackle, Lyle Hitt, attempted to pull Bowman to his feet and was pulled down himself while the official pulled his flag out to call roughly the most unjustified personal foul of the Bowl Season.
Clearly, Hitt was not trying to win a good citizenship award, but nor was he committing a foul.
The referee—part of a crew that was confused to the point that earlier in the quarter they had to delay the game for roughly ten minutes as they ruled a second down to be fourth down and then third and then second again—should have done his job.
And frankly, the flag should have been against Bowman for delay of game, if not a personal foul against Lafell.
Then, after the penalty was assessed and while it was being explained to LSU, the clock was restarted—which is technically correct, but egregious in that the referee allowed for and then added to the confusion with a horrible call, causing precious seconds to run off the clock before the ball was spotted.
So it all came down to a fourth-and-a-mile from LSU's 40 yard line with just three seconds to play on roughly the worst field—due to recent resodding after several high school championship games and the Champs Sports Bowl—ever used for a collegiate football game. 
There would be no Blue Grass Miracle in Florida.
There would be, however, the obligatory second guessing by some disgruntled LSU fans and many rival supporters who enjoy twisting any bad outcome into a "proof" positive that LSU's Mad Hatter is just plain crazy.
They say that this game's ending, like the ending of the 2007 Auburn Game and this year's Ole Miss debacle, is evidence of his inability to manage the clock.
Well, I guess, as the old saying goes, "one out of three ain't bad," because like the 2007 Auburn game, this was anything but a clock management issue.
You can criticize the screen call—which Miles defended somewhat halfheartedly in the postgame press conference—and perhaps some earlier play-calling by offensive coordinator Gary Crowton. You can question why there were so many dropped passes (on offense and defense), but it's hard to just chalk this up to bad management.
The Tigers lost first and foremost because Penn State won.
Having played in sloppy weather all year, Penn State was better prepared for the conditions, and was able to get its offense going earlier and more consistently. 
LSU's defense also had a hard time adjusting to the field, but was able to hold Penn State primarily to field goals, including on four trips inside the five-yard line. They kept the game close, but could not overpower the Nittany Lions' attack, led by senior QB and bowl MVP Daryll Clark.
Miles and player representative Kelvin Shepard made no excuses in the press conference, both stressing several times that Penn State played on the same field with the same referees—who were unbiased in their incompetence, though it did hurt LSU more in the end—and in the same weather.
So, when all is said and done, Joe Paterno and his kids deserved to win the game, even if the Tigers didn't deserve to lose.
On the other hand, the bowl organizers, more than anyone, deserve to have mud on their faces for allowing the "top non-BCS bowl" to turn into the muddiest and messiest thing college football has seen this side of the firing of Mike Leach in Lubbock, Texas.
Mud Bowl Results
PSU 19-LSU 17
This article is
What is the duplicate article?
Why is this article offensive?
Where is this article plagiarized from?
Why is this article poorly edited?

LSU Football: Like this team?