Ken Whisenhunt and You Had The Most Impact On Phoenix Sports This Decade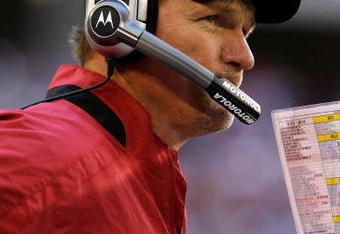 Christian Petersen/Getty Images
Ten years, 3652.42199 days, 87,658.1277 hours or 5,359,487.66 minutes are what mathematically make up a decade. Mathematics is all well and good but what makes up a decade in Phoenix sports?
How about one World Series title, a two time NBA MVP, numerous blockbuster trades, a coach losing his mind on national television, two new West Valley venues, two National League West titles, an improbable trip to the Super Bowl and a bankrupt franchise.
The last ten years, the Valley's first full decade with all four major sports has been one of the busiest in the city's history. With so much that has happened, it begs the question: what person, or people, had the biggest impact since 2000?
I have never hidden my love for the Phoenix Suns on this site or anywhere else. My home office is covered in Charles Barkley and Steve Nash posters and I even once named a dog Penny (he proved to have health issues and be a financial drain, so I sent him to live with a nice man named Isaiah in New York for nothing). For me and most Suns fans, the obvious choice for best of the decade would be Steve Nash. He triumphantly returned to Phoenix and helped turn the Suns from a 29 win NBA doormat to a 62 win title contender. He won back-to-back NBA MVPs, helped "revolutionize" the point guard position –by revolutionize I mean he saved the league from "me-first" point guards such as Stephon Marburry– and proved that thirty-something white guys can be cool in the NBA. His Sampson like hair and Herculean effort were some of the most impressive of the 2000's — the decade's ending and I'm still not sure what the consensus name for it is yet — but he didn't have the most impact. For all the regular season accolades and excitement, he and his team never played in an NBA Finals let alone won a title. Phoenix was a Suns town before Nash came and will continue to be long after he is gone. He is just another great player in a franchise history full of them.
An argument for Luis Gonzalez or Randy Johnson would be a decent one. They had franchise-defining and record-setting seasons. They energized the city, ended a baseball dynasty and helped bring Phoenix its first major championship. Although the argument would be decent, it wouldn't be the strongest one. It's like arguing Lord of the Rings: Return of the King as the greatest movie of all time. Sure it was good and is probably the best in its genre, but can a movie with a main character named Bilbo Baggins really be the greatest cinematic achievement ever? Johnson and Gonzalez played for an owner who wanted nothing more than to win a title. He spent the money to put an all-star caliber lineup on the field and won two division titles and a World Series in the franchises first five seasons. Johnson put up hall of fame numbers in purple and teal –not so much in Sedona red– and Luis Gonzalez has one of the single most memorable seasons in Phoenix sports' history, but not the largest impact of the decade.
Shane Doan is worth entreating into the conversation. According to our crack research staff — myself and Google search– he was the only player to have played the entire decade as the member of a Phoenix team. Unfortunately for him, he played for the one franchise that was all but forgotten for a majority of the ten years. Mismanagement, a work stoppage and a move to the West Valley poke too many holes in Doaners candidacy.
Then there is Jerry Moyes and Wayne Gretzky (I said most impact, not best). These two managed to put a franchise into bankruptcy faster than Uncle Billy put the Bailey Building and Loan Association on the brink of extinction. Between poor hockey operation decisions by "the Great One" and even poorer business operation decisions by the trucking magnate, the team went from perennial playoff contenders and growing fan base to a relocation candidate hemorrhaging fans faster than money. The only way things could have been worse was if Moyes had the millions of dollars Glendale invested in the team wrapped up in a newspaper and misplaced it during a trip to Canada. Although their impact was large they were spared the "honor" because of the impact the two winners had on this decade.
I probably have you completely confused at this point. I've listed the city's champions, MVP, longest tenured player, most hated duo and most people's choice for best of the last ten years. My choice is a little off the "beaten path" (think someone nominating The Hangover as best picture of the year, which an argument could be made).
Maricopa County Voters and Cardinal's head coach Ken Whisenhunt had the biggest impact of the decade.
That's right, you and Ken Whisenhunt had a bigger impact over the last ten years than Steve Nash, Shane Doan, the Diamondbacks or anyone else. Now before you write me off faster than Robert Sarver sells off draft picks –had to get one final "cheap shot" off this decade– let me explain.
Prior to Maricopa County voters stepped to the polls and passed Proposition 302 in November of 2000, the Cardinals were playing in an antiquated college stadium and openly threatening to relocate to Los Angeles. They had one winning season in their time in the Valley and the Bidwill family repeatedly said that they'd be able to spend the money to put a winning team on the field when once they had a stadium that was up to par with of the NFL. When those 454,785 Maricopa County voters cast yeses, they not only gave their approval to build a new stadium, they changed the direction of the oldest professional football franchise. No longer were the Cardinals a tenant in someone else's facility, they were a team that soon would have their own home and identity.
That identity came in the form of a new logo, uniforms and, eventually, a coach with a new attitude.
In 2007, a season after the stadium the voters allowed to become a reality opened, the Cardinals hired former Pittsburgh Steelers offensive coordinator Ken Whisenhunt. He brought a hard nosed, no nonsense, winning mentality to a franchise that everyone, including themselves, viewed as perpetual losers and not the lovable kind.
In three seasons, 2007-2009, Whisenhunt has made himself one of the greatest, if not the greatest Cardinals coaches of all-time. He holds three of the top four season records of the franchises time in the Valley, has never had a losing season, won back-to-back division titles for the first time since 1974-1975 and lead the team to its first ever Super Bowl appearance. Not to mention he played Jesus to Kurt Warner's Lazarus, helping to resurrect his career.
You, the voters, combined with the coaching prowess of Ken Whisenhunt, changed the fortunes of a wayward franchise and it will be more than evident in the first weekend of the new decade. For the first time in their 22 seasons in Arizona, the Cardinals will spend the final week of the season worrying about a first round bye rather than draft positioning. Winning seasons are no longer the exception, they are the rule.
Thanks to you and Ken Whisenhunt, the Cardinals play in one of the best stadiums not only in the NFL but in the World, and they went from laughingstock to NFL elite. If that isn't a major impact, I'm not sure what is.
This article is
What is the duplicate article?
Why is this article offensive?
Where is this article plagiarized from?
Why is this article poorly edited?

Arizona Cardinals: Like this team?