Moving Day for Tracy McGrady? Knicks and Rockets Could Swap Disgruntled Stars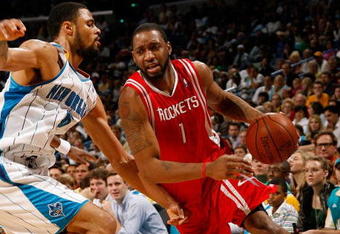 Chris Graythen/Getty Images
While the Knicks continue their climb to the playoffs, they certainly are not free from controversies or distractions.
Nate Robinson, the reigning Slam Dunk Contest champion who has not played in 12 games, was fined $25,000 by the NBA for comments made by his agent regarding a trade request.
Robinson, often criticized for his overwhelming emotions, was a key part of Knick squads in the past. But as the Knicks slowly start to look like a playoff team, he has fallen out of favor with Mike D'Antoni. His agent is now yearning for a new opportunity for his client.
Over in Houston, the Rockets have taken the entire city by surprise—dealing with injuries to stars Yao Ming and Tracy McGrady, and the loss of Ron Artest to the Lakers—and become a legitimate playoff team in the competitive Western Conference.
Although the Rockets have become a team led by strong role players at best, they have nevertheless jelled and are now in a comfort zone that Coach Rick Adelman does not want to disrupt, despite having seven-time all-star McGrady back from injury and raring to go.
Fearful that McGrady was becoming a distraction with his comments to the media regarding his lack of playing time, Rockets GM Daryl Morey granted T-Mac a leave of absence.
It sounds like these two teams could help each other out.
Neither team has anything to lose. The Rockets are reportedly becoming desperate to trade McGrady, whose $23 million contract expires at the end of this season.
While not in as dire straits, the Knicks would be smart to get rid of Robinson, before he becomes a major distraction, and Eddy Curry (another player who has fallen out of favor with D'Antoni).
Robinson's contract is also expiring at the end of this season, but his salary is nowhere near McGrady's. The Knicks could then add Darko Milicic (expiring) along with the contract of the medically retired Cuttino Mobley to make the trade work financially.
However, if the Rockets are desperate enough, the Knicks might convince the Rockets to take on the contract of Jared Jeffries, instead of Milicic or Mobley, if it meant shipping McGrady out of town.
Fortunately enough for the Rockets, Robinson and Jeffries would both fit Coach Adelman's system. Jeffries would join a host of gritty defensive specialists like himself, including Shane Battier and Chuck Hayes.
Robinson would be an even more ideal fit (although lacking defensive skills), teaming up with Trevor Ariza and Aaron Brooks as emerging role players who can score in bunches, providing an instant spark.
Like the Rockets, the Knicks have also found a system that has proved to be successful. But they have been even more firm about benching players who do not fit that system.
Bringing McGrady in at this point would be a risk, given the Knicks struggle to find the right mix all season long. McGrady may alter the successful mix for the worst.
All that considered, if the Knicks can be assured the Rockets will take Jeffries, it would be well worth the risk. It would give them added cap space for 2010.
McGrady, just like any other athlete, just wants to play. If the Knicks give him that opportunity, perhaps he would be open to adapting to D'Antoni's system.
Although it was not this year's goal, it would be nice to see the Knicks actually play competitive ball in the playoffs.
That's right; you heard it here first, playoffs!
With the Bulls crumbling, the Knicks just need to play well enough to overtake the Bobcats. As the team's stock continues to rise, it looks like a good possibility. If the Knicks actually care about looking competitive against a first or second seeded team in the East, McGrady may be able to help.
Everything, however, comes down to the same basic concept; the summer of 2010, and if the Knicks look respectable this season. Possibly earning the endorsement of McGrady gives them that much more credibility when appealing to free agents.
The deal could end up being beneficial to both teams. The real key here is whether the Knicks can, or will, make the Rockets sweat it out. The more anxious the team gets to trade McGrady, the more realistic the thought of sending Jeffries to Houston will become.
Tick-tock, Mr. Morey; February is steadily approaching!
This article is
What is the duplicate article?
Why is this article offensive?
Where is this article plagiarized from?
Why is this article poorly edited?

New York Knicks: Like this team?