Green Bay Packers' Impressive Showing Against Seattle Proves Playoff Mettle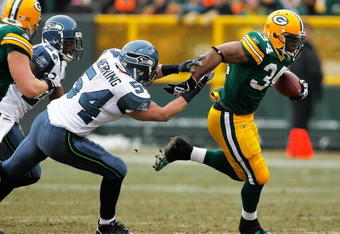 Jonathan Daniel/Getty Images
Before Sunday's game against the Seahawks, I texted one of my best friends. The message was simple, "A playoff team pummels the Seahawks." His response was equally concise, "I hope so." After Donald Driver dropped a sure first down and the Packers offense sputtered to a three and out start, I once again reached for my phone, "Here we go again."

As the Seahawks bled the Packers defense rushing the ball down the field my heart began to sink. Then, it all changed. Matt Hasselbeck threw an absolute duck right to A.J. Hawk. The Packers scored and the route was on.

You had to expect some rust after a disheartening loss to Pittsburgh last week, but it was typical Packer playoff football that pushed Green Bay into the post-season Sunday afternoon.

Green Bay hadn't put a playoff-caliber performance together all year until the Cowboys came to town. Since then, they've won six of seven, cultivating a running game and an elite defense featuring legitimate (if not prohibitive favorite) Defensive Player of the Year candidate and Defensive Rookie of the Year candidates.

It was cold at Lambeau, as it tends to be in December, but Ryan Grant, Brandon Jackson, and Ahman Green combined for 153 yards on the ground and six, yes SIX touchdowns. They were bullish, punishing, and explosive a week after the ground game was pathetic at best.

The defense did what the defense does and that's force turnovers and create pressure. Matt Hasselbeck never looked comfortable in the pocket as tipped passes and hurried throws created four interceptions and a myriad of off-target tosses.

This game was never really that close, so the rushing stats don't tell the whole story, but the Packers now rank first in the NFL against the run and still rank second in total yards despite the shredding at the hands of the Steelers last week.

Green Bay stands atop the league in turnover differential, and continue to get it done when it matters most. The Packers offense is third in the league in converting third downs, and seventh in the league in preventing opponents from converting.

Aaron Rodgers has been otherworldly on third down, and hasn't thrown a third down or red zone interception all year.

But we knew the offense would be there. Rodgers, Greg Jennings, Donald Driver, Ryan Grant et. al. were already established playmakers and Jermichael Finley, Brandon Jackson, and the Jones/Nelson duo were waiting to break out.

The question lingering from last year was could this defense prevent disastrous late-game meltdowns and help this Packer team to the playoffs.

A.J. Hawk is finally playing like a first round pick (although not a top five pick). Clay Matthews is already one of the best pass-rushers in the NFC, and Nick Barnett has probably come all the way back from injury to give Green Bay one of the deepest, most athletic, and most versatile linebacking grousp in the NFL.

Johnny Jolly and Cullen Jenkings are two of the best defensive lineman most non-Packer fans have never heard of. B.J. Raji has flashed his playmaking potential while trying to get healthy and learn this defense.

What more need be said about this secondary? The Pittsburgh game notwithstanding, this group has been as good as it gets this year. With apologies to Darrell Revis and Elvis Dumervil, Charles Woodson has been the best defensive player in the league this year and can everthing you can ask for from a player on a football field.

The loss of Al Harris has hurt, but Tramon Williams is a difference-making and is a starting-claliber corner in this league. After that, there are considerable questions, but Atari Bigby and Nick Collins ability to create turnovers help mask the deficiencies at the back end of the secondary.

Weather likely won't be much of a factor this playoffs.

A trip to Arizona, New Orleans, Dallas, or Minnesota would feature perfect conditions. Only a visit to Philly would mean a cold weather game.

Every one of those teams can score a ton of points and do so in a hurry, but all will turn the ball over and struggle against pressure. The Packers will need to get stops and control the ball with the running game while also utilizing their skill positions players to create explosive plays.

The Pack has yet to put together the perfect game, where they play 60 minutes of consistent football on both sides. The Seattle game is probably as close as they've come and it couldn't be better timing.

NFC contenders are dropping like flies, as the Saints and Vikes have struggled for the better part of a month. The Cardinals and Cowboys are wildly inconsistent, and the Eagles nearly gave the Denver game away Sunday afternoon. The Packers had by far the best showing in the NFC, and have put the rest of the league on notice, "We can be a Super Bowl contender."

They can be. They've shown they could be. Time to show they are.
This article is
What is the duplicate article?
Why is this article offensive?
Where is this article plagiarized from?
Why is this article poorly edited?

Green Bay Packers: Like this team?