Texas? Miami? USC? Ranking The Top 12 Teams of the BCS Era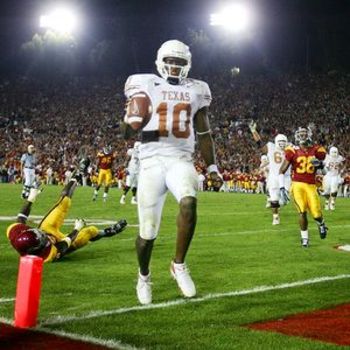 On Jan. 7, the 2009 college football season will come to a close and the 12th BCS champion will be crowned.
For the eighth time, the champion will be undefeated, and for the eighth time the champion will come from either the Big 12 or the SEC.
In the spirit of "Best of month", where the TV shows and everything else rank just about everything that went on in the year/decade, I decided to rank the best teams of the BCS Era.
I used a number of statistics and criteria to rank the teams, but one qualification was necessary; the team had to have won a national championship, BCS or otherwise.
That left me with 12 qualified teams: 1998 Tennessee, 1999 FSU, 2000 Oklahoma, 2001 Miami, 2002 Ohio State, 2003 USC, 2003 LSU, 2004 USC, 2005 Texas, 2006 Florida, 2007 LSU, and 2008 Florida.
Apologies to 2008 Texas, 2004 Auburn, and 2000 Miami, but nobody saw fit to crown you co–champions, so I'm not going to give you credit here.
I ranked the 12 in order from worst to first. Season record, strength of schedule, who was playing quarterback, and all sorts of other measurements were used to try to nail down the rankings.
So, without further ado, the 12 best teams of the BCS era* **
*As long as they were champions
**As long as you agree with me
12. 2007 LSU Tigers (12–2)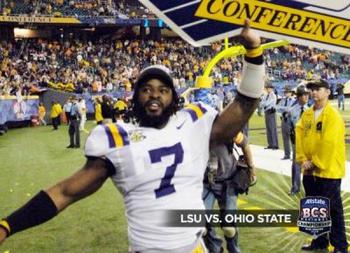 Strength of Schedule
No 10– (opponent's record 102–63) Two losses to unranked opponents
Key Players
Matt Flynn 202–359 2407 yards, 21 TDs, 11 INTs Jacob Hester 225 rushes, 1118 yards, 12 TDs, Infinitely annoying fourth-down conversion rate Brandon LaFell 50 rec, 656 yards, 4 TDs Glenn Dorsey 7 sacks, 12.5 TFLs, 69 tackles Craig Steltz 101 tackles, 6 INTs Two losses automatically lands you at the bottom of the heap. It would have taken a magical run for this team to have been better than 12th, and there was nothing magical about the 2007 season. LSU tied 2002 Ohio State for third lowest margin of victory at 19 points per game. Additionally, they lost to two unranked teams. Two losses! Where were you, Boise? Where were you, TCU? If there was a year to sneak into the championship, it was 2007. Actually, there was an undefeated team going into the bowls, but they weren't ranked very highly. Hawaii was 12–0 and earned a Sugar Bowl bid. Georgia's subsequent trouncing of the Warriors was the absolute worst thing to happen to non–AQ conferences in the BCS era. Oh, and there's that. Georgia was the best team in the SEC but they didn't go to the SEC championship because they stupidly decided to lose to Tennessee early in the season. LSU wouldn't be on this list if not for that game. Ultimately, this team had little upside and a lot of downside and that's why they're leading off this list. Plus, a Matt Flynn-quarterbacked team isn't winning against this competition.
11. 2003 USC Trojans (12–1)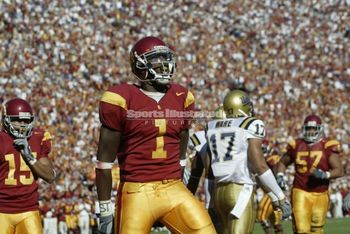 Strength of Schedule:
No 45 (84–67 opponent record) 2 ranked opponents Loss to unranked Cal
Key Players
Matt Leinart 255–402, 3556 yards, 38 TDs, 9 INTs LenDale White 141 rush, 781 yards, 13 TDs Reggie Bush 90 rush, 564 yards, 15 rec, 314 yards, 492 KR yards, 8 total TDs Mike Williams 95 rec, 1314 yards, 16 TDs Keary Colbert 69 rec, 1013 yards, 9 TDs Six years later, the BCS got it right. LSU deserved the championship game over USC. We've built up this USC team because of what they did during the next two seasons, but the 2003 squad was not that good. Still, the AP voted them No. 1 so they made the cut. Before you run off to the comments, consider the facts. The 2003 Trojans faced the easiest schedule of all of the champion teams. They also had the 110th-ranked passing defense. I'd guess that the reason they were No. 1 against the rush was partially due to their total ineptness against the pass. This team wasn't good enough for New Orleans in 2003 and they're only good enough for No. 11 here.
10. 2003 LSU Tigers (12–1)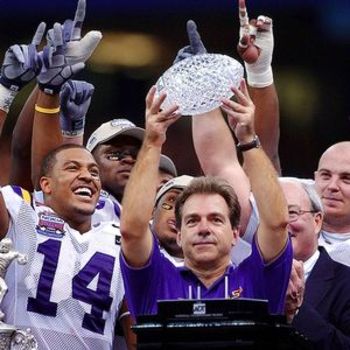 Strength of Schedule
No. 26 (95–68 opponent record) Five ranked opponents Loss to then unranked Florida Gators (finished No. 24)
Key Players
Matt Mauck 229–358, 2825 yards, 28 TDs, 14 INTs Justin Vincent 154 rush, 1029 yards, 10 TDs Michael Clayton 78 rec, 1079 yards, 10 TDs Devery Henderson 53 rec, 861 yards, 286 KR yards, 11 TDs Corey Webster 7 INTs Wait, a team that was quarterbacked by Matt Mauck is ahead of the team with Leinart, Bush, etc.? Yeah, a Mauck team is above
a
Leinart, Bush, etc. team, but not over
the
Leinart, Bush, etc. team. While LSU couldn't score like the Trojans, they could defend much better, ranking first in scoring defense and total defense. Plus, their loss was to a better team. Also, they had one more win. Wait, why am I bothering to justify this explanation? You're probably not going to like the pick anyway, and I don't think I can convince you otherwise. Just know this, the 2003 Trojans team ultimately wasn't that good, and I'm putting this team over that one because they understood how to play defense.
9. 1998 Tennessee Volunteers (13–0)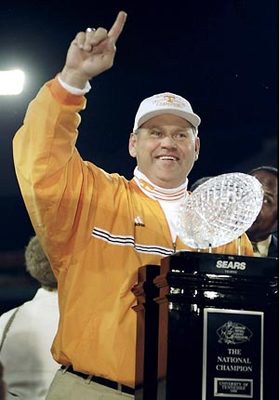 Strength of Schedule
No 22 (82–71 opponent record) Five ranked opponents
Key Players
Tee Martin 164–285, 2442 yards, 21 TDs, 8 INTs Travis Henry 195 rush, 998 yards, 7 TDs Peerless Price 65 rec, 1119 yards, 11 TDs Al Wilson (no stats, pre 2005 defensive stats are hard to find, pre 2000s defensive stats are nearly impossible. He was a monster, though) Raynoch Thompson (like Wilson, it's impossible to find Thompson stats) The first BCS champ, and an undefeated team to boot, lands at the nine spot. Some people may feel that this is too low. Smart people have already figured out that there are two one–loss champs left, and I'm a fan of that team. Is this a bit of Gator–homerism, putting Tennessee's championship this low? Maybe. I don't think so, but I'll let you decide. Despite playing five ranked opponents, Tennessee only faced the 22nd toughest schedule in 1998. That's very weak, as far as champions go. In fact, only the 2003 Trojans and the 2001 Hurricanes faced easier schedules relative to their peers. With Tennessee's middle-of-the-road schedule coupled with their lack of wow factor (four games decided by a TD or less), I can't put them higher than ninth.
8. 2006 Florida Gators (13–1)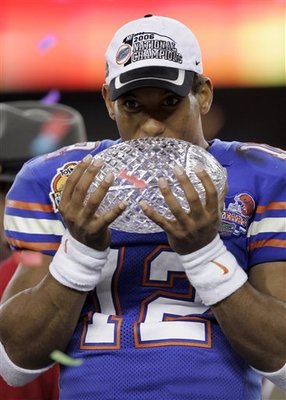 Strength of Schedule
No. 1 (108–57 opponents' record) 6 ranked opponents Loss to No. 10 Auburn (Finished No. 9)
Key Players
Chris Leak 232–365 2942 yards, 23 TDs, 13 INTs Dallas Baker 60 rec, 920 yards, 10 TDs Tim Tebow Big 3rd down conversions, Big 4th down conversions, Big rushing TDs Jarvis Moss Biggest blocked kicks in Gators' history, 7.5 sacks, 56 tackles Brandon Siler 3 sacks, 77 tackles, 10 TFLs Reggie Nelson 6 INTs, 51 tackles, multiple "Oh S*** moments" Bear with me. I know I just put my one-loss team ahead of an undefeated rival, but give me a chance to defend my selection before you tell me how stupid I am. Seriously, will we remember anyone from this team? What am I thinking, right? I'm thinking that this was a team, and that's what made them good. Most of these guys are NFL busts or never-made-its (Brandon Siler and Percy Harvin notwithstanding). I'm thinking that this team could play defense as well as any of the BCS championship teams. I'm thinking that this team played a ridiculously difficult schedule and needs to be rewarded for that. Take a moment to consider the Gators' opponents' record. To go 13–1 against teams that went 108–57 overall is pretty damn good. The Gators played 11 bowl teams including the BCS championship. That means that 10 of the Gators' 13 non–BCS championship games were against bowl teams. But the Gators didn't just play bowl teams; they played winning bowl teams. Their opponents went 7-3 in their bowl games. Call me a homer if you have to, but know that there was more than "Screw you, Tennessee!" going into this selection.
7. 2000 Oklahoma Sooners (13–0)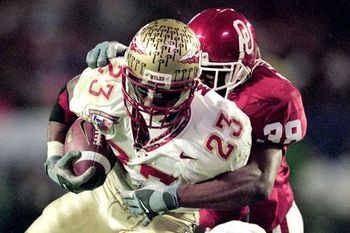 Strength of Schedule
No. 13 (87–70 opponents' record) 6 ranked opponents
Key Players
Josh Heupel 280–433, 3392 yards, 20 TDs, 14 INTs Quentin Griffin 189 rush, 846 yards, 16 TDs JT Thatcher 8 INTs, 599 PR yards, 264 KR yards, 3 Total TDs Roy Williams 2 INTs, 12 TFLs Rocky Calmus All American, named 2000's toughest player, I hate finding stats on these old guys My main memory of this team is how godawful that 2000 BCS championship was. A 13-2 game is like Ben Stein on sedatives. They also played a 12-7 snoozer at Oklahoma State. Still, the majority of their games were multi-score blowouts, hardly the boring offense that I remember. It probably has something to do with their quarterback being named Heupel. No offense to Heupels everywhere, but that's a terrible quarterback name. Alsdadadfsfaaaaaaaaa.... Sorry, I fell asleep there thinking about this team. They're No. 7 because I can't find a single defining trait, good or bad, and this is about as middle-of-the-road as you'll find on this list.
6. 2002 Ohio State Buckeyes (14–0)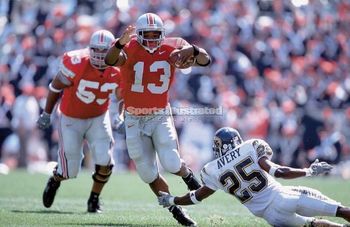 Strength of Schedule
No. 20 (100–67 opponents' record) Four ranked opponents Key Players Craig Krenzel 148–249, 2110 yards, 12 TDs, 7 INTs Maurice Clarett 222 rush, 1266 yards, 16 TDs Michael Jenkins 61 rec, 1076 yards, 6 TDs Chris Gamble 31 rec, 499 yards, 4 INTs, 293 PR yards, 253 KR yards, 1 TD Mike Doss All American, 2 INTs, 1 TD Will Smith Got Jiggy With It This team was good enough to win it all, and good enough to break into the top half of the list. Like the 2006 Gators, this is a "just win" team. Sometimes it was dominant, other times, they struggled. Their "just win effect" was stronger than the previous teams. Plus, Clarett was a monster, but the "No-Teams-QB'ed-by-Craig-Freakin'-Krenzel-Are-Making-the-Top-Five" rule bars them from moving up any further.
5. 1999 Florida State Seminoles (12–0)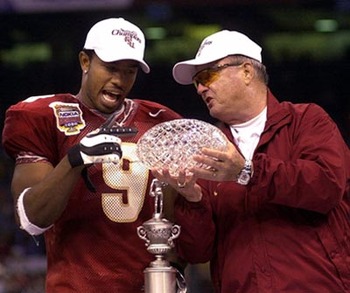 Strength of Schedule
No. 9 (82–60 opponents' record) Four ranked opponents
Key Players
Chris Weinke 232–377, 3103 yards, 25 TDs, 14 INTs Travis Minor 180 rush, 815 yards, 7 TDs Peter Warrick 71 rec, 934 yards, 227 PR yards, 9 Total TDs Tommy Polley 109 tackles, 3 sacks, 2 fumble rec, 6 TFLs Corey Simon 84 Tackles, 21 TFLs, 4 sacks Nothing exactly jumps off of the page except for Corey Simon's tackles for loss. This team was very good though. Plus, they played in one of the more memorable BCS championships so far—Michael Vick vs. FSU's stout defense. Vick won the battle, Va Tech had 503 total yards, but FSU won the war, waxing the Hokies to the tune of 46-29. Consistency is the biggest thing for this ranking. The '99 Noles only had one game that could be considered a slip up, a 17-14 win against Clemson. Their only other win by fewer than 10 points was against the No. 3 Gators in Gainesville.
4. 2004 USC Trojans (13–0)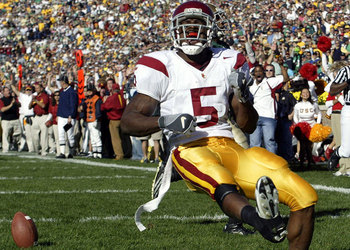 Strength of Schedule
No. 23 (82–57 opponents' record) Five ranked opponents
Key Players
Matt Leinart 269–412 3322 yards, 33 TDs, 6 INTs Reggie Bush 143 rush, 908 yards, 43 rec, 509 yards, 376 PR yards, 537 KR yards, 15 TDs LenDale White 203 rush, 1103 yards, 17 Total TDs Lofa Tatupu 104 tackles, 13.5 TFLs, 6 sacks, 3 INTs Matt Grootegoed 5 INTs, 12.5 TFLs, 68 Tackles Alright, I just put one of the "best team ever!" candidates fourth on a list of BCS-only teams. Furthermore, those of you keeping score know that there is a certain Gators team still waiting to be mentioned. I'll get to why those teams are better in the next three slides. Right now, I'll tell you why the Trojans are fourth. When I started this, I had three teams in mind for the top, then I was going to place everyone else. 2004 USC was one of those teams. After a lot of research, I added the team that ended up third and bumped the Trojans down. This was still a four-team race though. The bottom eight teams can't compete with the top four. From here on out, the teams don't have weaknesses. The Trojans could play defense and offense. They could run or pass. They could beat you with special teams. They could cause turnovers. They could do it all. Unfortunately, for USC the next three can do that too, and in most cases they do it all better.
3. 2008 Florida Gators (13–1)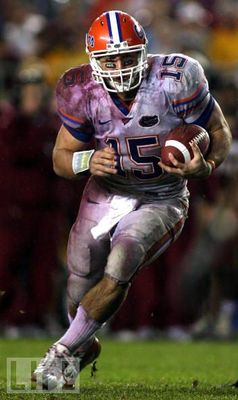 Strength of Schedule
No. 4 (107–60 opponents' record) Five ranked opponents Lost to Ole Miss (Finished No. 14)
Key Players
Tim Tebow 192–298, 2746 yards, 30 TDs, 4 INTs, 176 rush, 673 yards, 12 TDs Percy Harvin 70 rush, 660 yards, 40 rec, 644 yards, 17 Total TDs Louis Murphy 38 rec, 655 yards, 7 TDs Brandon Spikes 93 Tackles, 8 TFLs, 4 INTs, 2 TDs Joe Haden 87 tackles, 3 INTs Ahmad Black 7 INTs, 2 TDs, 59 Tackles Carlos Dunlap 9.5 sacks, 13.5 TFLs Yep, I have a one-loss team ahead of the 2004 Trojans. Those of you who aren't busy thinking up new ways to call me an idiot can read my reasoning. The Gators lost one game to the eventual No. 14 team in the nation where they turned the ball over three times, two of which led to short-field situations for the Rebels. I'm not making excuses, I'm just telling you how it happened. The Gators followed up that game with the strongest run in SEC history, winning the next six SEC games 299-63. That's an average score of 50-11. They finished out the season 10–0 and held the most explosive offense in modern football history to 14 points. Overall, they are one of three champions to have an average margin of victory of 30 or more points (2005 Texas, 2001 Miami), one of four champions to average more than 40 points per game (2005 Texas, 2001 Miami, 2003 USC), and one of only two teams to allow fewer than 13 points per game (2001 Miami). 2004 USC didn't meet any of those criteria, and they failed to meet them while playing an easier schedule. That is why the Trojans are No. 4 and the Gators are a top three team.
2 2005 Texas Longhorns (13–0)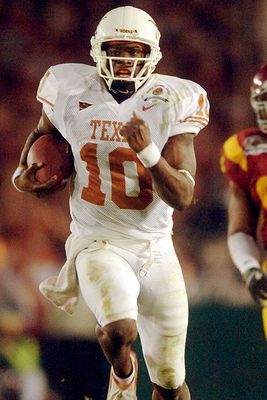 Strength of Schedule
No. 7 (88–51 opponent's record) Four ranked opponents
Key Players
Vince Young 212–325, 3036 yards, 26 TDs, 10 INTs, 155 rush, 1050 yards, 12 TDs Jamaal Charles 119 rush, 908 yards, 14 rec, 157 yards, 13 Total TDs BIlly Pittman 34 rec, 750 yards, 5 TDs Aaron Ross 3 INTs, 31.5 tackles, 500 PR yards, 2 TDs Brian Robinson 6 sacks, 13.5 TFLs, 34 tackles Picking number two was easy. The only thing I had to ask was "Which team could play the 2001 Hurricanes evenly?" The 2008 Gators and the 2004 Trojans could have beaten the Canes, but it would have been fluky. The 2005 Longhorns would have been less than 10 point underdogs on a neutral field. Texas had the best offense of all of the champs, at 50 points/game. Most of that was thanks to Vince Young, who out–Tebow'ed Tebow for their champion seasons. Young is joined by only Dan LeFevour in the 3000 passing yards, 1000 rushing yards club. Young did his against far better competition, and while the stakes were much higher. His season can only be described as Peyton Manningish. I don't mean UT Manning, I mean 2009 Colts Manning. Take Manning off of the Colts and they are a 3-11 team right now. As it stands they are 14–0. He is responsible for more wins in a season than any player in NFL history. He's making scrubs like Pierre Garçon look like serviceable receivers and doing it without a running game. That's what 2005 Vince Young was like. Oklahoma State, Ohio State, and USC definitely beat the Longhorns without Vince Young. I don't know about the rest; the games were too one-sided to tell, but it's very likely that they were one-sided because of Vince Young. He made up 61% of the Horns' offense. The only player on a major team that I can think of who was a larger part of his team's offense was 2007 Tebow, who was responsible for an astronomical 70% of his team's yards. I just thought up an award for the best player on a BCS–era champion, the Champsman. Vince Young wins the Champsman (Tebow is second, Reggie Bush third), and he's the reason that the Longhorns are No. 2.
1. 2001 Miami Hurricanes (13–0)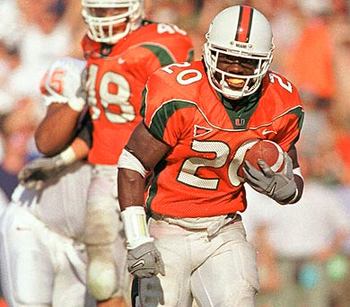 Strength of Schedule
No. 27 (87–70 opponents' record) Six ranked opponents
Key Players
Ken Dorsey 206–353 2652 yards, 26 TDs, 10 INTs Clinton Portis 240 rush, 1304 yards, 16 rec 154 yards, 12 Total TDs Andre Johnson 44 rec, 881 yards, 281 KR yards, 12 TDs Jeremy Shockey 45 rec, 604 yards, 8 TDs Ed Reed 9 INTs, 53 tackles, 2 TDs Jonathan Vilma 87 tackles, 8 TFLs, 3 FFs William Joseph 10 sacks, 22 TFLs, 67 tackles, 4 FFs How good was this team? Look around the NFL; literally every good player played currently in the NFL played for "The U" in 2001. Alright, that was a HUGE exaggeration, but here's an actual list of players on that team who have played professional football: Ken Dorsey, Clinton Portis, Frank Gore, Willis McGahee, Najeh Davenport, Jarrett Payton (Walter Payton's son), DJ Williams, Kellen Winslow Jr., Andre Johnson, Jeremy Shockey, Vernon Carey, Bryant McKinnie, Brett Romberg, William Joseph, Santonio Thomas, Vince Wilfork, Jonathan Vilma, Antrel Rolle, Phillip Buchanon, Sean Taylor, Ed Reed, Mike Rumph If you kept that team together, and developed them, they would beat a lot of NFL teams. No single college team can compete with an NFL team thanks to a lack of development across the board, but if you took the guys from the 2001 Miami and kept them together, you'd have a hell of a team once they hit their mid 20s. Just look at that backfield—Portis, McGahee, and Gore, with Najeh Davenport as the short yardage back. Then you've got Andre Johnson, the best deep receiver in football, and two of the best TEs in the game in Winslow and Shockey. The O-line is anchored by two monsters, Vernon Carey and Bryant McKinnie. Defensively, the secondary would be the best of all time, and the front seven wouldn't be too shabby. Ken Dorsey is the only weak link, but that's even more evidence of the 2001 Hurricanes' absolute dominance. They made Ken Dorsey look like a serviceable QB. He wasn't a Tebow/Graham Harrell type, a guy who plays a system that doesn't translate to the NFL, either. He was a 6'4 pro style QB who just sucked when he didn't have such a great team to play with. Still, he got a chance in the NFL because of his amazing team. In the end, Ken Dorsey is the most telling evidence to this team's greatness. Instead of being a Craig Krenzel who clearly held back a strong team, Dorsey managed to place third in the Heisman. Just imagine how good this team could have been with Vince Young.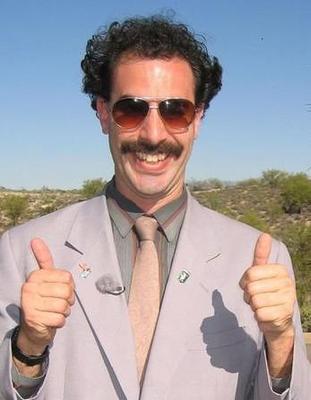 Thanks for the read!
Love it? Hate it? Comments are at the bottom. I'm looking forward to your opinion.
Love the BCS? Hate the BCS? Follow the link below and comment over there. http://bleacherreport.com/articles/301495-bcs-busted-rd-2-debunking-every-insidethebcs-myth
It could use the love.
Keep Reading

Texas Longhorns Football: Like this team?