Coyotes Need to Take Next Step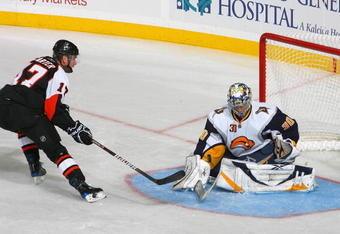 Rick Stewart/Getty Images
*NOTE* All of these proposals are contingent upon Ice Edge getting the team and giving Don Maloney money to spend*
For years I have been waiting for the Coyotes to take the step of getting a solid head coach in control of the team. Now that this task was completed by hiring Dave Tippett it is time to take another step towards making this team into a serious contender. I am very happy with how things have gone so far this season, in fact it is the first time in a long time that I am proud to call myself a Phoenix Coyotes fan.
The team is playing well behind a new system, Ilya Bryzgalov, and a pack mentality. The defense has a snarl to it because of a mix of youth and veteran. Yet there is one thing that this team is missing which it will need if they want to become a bonafide contender for the Stanley Cup (Coyotes and Stanley Cup in the same sentence?). Phoenix's struggles the last few years have been related to scoring. For the most part, Shane Doan has been the go to man for goal scoring the last few seasons, including a career best 31 tallies last season. But with his slow start the Coyotes have had to look to others for goal scoring help. Radim Vrbata, who scored 27 for the Coyotes two seasons ago, is at the top right now with ten goals. Behind him are Scottie Upshall with nine, then Doan and Robert Lang with seven apiece. The team is ranked 27th in the league with just 79 goals but holds a high standing in the Western Conference in the seven spot. What needs to be done is the organization needs to go out and get a goal scorer. The team has two first round picks in the up-coming draft as well as two second round picks in the 2011 entry draft. With a plethora of young talent in the system the Coyotes can afford to sacrifice some of these picks for an elite scorer which may be available. Here are some names to consider:
Jeff Carter: The Philadelphia Flyers have been struggling recently despite the coaching change. With very little cap space and some key young players coming up to free agency in the next few years (Braydon Coburn, Ryan Parent, Claude Giroux, James van Riemsdyk) they will need room to keep them. Carter is signed for one more year at $5 million. With his wrist shot and other offensive talents he could be a valuable asset to the Coyotes.
Eric Staal: If you are asking yourself why the Carolina Hurricanes would possibly trade their top forward, then you are asking yourself the right question. It will take a very convincing package besides picks to pry the young star out of the Southeast. But if Don Maloney can create a package centered around the picks and a top six defenseman the Coyotes could add a very talented forward who is signed for the long term. A rumor here and there about Staal possibly being available has cropped up saying he may be available.
Nathan Horton: Horton may not be as big of a name as Staal or Carter, but he can put the puck in the net. Rumors of being available have been abound this season as the Panthers find themselves in the bottom of the standings again. He would be the least expensive out of these three but would definitely be worth the package.
As I noted at the beginning of this, these ideas are all contingent on the fact the Ice Edge group gets the team and allows Don Maloney to spend money. All signs point to this being true but I have learned to never take anything for granted.
This article is
What is the duplicate article?
Why is this article offensive?
Where is this article plagiarized from?
Why is this article poorly edited?

Phoenix Coyotes: Like this team?