What The John Lackey Deal Means For This Year and Years to Come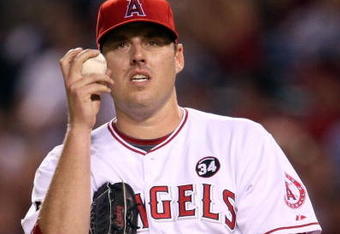 Stephen Dunn/Getty Images
The Red Sox have made a major headline free agent signing and it was not Matt Holiday or Jason Bay it was star starting pitcher John Lackey. This signing seemed to come out of no where, it seemed the Red Sox had their sights on Adrian Beltre, Jason Bay, or Matt Holiday. Lackey is coming off an amazing postseason where he went 1-1 with a 2.29 era and an opponent batting average of .241. Now, we know what this means for the starting rotation the Red Sox will have three aces in John Lester, Josh Beckett, and now Lackey. But, to me this signing is sending me two messages from the Red Soxfront office. The first message is that there is a very good chance the Red Sox will not sign Josh Beckett after this season. Beckett's deal is up at the end of the season, and their have been rumors that the Red Soxand Beckett's agent have been no where close to signing an extension. Is Lackey the backup plan for the Red Sox incase they can't sign Beckett back? I think the front office is concerned that they can't get Beckett, and Lackey seems like a reliable replacement for Beckett. The second message the front office is sending is that Clay Bucholtz may as well pack his bags, because he is gone. Bucholtz is one of Boston's best trade pieces, and we all know they have been going hard at Adrian Gonzalez. Boston has a hole at third base and their two options are either sign Adrian Beltre who is very injury prone or trade top prospects for Adrian Gonzalez and move Kevin Youkilis back to third base. If the Redsox were to trade for Gonzalez they would need to give up more than Bucholtz probably two of Casey Kelly, Ryan Westmoreland, Ryan Kalish, Junichi Tazawa, Josh Reddick and Michael Bowdin. So, obviously Adrian Gonzalez will be very costly to the Red Soxfarm system, but he would really put this team over the top. In an offseason that has already been crazy I have a feeling the Red Soxare ready to make a couple big splashes in trades and the free agent market.
This article is
What is the duplicate article?
Why is this article offensive?
Where is this article plagiarized from?
Why is this article poorly edited?

Boston Red Sox: Like this team?