Where Dat!? A Saints Fan's Review Of The Louisiana Superdome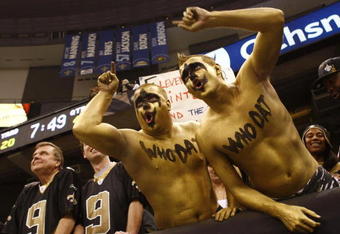 Scott Halleran/Getty Images
Home of the New Orleans Saints and the Tulane Green Wave, the Louisiana Superdome has hosted many big-time events since it first opened in 1975. The Superdome has witnessed six Super Bowls and four NCAA men's final fours.
Legends and dynasties have been born in one of New Orleans' most iconic structures. It was in the building in 1982 that a young Michael Jordan hit the game-winning shot for the North Carolina Tar Heels to win the national title. Nearly 20 years later, the underdog New England Patriots took down the St. Louis Rams' Greatest Show on Turf to win their first Super Bowl.
Unfortunately for Louisianians, the most historic wins by the Superdome's tenants are a just a pair of playoff wins by the New Orleans Saints. That could all change this year.
On November 8, 2009, I set out with a group of seven other Saints fans to watch the Saints take on the Carolina Panthers.
FANFARE Score: 23
F ood & Beverage: 4 (out of 5)
In addition to your usual selection of hamburgers, hot dogs, and nachos, the Superdome also offers some local flavor to spice up your eating experience. Southern Louisiana cuisine is known for its unique flavor, and the Superdome's selection of local dishes helps the concessions stand out. Crawfish pie, alligator sausage, and chicken and sausage jambalaya are all offered from $5.50-$7.50.
A tmosphere: 3
The Superdome is one of the loudest venues in the United States when the Saints are doing well. The Saints quickly fell behind by two touchdowns in this game and you could hear a pin drop throughout the first half. The quality of the atmosphere made a turnaround only as the Saints marched their way to another second half comeback.
N eighborhood: 4
One of the qualities of the Louisiana Superdome that allows it to host so many big-time events is its location. The dome can be found in the middle of downtown and in walking distance of several hotels, restaurants, bars, Harrah's Casino, and the convention center. It is also close to New Orleans' historic French Quarter neighborhood.
One thing that attracts so many people to New Orleans is its party-like atmosphere and lenient alcohol laws. It is legal to walk the streets of New Orleans with an open container and that was quite evident on this particular Sunday afternoon. There were several "vendors" along our twenty minute walk to the dome selling domestic beer starting at $2 a bottle. We even came across a man who had his very own miniature cocktail set and offered passers-by a drink for $5.
There are so many fantastic eateries within walking distance of the Superdome that it is impossible to talk about them all. Here are two places that are a must for any visitor.
Mother's- The eight of us waited outside in line for 20 minutes before gaining access to this New Orleans institution, but it was worth every minute. I got the Ferdi, a fantastic po-boy loaded with ham, roast beef, gravy, and debris (think of the goodness at the bottom of the pot and that's debris) all on French bread. The fried shrimp po-boy and the John G., a po-boy loaded with roast beef, ham, and turkey both come highly recommended by my friends.
Café Du Monde- The original is located in the French Quarter on Decatur Street and is about a 25 minute walk from the Superdome. Café Du Monde is home of its famous beignets (think deep-fried powdered pastry).
What keeps the neighborhood rating from being a perfect five is its cleanliness (or lack of) and high crime rate.
F ans: 4
Saints' fans are among some of the passionate and loyal in the NFL. After rumors circulated in 2005 that the Saints would move to San Antonio or Los Angeles after Hurricane Katrina forced the Saints to evacuate the city for a full season, fans have sold out every game since the start of the 2006 season and that trend appears likely to continue for many more years.
As mentioned earlier, though, Saints fans can get awfully quiet when the Saints trail by multiple scores.
A ccess: 3
While private lots offer parking for anywhere from $10-$20, there is plenty of street parking less than a mile from the dome. New Orleans does not have a good public transportation system so expect to walk everywhere.
R eturn on Investment: 4
If you like scoring, the Superdome is the place to be for an NFL game. The Saints are averaging 36.7 points per home game during the 2009 season. I paid $50 for my ticket near the top of the dome and could see the action well. As someone who grew up 35 minutes from downtown New Orleans and has been to many Saints games, there aren't many bad seats in the Superdome.
E tc: 1
The Superdome is one of the oldest buildings in the NFL and is in the process of receiving a much-needed facelift. There are a few New Orleans Saints' division championship banners along with a few Tulane banners hanging in the dome but not much else.
This story was originally published on December 10, 2009 on http://stadiumjourney.com/.
This article is
What is the duplicate article?
Why is this article offensive?
Where is this article plagiarized from?
Why is this article poorly edited?

New Orleans Saints: Like this team?