Five Teams the Big Ten Should Target for Expansion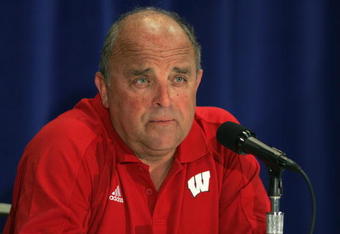 Doug Benc/Getty Images
The cries for Big Ten expansion go back a couple of years when Penn State's Joe Paterno said the conference was at a major disadvantage with only 11 members.

Paterno's point is a valid one. The Big Ten's football schedule ends three weeks before the other major conferences. Adding a 12th member may also make the conference a more serious threat in college basketball.

This week, the outcry became more substantiated. Wisconsin athletic director Barry Alvarez has joined Paterno, claiming Big Ten officials will put a heightened interest in expanding the conference to 12 schools in the near future.

Notre Dame is the logical choice, but the school declined an invitation to the conference in 1999 and won't be giving up its independent status in football anytime soon.

Conference bylaws require any potential Big Ten additions to meet two major requirements.

First, the school must be located in, or directly next to, current Big Ten territory.

Second, any new school must adhere to the conference's high academic standards. Each of the 11 current member schools belong to the Association of American Universities and rank in the top 75 of U.S. News & World Report 's list of top American research institutions.

Paterno went as far as naming a couple programs that could be targeted under the conference's expansion plan. I'll raise Paterno by giving you five schools Big Ten officials should target as their next member.

5. University of Cincinnati

Brian Kelly put the Bearcats football team on the map before bolting for Notre Dame. Bob Huggins helped bring the men's basketball team back to prominence. The women's basketball program is fairly competitive.

But quite simply, the university's academic rankings just aren't high enough. Cincinnati is the only school on this list that isn't an AAU member or ranked in the top 85 of U.S. News and World Report 's aforementioned list.

And finally, Cincinnati just joined the Big East in 2005. Another conference jump seems highly unlikely.

4. Iowa State University

ISU is quite possibly a parallel version of Cincinnati. The university's academics are good enough but the football and men's basketball teams are not very good.

The Cyclones' women's basketball team, however, is pretty competitive. The wrestling team is one of the country's most successful, boasting many conference and national championships.

If ISU were to join the Big Ten, they would join Wisconsin as the league's only schools not fielding a baseball team.

3. Syracuse University

Syracuse University is the first of three very real possibilities for the Big Ten.

Academics are clearly not an issue—Syracuse ranks higher than nearly half of the current Big Ten member schools in USN&WR 's list.

The problem for Syracuse is in the athletic department, most specifically, the men's basketball team. There's little doubt the Orange is one of the country's best under Jim Boeheim, but what reason(s) would the university have to move out of the Big East?

Syracuse is one of the best teams, year in and year out, in the country's deepest men's basketball conference. That clout alone likely would allow the school to stay put.

2. Rutgers University

Many Big Ten expansionists want to widen the league's footprint instead of condensing within the current territory. What better place to expand than to a school with ties to the New York television market?

Rutgers would add another high-middle class football program to the conference. The Scarlet Knights likely wouldn't be threatening Ohio State and Penn State for conference supremacy any time soon, but would look to be another version of Wisconsin or Iowa.

The conference's women's basketball clout would rise dramatically. C. Vivian Stringer leads one of the nation's best women's basketball teams and would compete with the likes of Ohio State and Michigan State for Big Ten, and national, bragging rights.

1. University of Pittsburgh

Adding the Panthers might not extend the conference's national footprint, but adding Notre Dame wouldn't have either.

Pittsburgh brings it all: a strong football program, an up-and-coming women's basketball program, a top-notch men's basketball program and outstanding academics.

Even more, the Panthers could intensify their rivalry with Penn State while creating a potential rivalry with Ohio State, whose campus is just a three-hour drive down I-70 away.

With the Panthers on board, the conference would have to split its 12 teams into two six-team divisions, a la the Big 12 and SEC.

The best and most logical alignment would be a North and South divisions. The alignment would look something like this:

Big Ten North: Minnesota, Iowa, Wisconsin, Northwestern, Michigan, and Michigan State.

Big Ten South: Illinois, Purdue, Indiana, Ohio State, Pittsburgh, and Penn State.

Only time will tell us who will be added to the Big Ten, if expansion even becomes a reality. If logic prevails, the University of Pittsburgh will jump out of the Big East to immediately become an athletic force in the Big Ten.
This article is
What is the duplicate article?
Why is this article offensive?
Where is this article plagiarized from?
Why is this article poorly edited?