My Top Ten Joshi Wrestlers of All Time
I considered doing a top ten all-time Joshi list and a top ten active Joshi list but decided on ONE because of too much overlapping. Anyway, I hope you enjoy my rankings...even, if you disagree....and invite all to submit your own list.
I will publish my top ten American-based female wrestlers soon but, for now, on to my all-time favorite Joshi wrestlers...
Megumi Kudo - FMW (Retired)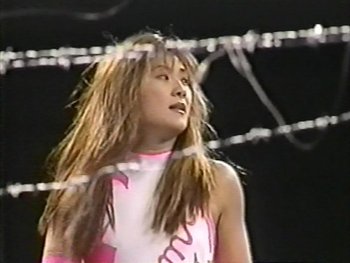 The "Evil Princess", as Megumi is known...which is ironic, considering she was the most popular female wrestler in Japan & a babyface...became a legend for her participation in BRUTAL & BLOODY deathmatches, usually fought in barbed wire or in a ring, wired with explosives.
I kid you not,...and making it "crazier" was her incredible beauty and how much blood she must've lost in her career.
Unfortunately, Megumi didn't have the kind of solid competition in Frontier Martial Arts Wrestling (FMW) than she would have had in All Japan Women (AJW), which is where she started her wrestling career.
Megumi's "hardcore style" also...wrongly, I might add...classified her as solely a brawler & nothing could be more farther from the truth. Megumi was a SOLID & COMPLETE wrestler, introduced me to the beautiful world of Joshi wreslting and will, forever be my favorite all-time female wrestler...regardless of wrestling company!
Manami Toyota - AJW, GAEA Japan, Oz Academy (Active)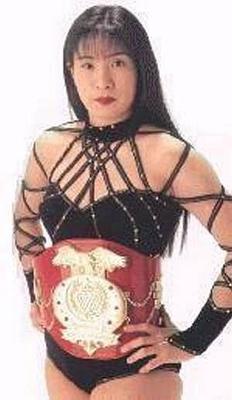 Widely regarded as the greatest female wrestler of all-time, Manami Toyota is a true legend in the wrestling business, not just Joshi, and at the age of 38, is still kicking butt in Japan. She made her name in AJW, where she was a 4-time WWWA Champion & 3-time WWWA Tag Team Champion. She went to GAEA in 2002, won the AAAW Championship & AAAW Tag Title once each & left in 2004. She freelanced with many promotions...which she still does, at times...and now wrestles for Oz Academy...whose owner is Mayumi Ozaki...and where she is the current Oz Academy Champion!!
Manami's incredible assortment of moves are legendary...my favorites include the Manami Roll, missile dropkick, no-handed springboard somersault plancha & the Japanese Ocean Suplex...and, while she's not as agile or flexible as she used to be, she can still out-wrestle most women AND men today!! I know her time is ending soon & that will be a SAD day for ALL of wreslting but, at least, we still can enjoy & marvel at the legend that is, Manami Toyota!!
Kana - NEO (Active)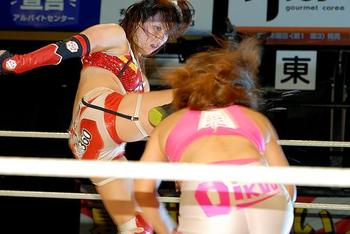 Much as I love Manami Toyota, my favorite active wrestler is Kana. She's a bit of a late bloomer, as she's 28 years old & has just become a true mega-star in Joshi.
I, myself, didn't know much about her until late 2008 but she's now my idol, LOL!! Her STUNNING looks, sex appeal and charisma are great attributes but what has set her apart is her amazing "bitchiness" in the ring & her BRUTAL kicks!!
To me, there's not a better kicker in Joshi today & her submission style is also a big plus...not to mention, that one of her signature moves is the Ass-Bump, which was one of Megumi Kudo's signature moves, too.
Kana wrestles for several companies in Japan but, mostly, works for NEO, where she won her 1st title recently...NEO Tag Team Championship, with her partner Nanae Takahashi.
Along with Natsuki*Taiyo, the trio make up one of the more popular cliques in Joshi today....PASSION RED!!
I never saw Megumi Kudo wrestle live and will, most likely, miss out on Manami Toyota but hope to see Kana wrestle in Japan, at some point!! You ROCK, Kana!!
Ayumi Kurihara - Freelancer (Active)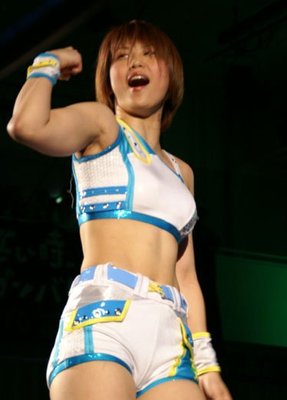 Ayumi Kurihara debuted less than five years ago, is only 25 years old & has been through so much already.
She was considered one of the top future stars of Joshi when, on July 16, 2007, she broke her clavicle receiving a hard flying clothesline in a tag team match.
She returned to the ring on Dec. 9, 2007 in the main event tag team match on Michiko Ohmukai's retirement show...Michiko was one of Ayumi's trainers...and on Dec. 20, 2007 Ayumi underwent the surgery in which the doctor removed bone and bone marrow from her hip to use to reconstruct her clavicle along with a titanium plate and screws.
She began light training around mid-March 2008 and made her triumphant & much-anticipated return to the ring on December 14, 2008!!
Her hard-hitting style is what has made her famous in the wrestling world, though it might have played a role in her injury. Her missile dropkick is one of the best in the business and her uranage finisher is AWESOME!!
She's not afraid to take stiff shots or dish them out but I hope Ayumi stays healthy enough to become as good as she can be...and, for me, to see her live!!
Mariko Yoshida - Ibuki (Active?)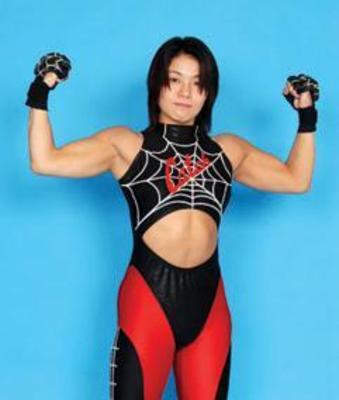 Mariko Yoshida debuted with AJW around the same time that Manami Toyota & Megumi Kudo did but it was in 1997, when she went to ARSION, and became a star.
She's a two-time ARSION singles & tag team champion & launched the Ibuki promotion in 2005. Unfortunately, it seems like Ibuki is going under.
Mariko is one of the best trainers around & a submission specialist, whose Spider Twist & Air Raid Crash finishers are fantastic & legendary. In 2006, she became only the second female wrestler (besides, Cheerleader Melissa) to win the Cauliflower Alley Club's Future Legend Award!!
Rumors are rampant that Mariko is on the verge of retirement but they've since been denied.
Mima Shimoda - Freelancer (Active)
Better known as 1/2 of the most violent but popular female tag teams in history...Las Cachorras Orientales or LCO...Mima Shimoda was always my favorite, with all due respect to Estuko Mita.
While Kana has perfected the "bitch role", it was Mima who invented it...the original "bitch", if you will. Her raspy voice & sex appeal...as evidenced by the photo... are the stuff of legends!
Mima is known for her Death Lake Driver & Axe Kick and was a 4-time WWWA Tag Team Champion with Estukp Mita. Also, noteworthy is that Mima Shimoda was, originally, teamed with Manami Toyota in AJW & they became the Tokyo Sweethearts and quite popular.
The AJW braintrust thought they could become the next Beauty Pair or Crush Gals but, ultimately, the chemistry between Manami Toyota & Toshiyo Yamada won out and the rest is history.
Mayumi Ozaki - JWP & Oz Academy (Active)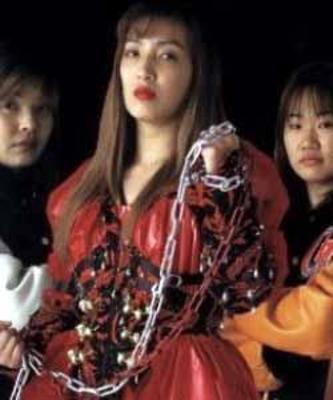 Without question, one of the TOUGHEST women around, Mayumi Ozaki has been wrestling for 23 years & is still going strong at 41.
She started in JWP, is a one-time WWWA Tag Team Champion (with Dynamite Kansai), a three-time JWP Tag Team Champion & has owned Oz Academy since 1998.
She is famous for her steel chain, which she carries everywhere, & "hardcore" style...even, competing in the IWA Mid-South "Queen of the Death Match" tournament in the USA in 2006 and making it to the final...but she is also infamous for turning Oz Academy a bit stale, with her booking, and losing "hair matches" and, in the process, being bald most of the time...not a good look, for any woman, especially an attractive one like Mayumi.
Michiko Ohmukai - LLPW & ARSION (Retired)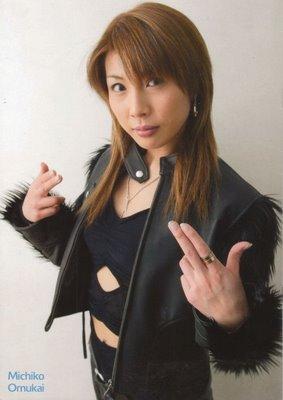 Michiko Ohmukai was not only gorgeous but a solid wrestler and played the "bitchy" role perfectly. She retired too early, at 32, because of marriage & had a baby girl in December of 2008.
She was a three-time ARSION Champion & a one-time Twin Star of ARSION Tag Team Champion. She was also ARSION MVP in 1999.
She had some classic battles vs. Aja Kong, Mima Shimoda & Yumi Fukawa during her time in ARSION.
She also trained Ayumi Kurihara, among others, & taught her the Uranage finisher, which was one of Michiko's signature moves. She is missed greatly, especially because we were "robbed" of her greatness too early.
Yumi Fukawa - AJW & ARSION (Retired)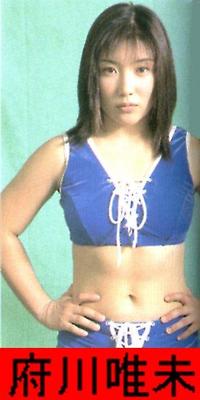 The perfect example of looks & toughness, Yumi Fukawa was a tough cutie but, because of her hard-hitting style, had to retire at the age of 25.
Her retirement match was at Tokyo's famous Korakuen Hall against Mariko Yoshida on March 20, 2001, and is considered a classic!!
She had many photobooks published & they were all quite popular! Easy to see why...she is gorgeous!!
Cutie Suzuki - JWP (Retired)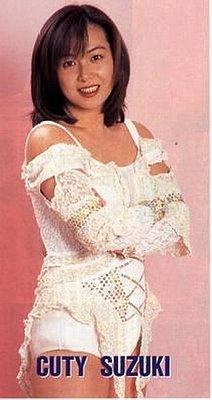 Her real first name was Yumi, she only wrestled for 12 years & was widely regarded as the cutest...no pun intended...joshi wrestlers! However, she was a five-time JWP Tag Team Champion and tough as nails!!
Like Yumi Fukawa, Cutie had several popular photobooks & also made some action movies...as, what else, an ass-kicking beauty!
Keep Reading