Why Mark Ingram Winning The Heisman Shows Why The Award Is a Joke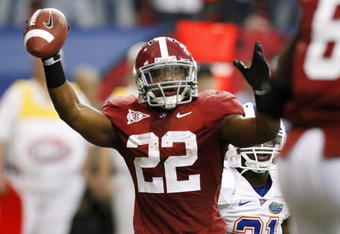 Kevin C. Cox/Getty Images
No Disrespect to Mark Ingram or the University of Alabama but he did not deserve the Heisman, and i think really only two of players in New York Deserved it and that's why this award is just a joke.  First let me run you through who finished where we know Mark Ingram won, Toby Gerhart was second followed by Colt McCoy, Ndamukong Suh, Tim Tebow, CJ Spiller, and finally Kellen Moore.  When I first see this standings I am just in shock that Suh is not even in the top 3 but somehow Colt McCoy is third, are you kidding me?  The Heisman Trophy is supposed to go to the most outstanding player in college football not the best offensive player on the best team.  I mean Ingram was not even the best running back in New York that was Toby Gerhart.  Alabama fans can say all they want if you take Ingram away from Bama they would not be in the National Title game, well what if you took Gerhart away from Stanford.  If Stanford did not have Toby Gerhart they would not be going to a bowl game this season.  How can you say someone like Ingram who had 30 rushing yards in a rivalry game deserves the award over someone who averages over 200 rushing yards a game against top 25 teams.  Gerhart beats Mark Ingram in just about every category, rushing yards Gerhart has 1736 rushing yards to Ingram's 1542 rushing yards not to mention Ingram had one more game than Gerhart.  Gerhart has 26 rushing touchdowns to Ingram's 15.  When you look at the numbers there is no case for Mark Ingram to win the Heisman over Toby Gerhart.  But, this wasn't the first problem with how the voting turned out, Colt McCoy ahead of Ndamukong Suh is just a plain joke.  Suh is easily the best defensive player in the nation and his game in the Big 12 championship game should have put him ahead of McCoy in the Heisman race.  Suh was an absolute beast in the Big 12 championship game with 12 tackles and 4.5 sacks.  What did Colt McCoy do to be ranked ahead of him?  Just 184 passing yards and 3 interceptions, I guess those are Heisman numbers right?  Anybody that gave Colt McCoy a first place vote should lose their vote, McCoy had a decent season but in his two biggest games of the season McCoy was terrible in both games and was more of a reason why his team almost lost than why his team won.  You could make a strong case for Gerhart or Suh for Heisman but neither won it, why you ask.  To make it simple the award is all about media hype, if it wasn't Toby Gerhart or Ndamukong Suh would have been holding the Heisman Trophy not Mark Ingram.
This article is
What is the duplicate article?
Why is this article offensive?
Where is this article plagiarized from?
Why is this article poorly edited?

Alabama Crimson Tide Football: Like this team?