Jim Leavitt Is Incompetent in Picking Offensive Coordinators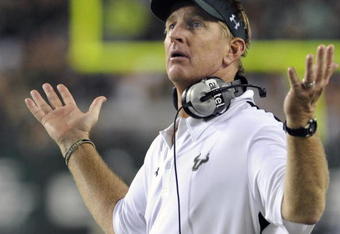 Al Messerschmidt/Getty Images
As  alumni  I am getting tired just like everyone else at Jim Leavitts fumbling of the program. I went to Lakewood High in Saint Petersburg Florida with William Floyd, and Tommy Carter who went on to have great N.F.L careers from Pinellas County. Lived in the same neighborhood with Ernest Givens long time N.F.L receiver. There were about another dozen other guys around that with a commitment to education from their parents could have been professional athletes, people who could dunk the backboard. My point is that Pinellas, Hillsborough, and Sarasota counties have the talent to create a National championship team. Kids from these areas have comprised Florida, Florida State, and Miami for years. Leavitt is a great defensive mind, and a sorry manager when it comes to hiring a offensive coordinator like a Gus Malzahn, Norm Chow or even a Al Borges. Mark Mangino would be perfect because middle school, and high school teachers talk like him to their students in the state of Florida. Lack of offensive imagination is why Brian Kelly, Mark Dantonio, and Bobby Patrino have become coaching stars on the back of sorry Management by Leavitt with less resources . Yes Leavitt started the program from scratch, but again the Tampa Bay area is flooded with football players because, football is God in the Tampa Bay area. The current coordinator Mike Canales was fired as the Offensive Coordinator  for the University of Arizona Wildcats for a reason, that was apparent this year. No excuse for having a rookie quarterback, we got beat by Cincinnati's rookie quarterback. The last Coordinator Greg Gregory stated in the Tampa Tribune that Leavitt wears his players out during the season why they collapse every year. Whatever it is, we need a coach, who can take the talent in the area to the next level, while keeping educational integrity. Lou Holtz would not be a bad idea. We can not pay 5 million for a top tier head coach, but a coach in the 2 million dollar range with $700,000.00 to pay for each coordinator, then 2 million for the rest of the coaching staff would get the job done, which has been started well by Leavitt, but not finished, and it does not seem like he is willing to change to get the job done. It is a lot of money for football, but a lot of money has been spent already, and there is a lot of revenue to be made with a winning football team in America's 10th largest television Market. It also has to be a coach who really believes in the talent in the area, who genuinely wants to, and thinks he can win a national championship. Bobby Bowden won 2 national championships in 30 years. So, winning one is not easy, or really reasonable. But, getting beat by better coaches at Rutgers, Cincinnati, and Pittsburgh is ridiculous. Leavitt gets out coached by Dave Wannstedt who gets out coached all the time by everyone else. 
This article is
What is the duplicate article?
Why is this article offensive?
Where is this article plagiarized from?
Why is this article poorly edited?