The BCS Fiasco Averted..Almost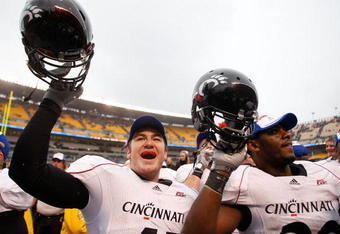 Jared Wickerham/Getty Images
The BCS may have actually gotten it right. Maybe. Maybe, Texas and Alabama are the best teams in the NCAA, just like USC and Texas were probably the best teams in the nation in the 2006 Rose Bowl. Maybe we do have the two best teams in the National Championship Game. But what about upsets? What about ALLOWING for a possibility that Alabama or Texas could be upset? This is why year in and year out the fans demand a playoff. We deserve better. When Boise State beat Oklahoma in 2007, and Utah derailed Alabama last year, it made sense to me. How can we tell how good Cincinnati, TCU, and Boise State are until we put them on the same field with Florida, Alabama, or Texas? The BCS has been flawed since its conception in the 1998 season. Auburn goes undefeated in 2004 and gets denied a chance to COMPETE for a national championship, whereas in 2007 LSU loses two games and goes on to win the National Championship. A lot of times, we punish teams by their strength of schedule and conference placement. The Big East is a prime example this year. Had Miami, Boston College and Virginia Tech not defected to the ACC, and an undefeated team came out of the ACC this year, we would be having the same conversation. But Cincinnati plays in a "weak" conference, thus gets denied. The BCS National Championship is a race between three conferences, the Big 12, the SEC, and and the Big 10, and when USC is good, the Pac 10. Since 2004, the Big 10 and Pac 10 have only sent one team to the National Title game, USC and Ohio State. The SEC has sent three. Are we saying that the best teams in the nation for the past five years have without argument been Texas, LSU, Florida and USC? Its obvious that Oklahoma and Ohio State cannot beat SEC teams in the title game, yet they keep getting invited to get beat down year after year. A playoff is the only way we can solve this problem. Should we just hand the Yankees and the Phillies the world series every year, even though we know through playoffs that the Yankees have choked for the last 7 out of the last 9 years? We shouldn't do it in college football either. Let the boys play. Let the best team win. 
This article is
What is the duplicate article?
Why is this article offensive?
Where is this article plagiarized from?
Why is this article poorly edited?