New York Yankees Should Focus on Adding John Lackey, Not Roy Halladay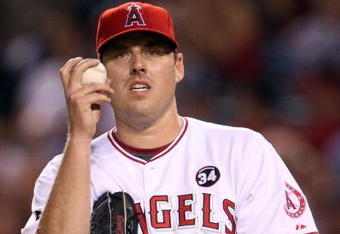 Stephen Dunn/Getty Images
With the Baseball Winter Meetings set to open on Monday in Indianapolis, expect the rumors to fly, and figure the Yankees to be garnering headlines.
In fact, some stories have already come out, with predictions that the Yankees will reduce their payroll for the 2010 season. Of course, like last year, the public pronouncements about slashing payroll could be nothing more than a smokescreen, something that Yankees general manager Brian Cashman is adept at concocting.
Remember when Cashman declared that the Yankees were comfortable with Bubba Crosby starting in CF in the offseason following the 2005 regular season? Then the Yankees swooped in and signed Johnny Damon when no one expected it.
Last year, history repeated itself when Mark Teixeira, who seemed headed to Boston, signed with the Yankees, and then revealed at his press conference the Yankees had been trying to get him from the start of the offseason.
This year's cloak and dagger act may be all about securing the best starting pitcher on the market. Reading between the lines, one gets the sense that John Lackey will be in Pinstripes come April.
Why Lackey? The Yankees have been linked primarily to Andy Pettitte and Roy Halladay thus far. It would seem more likely that one, or both, will be with the Yankees next year, right?
Go back to the 2007-08 offseason, when the Yankees were presented an opportunity to trade for Johan Santana, and then sign him to a lucrative, multi-year contract. The Yankees backed away, despite the fact that Santana was a two-time Cy Young winner.
They did so because they believed the cost in prospects and cash was too much of a burden on the organization.
While the Yankees were initially second-guessed for their decision when they failed to reach the playoffs in 2008, the critics backed off last offseason, when the Bronx Bombers spent to sign free agents CC Sabathia, A.J. Burnett, and Mark Teixeira.
One World Series title later, thanks in part to players the Yankees didn't trade to Minnesota, Cashman looks smart for holding off on that Santana trade.
Returning to the present, one wonders how a trade for Halladay would make enough sense from the Yankees' perspective. Halladay is four years older than Santana was when he was dealt, and Halladay has logged over 700 more innings than Santana had at the time of the Mets' acquisition of him.
Working in Halladay's favor is his familiarity with the American League East, along with his unquestioned durability. Plus, the thought of having C.C. Sabathia, Halladay, and A.J. Burnett slotted as the top three pitchers in the rotation would make the Yankees prohibitive favorites to repeat as champions.
However, the idea of trading three prospects and signing Halladay to a four-year extension for roughly $90 million should be enough to make the Yankees reconsider. While Halladay would be a tantalizing addition, the Yankees have shown in recent years a reluctance to make similar moves.
As for Pettitte, he was brought back last season and expected to fill the role of the veteran #4 starter in a deep rotation. Chien-Ming Wang's ineffectiveness and injuries thrust Pettitte into a more prominent role, and he was solid.
Back in February, the idea of Pettitte being required to pitch on three days' rest in the postseason would have been cause for Cashman to swing a trade or sign a veteran innings-eater. Yet, that's exactly what Pettitte had to do for the Yankees in the 2009 playoffs, and things worked out. However, the Yankees do not want to be faced with the same predicament in the postseason next season.
The Yankees have publicly stated they would like to have Pettitte back, but they made similar public overtures to Bernie Williams toward the end of his career. Pettitte, who turns 38 in June, is the same age Williams was when the Yankees decided Bernie's playing days were over.
I'm not trying to draw a comparison from Pettitte's free agency to how Williams was handled late in his career. However, it would appear that the Yankees are saying the right things, knowing that Pettitte will either pitch for them, or retire. They can rest assured knowing Pettitte will be back, if both sides can come to terms.
Still, as great as it would be for the Yankees to have the steady Pettitte return, he is not a frontline starting pitcher anymore. He is a good, league-average pitcher, and should be viewed as such. Should he return, it should be as the team's No. 4 starter.
Whatever the outcome is regarding Andy Pettitte, it is clear that the Yankees need a third above-average starting pitcher. The best available option on the open market is John Lackey, hands down.
As speculation of where Lackey will sign begins to grow, the Yankees have yet to be associated in those rumors. Teams mentioned as being interested in Lackey include the Seattle Mariners, Los Angeles Angels and New York Mets. Yet the Yankees should be considered the front-runners, despite not being published as such.
Lackey, at this point is his career, enters free agency as more reliable and less injury-prone than A.J. Burnett. Lackey is also two years younger than Burnett was last winter when he cashed in, and Lackey also has postseason experience, something Burnett did not have. With rumors of a $100 million total price tag being floated in media reports, Lackey's suitors could diminish, leaving an opening for the Yankees to pounce.
The Yankees do not know exactly what they have in Phil Hughes, Joba Chamberlain, or Ian Kennedy. They are not sure what Pettitte's intentions are, although they believe he will return.
It would be nice to simply re-sign Pettitte and hand over the No. 4 and No. 5 spots in the rotation to two of the home-grown pitchers, but none of the youngsters have shown enough to be given anything, and at this stage of his career, Pettitte is not a great option in the No. 3 spot in the rotation.
As much as Yankees fans would like to see Halladay and/or Pettitte in the rotation next season, the Yankees financial and human resources should be directed toward signing John Lackey. He presents the Yankees with the best available option to fill the No. 3 spot in the rotation, and his arrival would allow Brian Cashman the flexibility to explore trade options to fill other holes.

And if Pettitte does decide to return, he can be properly slotted in the No. 4 spot the Yankees had in mind for him last year.
For more sports insight: http://masterprocrastinator.wordpress.com/
This article is
What is the duplicate article?
Why is this article offensive?
Where is this article plagiarized from?
Why is this article poorly edited?

New York Yankees: Like this team?