Sending the Right Message: Michigan State Should Play in a Bowl Game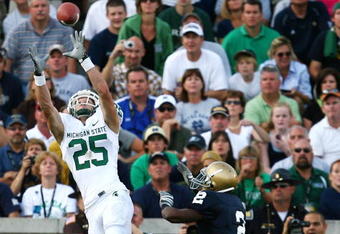 Jonathan Daniel/Getty Images
In light of the transgressions committed by more than a handful of Michigan State football players, the program has instantly gone awry and the future is completely indefinite.


The situation is so drastic not only because these players represent the university, but some of them—Mark Dell, Chris L. Rucker, B.J. Cunningham—have been consistent starters. Then there's the whole wait-and-see period taking place right now as more players involved in the incident are still attempting to be identified by local police.


Has the situation been a black mark on the program and the university? Yes, of course it has. However, I still believe the team should accept and play in the bowl game for which they are eligible.


It's not about increasing coach Mark Dantonio's bowl streak as the Spartans' head coach, nor is it about making money for the university. It's about the players.


More specifically, it's about the good guys.


It's about the players who kept their cool and were smart enough not to get involved in a situation that will lead to precarious results and legal action. These players deserve the opportunity to play in a bowl game because they focused on football rather than instigating pointless disputes.


Think about hard workers like Blair White or Kirk Cousins. These players were as quiet off the field as they were loud on it. They went to practice, followed team rules, and played for their teammates.


The players involved in the on-campus incident apparently only thought of themselves.


Listen, I don't condone players acting like egotistical knuckleheads on or off the field, and it's even worse when players take advantage of the gifts that were given to them. It's an area of college football that has grown to become as prevalent as that in the NFL.


Some players have no boundaries.


But at the same time, some players do. These are the players who don't take things for granted and realize it was a long journey to reach the point of playing Division-I football in the NCAA.


They endured the blowout wins and the painful losses, so why should they be subjugated to the indiscretions committed by their teammates?


Players play together, learn together, and support each other. How does reprimanding players who follow rules send a good message?


I understand the NCAA is full of politicking and looking out for the sake of its product, but most of these Michigan State players don't deserve to be sitting at home when they could take part in a bowl game.


Each bowl game is an once-in-a-lifetime experience, and going to bowl games may not be something players experience every season.


The NCAA needs to come out and stand up for the players who play for the good of the game, and going in the other direction would only prove that bad deeds have more of an impact in the grand scheme of things.

This article is
What is the duplicate article?
Why is this article offensive?
Where is this article plagiarized from?
Why is this article poorly edited?

Michigan State Football: Like this team?