The Roy Halladay Debate Continues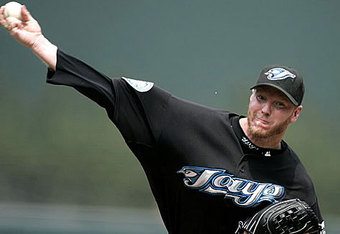 It appears the Toronto Blue Jays have two options for Roy Halladay and the 2010 season. Get a deal done before Spring Training ends or face the consequences of losing their ace pitcher to free agency.
According to Jeff Berry, one of Halladay's representatives, if Halladay reports to Spring Training, all bets are off.
"One thing is certain—once Roy reports to Spring Training as a member of the Blue Jays, from that point forward he will not approve or even discuss any potential trade scenario,"
Without question Halladay is the most coveted pitcher amongst a group of free agent starters. Halladay removed, veteran Angels right-hander John Lackey and oft-injured Canadian Erik Bedard, are the cream of this years crop.
No wonder the debate is beginning so soon after the World Series.
With a new general manager in Alex Anthopoulos, and the Jays in the midst of numerous off-season moves, Halladay remains the key to their 2010 season.
His dominance began in 2002 and has not appeared to slow down. Six All-Star Game appearances, a Cy Young in 2003, and the responsibility of carrying this club on his back with little or no help, has helped launch him on the main stage with the likes of the New York Yankees and Boston Red Sox vying for his services.
Many are asking the question, "What happens if he does not get traded"? "Where does this leave the Toronto Blue Jays"? How will they get compensated for losing, arguably the best pitcher this franchise has ever developed.
With help from MLB.com and their most recent piece on the subject, you will get a better understanding of how this simple, yet dynamic situation can play out.
If the Blue Jays do not trade Halladay this offseason and the club is forced to watch him walk away as a free agent next winter, Toronto would likely have to settle for a pair of compensatory picks in the 2011 First-Year Player Draft. By dealing him now, the Jays can potentially land Major League-ready players to help Anthopoulos strengthen the team's core.
This scenario is not "the end", it marks only a bump in the road for a team looking for an identity in a division where the meek are becoming dominant.
Will the Jays get what they deserve for a Premier Tier One starter? That is not always the case. For example, take the Minnesota Twins and the dilemma they faced when dealing with the departure of Johan Santana.
The Twins dealt Santana, which in hindsight, was well below market value.
Despite injuries, and the constant conversation of Santana's decreased velocity, he has been a complete pitcher, not as dominant as we remember, but a pitcher who will take the ball every fifth day, get you 17 wins, and throw 200 plus-innings. A solid number one, that the New York Mets, at the time, could not do without.
The Twins received, four top prospects, one of which that has shown or had moderate success (Carlos Gomez).
Gomez was recently traded to the Milwaukee Brewers for struggling shortstop J.J. Hardy who closed out the regular season at .229 clip. Gomez, in part of three major league seasons, is a slick-fielding middle infielder with a .246 career average, but has a tremendous upside.
Where does that leave the Jays? It leaves them having to make the best possible decision for the club in the long run. They cannot afford to miss this opportunity to turn a middle-of-the-road club, into a contender in the highly competitive American League East.
This article can also be found on The GM's Perspective.
This article is
What is the duplicate article?
Why is this article offensive?
Where is this article plagiarized from?
Why is this article poorly edited?

Toronto Blue Jays: Like this team?