Chris Johnson Doing His Best Reggie Bush Impression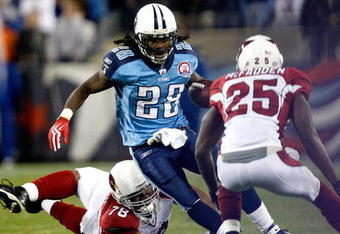 Streeter Lecka/Getty Images
This is your classic tale of the beauty and the beast.
The beauty...a 6 foot, 200 pound gazelle with abs of steel and beautiful women on his arms. He was the proverbial toast of the town in southern California for years as he leapt and hurdled over helpless defenders, just hoping not to turn into poster material.
The beast...a speedy, quick, versatile back that won't run over you but will run circles around you. From the depths of East Carolina, this back was never supposed to be great. He was potentially a change of pace back that wouldn't blow anybody's mind but could be just elusive enough to make it in the NFL.
Therefore, our knowledge of fairy tales has always told us that we are supposed to revere the beauty and defame the beast. But this is no ordinary fairly tale; in this story, the tables have turned.
The Beauty, Reggie Bush, was supposed to re-define the running back position. Out of USC, we were holding our breathes, waiting to see if he was going to make NFL defenders look as perplexed as the PAC 10 opponents he left in the dust for years. He won numerous collegiate awards including the Heisman Trophy, and was deemed a can't miss prospect by the likes of THE Mel Kiper Jr.
The Beast, Chris Johnson, Selected 24th overall by the Tennessee Titans was a shock to many people, seeing that the Titans had spent two fairly high draft picks in previous drafts (Lendale White and Chris Henry). But, his 4.24 speed, making him the fastest man in the NFL, turned a lot of heads.
So where did their path's stray so far apart? Why has Bush become a flex back while CJ is an every down back? These questions have many possible answers but I will give a few...
Hype
When it was made clear that Reggie Bush was not going to be the number one overall pick in the 2006 draft, many teams began to scramble as to what it would take to acquire the second pick needed to draft bush. The New York media most famously the night before the draft put on the front cover of the Daily News, "Get Bush," a statement to the NY Jets to pull the trigger and do whatever needed to be done to get the star.
Johnson did not have to deal with the same pressures. Drafted in the late first round as a fairly little known product out of ECU, he burst onto the scene for the Titans and proved to be one of the best backs in the NFL. He never had the same pressures to do well and therefore played well beyond his means.
Talent Around Them

In college, Bush played with some of the best talent in the country. Besides the skilled position players around him, he had a very good offensive line and a great system that was committed to getting him the ball and showcasing his skills.
Johnson on the other hand had a very different college experience. He played with good, but not great talent. This leads me to believe that he really had to learn to hit the holes that were given to him and use his burst of speed to make something out of nothing.
Offensive Scheme
Finally, each player had a very different NFL experience when they first came into the league.
Bush was quickly second in the depth chart behind Deuce Mcallister, an accomplished running back that received most of the carries. Bush soon turned into nothing more than a flex back. The pass-first Saints' offense to this day does not feature a single running back, and with numerous weapons, Bush has gotten lost in the shuffle. Though he has been effective, he is a shell of what he was and should have been.
Johnson was put in the best possible situation for him. After Kerry Collins took over, Johnson was given the carries necessary for him to develop. His offensive line, anchored by guys like Kevin Mawae and Michael Roos, opened huge holes for the running back. His breakaway speed is second to none in the league and even when teams know he is getting the ball it doesn't seem to matter. That is the sign of a great running back.
Nevertheless, my point is this. Chris Johnson is everything and more that we expected from Reggie Bush when he came into the league. Their careers are moving in a very different directions and while highlights of Bush at USC will play for years, Johnson will be raising the Lombardi Trophy before you know it.
This article is
What is the duplicate article?
Why is this article offensive?
Where is this article plagiarized from?
Why is this article poorly edited?

Tennessee Titans: Like this team?