PRESSURE MOUNTS ON BOISE STATE FANS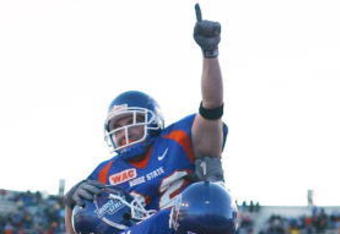 Jeff Gross/Getty Images
The smack talk has already started. Are the Boise State Broncos the real deal or are they the team that many claim to be just an average college football team that plays a weak schedule?
I spent some time yesterday trolling the various web sites and Bleacher Report home pages for Boise States potential opponents in a BCS Bowl game. Granted, the Broncos must win this weekend to be considered for a BCS invitation but it appears they should be able to handle New Mexico State with ease. Most of the so called experts have BSU headed to the Fiesta Bowl for a game against Iowa, Penn State or possibly TCU.
The Iowa Hawkeye's various blogs and home pages have comments from ranging from one or two stating that Boise State will be competitive but the large majority of Hawkeye fans are suggesting that the Broncos will be 'destroyed' by Iowa. "BSU had a schedule packed with cream puffs" states on Hawkeye fan. Another says "Iowa will destroy the Broncos. BSU will be lucky to score on our fast and physical defense."
The comments from the Penn State web sites and home page are a little more reserved in their statements but some in the Nittany Lions camp agree with the Hawkeye fan base that Boise State isn't ready for 'prime time.' "If Boise played in the big ten they would have lost at least 5 games" says one Penn State poster.
Perhaps both the Iowa and the Penn State fans need a small dose of facts. Boise State beat the present #7 ranked BCS team, the Oregon Ducks. It was a commanding victory and not nearly as close as the 19-8 final score may suggest. On the year Oregon averages 231 yds. rushing per game. BSU held the Ducks to 31 yds and only 6 total first downs either by passing or rushing. Oregon ended the game with 152 total yards (rush and Pass total) to Boise State's 361. Are those the kind of stats that indicate a team from the Big Ten would "destroy" BSU?
The Big Ten ended the season with 2 BCS ranked teams, Iowa and Penn St. The Pac 10, which Oregon is a member, ended up with half their conference (five total teams) ranked in the BCS top 25. Following the Boise State game, Oregon dominated the Pac Ten losing only to Stanford which ended up being ranked in the BCS top 25.
Does one game make a season? No, but it sure makes a statement and one that's hard to argue. The Boise State fans are clearly experienced in defending the Broncos worthiness. They've had to stand up to the critics for years now in defense of BSU's stature.
Just how much have the Bronco faithful had to rally behind their team? Lots! Most BSU diehard supporters are well versed on all 'talking points' in justification of Boise State's #6 BCS rank. They easily swat down the "but you don't play anybody" skeptics in defense of their schedule and remind the nay Sayers that it's very tough for BSU to get any of the so called 'elite programs' to agree to play. To those who say Boise State doesn't have the athletes who are physical enough or fast enough the Bronco boosters say "just look at our record." While it's true that BSU does not enjoy the recruiting base of the larger BCS programs they do an outstanding job of recruiting the 'their players' that fit the Boise State system. Of course one of the final battle cries of the BSU fan base to those who have little respect for BSU's stature is "remember the Fiesta Bowl in 2007? We beat one of the 'elite BCS' programs (Oklahoma) in what many feel was the greatest college football game ever played." Ouch! That's in your face if you're a Hawkeye or Nittany Lion.
There are a whole lot of smack downs beginning to happen. The BSU faithful are avid fans and rightfully so. BSU is 47-4 over the past four years and 24-1 in the past two years with the one loss being a 1 points Poinsettia Bowl loss to TCU last year. In other words, the Bronco fans are proud. If listen to them defend their team that pride comes out in living color with the dominate hue being bright blue. But with all that talk comes some pressure now. The pressure on the BSU fans for Boise State to not only perform well, but win in a BCS bowl against one of the 'big boys' of college football. Their pontification about the Boise State football program being worthy of their #6 ranking is at stake.
Do I sound like a diehard BSU fan? Well, surprise! I don't have a dog in this hunt. I'm a University of Washington fan and yes I'm still in mourning over the past few years. But there is hope at the UDUB but that's another story. So hopefully you can appreciate that I'm approaching this story from a 'fair and balanced' perspective.
Can Boise State play in the 'tall weeds' and beat one of the elite BCS programs? We'll know come January 4, 2010. In the meantime, the pressure is mounting on the BSU's faithful and defensive fans. These are very proud people and their pride is on the line.
This article is
What is the duplicate article?
Why is this article offensive?
Where is this article plagiarized from?
Why is this article poorly edited?

Boise State Football: Like this team?