Lost at Sea: Whether To Cheer for a Good Record or a Good Draft Pick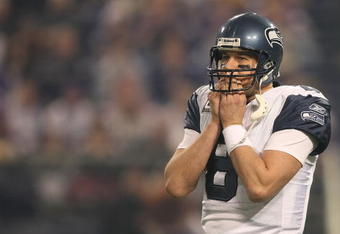 Nick Laham/Getty Images
For every team that misses the NFL Playoffs, there are two miserable points during the season.

The second, and most depressing, is when the team is mathematically eliminated from the playoffs. For most teams, this occurs down the stretch run of the regular season, as the team ahead of them pulls away or their own play degenerates into a Lions-esque decline.

The first, however, is the controversial rejection point during the season. It's the point in a season, prior to being mathematically eliminated, where the team (and its fans) realizes that the season is lost.

This epiphany could come in Week 14, as your team falls to 7-6 while the division leader is at 9-4. Sure, it's only a two-game gap, but it is virtually insurmountable if win percentages maintain themselves.

Conversely, this realization could come in Week Three, as your team drops its third straight, only to have the division leader sitting there at 3-0, and you realize it would take the Hand of God to put your team in the playoffs.

No matter when the realization strikes, it is never a concrete determination.

One part of the fan fights it, clutching to the slimmest of hopes that the team could turn it all around. Jake Delhomme will stop throwing picks, Brady Quinn will surely learn to throw like a man, and Matt Hasselbeck will return to his Pro Bowl form, right? Right?

The internal conflict begins when another part of a fan accepts the realization that the season is lost. Delhomme is going to keep throwing to the other team, Quinn's NFL prospects are as bright as Charlie Weis' coaching career, and Hasselbeck has to wait for another year and another offensive line for a chance to return to form.

So what is a fan to do when he realizes the season is lost?

If there is still a glimmer of hope (meaning they are not mathematically eliminated), part of the fan will cheer for his team to complete an improbable playoff run.

But if the team is eliminated, either mathematically or near-certainly, fans face the ultimate dilemma: cheer for a win, or cheer for a draft pick?


Reasons To Cheer for the Win

Because you're proud.

Because your team is better than that.

Because, if it weren't for injuries, or a certain player doing his best impersonation as a bum, your team would be 11-0 on the way to the Super Bowl.

I mean, come on, it's your team. They're virtually the best team in football.

Because the players didn't lose the game, the play call or the coaches did. Your players are better than that, so any given Sunday they can beat anyone!


Reasons To Cheer for the Draft Pick

Because you're smart.

Because your team can only get better with a better draft pick.

Because, as soon as that bum player is out the door, your new top-five draft pick is going to carry the franchise to glory. I mean, come on, he's top-five! That's virtually a guaranteed championship for anyone not named Joey or JaMarcus.

Because no matter how much sugar you coat on top of that blowout, it was your players on the field that got demolished.

Because those players who got blown out will play better with more talent around them. How can your team get more talent? A higher draft pick.


The Conflict

The conflict is great, especially here in Seattle.

Talent remains throughout the Seahawks roster, but that talent is aging.

Some fans want the Seahawks to win at all costs because they are better than a 4-12 record.

Other fans want the Seahawks to play hard and gain experience, but lose, thereby improving their draft status.

I am doing a little bit of each as the Seahawks season winds to a close.

If the Seahawks win, I will be proud of their performance. If they lose, at least there is light at the end of the tunnel.

Sure, a blowout loss is embarrassing, but each loss vaults the Seahawks a few more pegs up the draft board.


To all Seahawks fans: What do you think? Are you cheering for the team to win, or are you alright with getting beat every Sunday? Post your thoughts in the comments.


sk.
This article is
What is the duplicate article?
Why is this article offensive?
Where is this article plagiarized from?
Why is this article poorly edited?

Seattle Seahawks: Like this team?