Have No Fear, Steve Nash Is Here
December 1, 2009
Have No Fear, Steve Nash Is Here
by Vincent Yin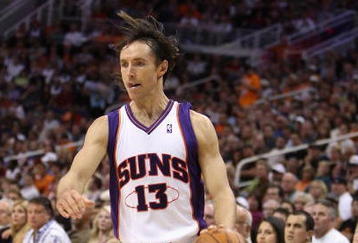 Despite all of the doubting of the Suns in the off-season by many basketball fans, the Suns have reversed their opinions and boosted their reputation with the rejuvenation of the run and gun system. It was never gone after D'Antoni left, it was just a matter of time before it will come back and haunt the other teams.

There is probably no other team who could facilitate the run and gun system like the Phoenix Suns and the facilitator Steve Nash. It's been about two decades since a run and gun team has won an NBA championship but maybe this season, the tiles will turn and the Suns will get their glory.

The two time Most Valuable Player, Steve Nash, has once against brought Phoenix Suns to the horizon by carrying the team on his backside and showing off his amazing talent once again just like his MVP seasons. His been better than ever, showing that he is getting better as he ages despite being past his 'prime'.

It may be the start of the season, and players usually have impressive starts to the season and eventually fade away as the season progresses but I'm sure this isn't the case for Steve Nash. This is just a glimpse of what could be Nash's third MVP title because right now he sure is proving that he is one of the league's most valuable players.

The Suns have also proved to show signs of improvement defense despite the switch back to the run and gun from a half court system which was suppose to encourage defense but showed that it didn't. The Suns have gotten hungry for fast breaks on defensive plays and been causing havoc on the other team's offense causing turnovers more than usual.

Steve Nash is the only hope for not only Phoenix basketball but also for the rest of his teammates because without Nash there will be no one to help them get open looks and flashy passes that lead them to the basket.
Please join NBA Dimensions:
http://nbadimensions.net/forums
I constantly will blog there and I blog for NBA Dimensions, it's a great site!