(Havy) You Seen Him? A Javier Arenas Accolade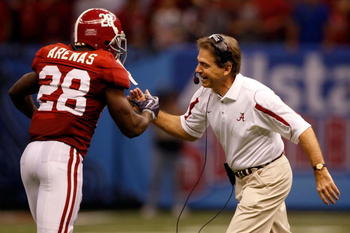 These days, Javier Arenas is doing everything his coaches ask of him and more. SEC fans and likely college football fans across the nation have noticed what Alabama's No. 28 can do catching those high hangers and end-over-end punts.
Perhaps fewer are aware of all the dimensions this cousin of NBA stand-out Gilbert Arenas brings to the football turf. Enjoy the next few slides with statistical information and the honors Arenas has achieved.
Be Kind, Rewind: A Return Specialist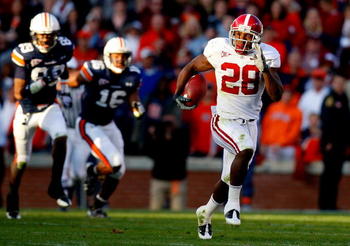 Javier Arenas possesses the speed and awareness that has made return specialists like Devin Hester and Gale Sayers successful.
Most at the RS position weigh in at about 200 pounds, and Arenas is listed at 198. He is noticeably shorter (5'9"), placing him somewhere in the median on size at that position since he is three inches taller than Darren Sproles but three inches shorter than the two aforementioned NFL studs.
Mind you, these are comparisons only and it remains to be seen what Arenas may or may not accomplish at the NFL level. However, he has certainly left his mark on the NCAA:

•Set new SEC record for punt returns for a TD with his 7th career TD
•Eclipsed SEC record for career punt return yardage (1,695) by Lee Nalley of Vanderbilt. This record had stood since 1947-49! Arenas has a chance to bolster his total of 1725 with two games remaining.
•Should Arenas garner 38 yards between contests on December 5 and Alabama's bowl opponent, he will surpass Wes Welker's (Tx Tech) NCAA-record of 1762 yds (record set in 2003).

Beyond these trophy case fillers, it goes without saying but is worth mentioning that he holds Alabama records for these stats as well, plus single season and per game punt return yards (a whopping 153 against MSST in 2008).
Javy being Javy: Not Just a Return Man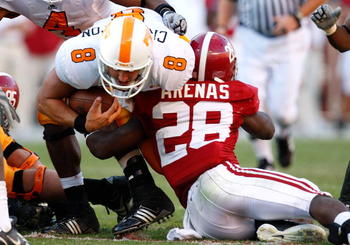 Without a doubt Arenas is a rara avis when it comes to his electrifying special teams abilities. Despite hard mathematical evidence of this (Slide 1), Arenas remains humble. When asked about his roles on the gridiron, Arenas maintains:

"I've been a cornerback since I was six. If a guy calls me just a return man, that's disrespect...I came [to Alabama] to play cornerback...[The media] was calling me a return man. I hated it."
Despite modesty with respect to his kick returning success, people have noticed what Arenas brings to the table in the secondary. He is a semifinalist for the Jim Thorpe award (given to the nation's top defensive back) and is a Sports Illustrated second-team All-American at mid-season this year.
In the photo he is seen tackling Tennessee quarterback Jonathan Crompton. Arenas' solid tackling is borne out by the numbers as well. He ranks second on the team with 63 total tackles, tied with Anders for second in tackles for loss (only 0.5 behind McClain), and second in sacks, but sports the highest negative yardage in both those latter categories.
Though he has since been eliminated from consideration for the Jim Thorpe award (two outstanding peers from the SEC are finalists, however, in Eric Berry and Joe Haden), Arenas isn't so much worried about individual regalia. Speaking demurely again, he feels that:

"The credit really goes to my teammates on defense as well as our coaches. Coach Saban and Coach Smart are the best defensive coaches in the country and put us in a position to be successful as a defense. I appreciate the Thorpe Award recognizing me and it's an honor to be named along with the other great players on that list, but our main goal is to be successful as a team. If you are, all of the other stuff takes care of itself."

Considerations After the Capstone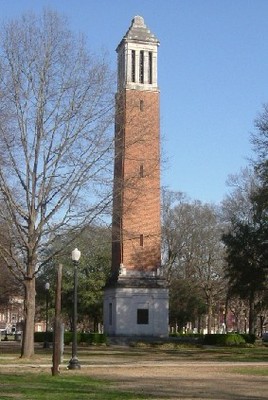 What is next for Javier Arenas? Asked earlier this year about his future plans in the NFL and otherwise, Javy remained mostly mum.
"I hope I have the opportunity to play in the NFL. But that'll come when and if it comes, God willing!" Arenas certainly has considerable assets including his speed, strength, and balance. As mentioned earlier, he is not particularly tall, but makes up for it in his decisiveness and play-reading ability. He would likely be recruited to fill a nickel back role, playing situationally, but we can always hope for more!
Nota bene: The NFL players mentioned early on were only used as similar players. I make no guarantee of Arenas' success at the next level, although I certainly believe him fully capable.
I truly wish Javier Arenas the very best. He plays with everything he has, every game, and is a true sportsman and teammate on and off the field. This is evident in his UA, SEC, and potential NCAA records as well as his big heart and community involvement. I didn't touch on these honors due to an attempt at brevity, but perhaps there is room for follow-up articles.
Keep Reading

Alabama Crimson Tide Football: Like this team?