The BCS Fix Is In: Please End The NCAA Football Replay Rules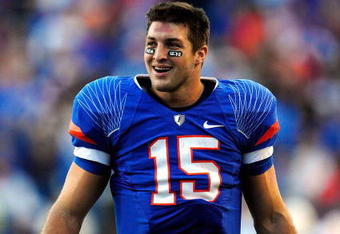 Sam Greenwood/Getty Images
How did we finish the regular season with six undefeated teams?  Was it coincidence, accident, or something else?
Looking back over the season, it seems as though one culprit more than any other is responsible for this result: The NCAA replay rules.
Consider this, the Florida-Alabama game this Saturday most likely would have two one-loss teams but for some very questionable work by both on-the-field SEC officials, as well as in-the-replay-booth SEC officials.
Likewise, Cincy, where Big East replay officials turned a Bearcat fumble into a Cincy touchdown over West Virginia after a five minute delay.  Cincy's coach was as shocked as anyone with the ruling.
Even Boise State had some questionable help in its win at Tulsa.
And do not forget the questionable replay booth work in the Pac-10 a few years ago.
The Flawed Replay System
Under the current NCAA replay system, every single play may be reviewed by officials and they can delay the game to do so, even without a coaches' challenge. 
There is no time limit for review.
The standard for overturning a ruling on the field, conclusive evidence, is vague at best.
Replay officials in many stadiums, including the SEC, lack HD TVs.
The worst aspect of the current system is that it leads to the perception that something fishy is going on in the replay booth.
When fans at home and in the stadium have seen the replays dozens of times during a five minute delay and the announcers are even forced to start to question some replay decisions, there is something very wrong at foot.
Moreover, with the vast sums of money at stake, only a fool would not wonder if something more nefarious was at stake.
It is not only the BCS bowl money at stake, as large as that might be.
It is also the huge TV deals that result from having teams compete and win the BCS championship.
For conferences like the SEC, there are billions at stake. 
Even conferences such as the Big East have a huge need for an undefeated team to finish the regular season.
Having officials hired by conferences means that the officials are beholden to the very conferences that pay their paychecks.
Having some officials hidden away in a booth who know the big bucks at stake may not just have an appearances of malfeasance, but indicate that the fix is in.
The SEC sure got what is wanted, as Bama and Florida ran through their supposedly tough SEC schedules undefeated.
As long as we continued with the flawed BCS and its fraudulently named national championship game, we will continue to see very questionable officiating dictating the outcomes of games.
And as long as we continue with officials owned and paid for by conferences, we will continue to see conference loyalty prevail over fair and unreasonable outcomes.
So, while the Gators and the Tide battle it out for a spot in the BCS title game, just remember that neither team would be undefeated without "official" assistance.
This article is
What is the duplicate article?
Why is this article offensive?
Where is this article plagiarized from?
Why is this article poorly edited?

Florida Gators Football: Like this team?