Stanford's Toby Gerhart Proves to the World His Heisman Worth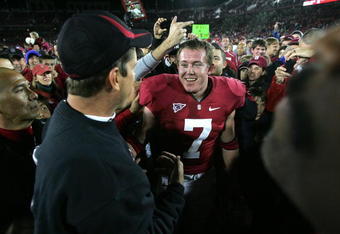 Ezra Shaw/Getty Images
"Heisman! Heisman! Heisman!"
A well-deserved chant for Toby Gerhart led by the Stanford student body as they stormed the field after the Cardinals' 45-38 win over Notre Dame.  Following the performance by this beast of a running back, it's hard to believe that anyone is leaving this stud off of their list of top three Heisman finalists.
Of the three running backs in the Heisman conversation, Gerhart by far had the most productive Thanksgiving weekend. 
Alabama's Mark Ingram, the front runner on many Heisman lists, had a miserable day.  Collecting only 30 yards rushing and 21 yards receiving against a stingy Auburn Tigers defense, Ingram hardly looked like the most outstanding player in college football.
Further down the list, Clemson's C.J. Spiller also struggled to make his statement as a true Heisman contender.  Despite running back his record setting seventh kickoff return for a touchdown, Spiller could only gain 18 yards on the ground and 19 yards through the air. 
Gerhart, on the other hand, had a massive day.  Playing a huge part in the Cardinal victory, Toby rattled off 205 yards on the ground and punched the ball in for three touchdowns, including the game winning score.  He would add a little extra to the equation by catching the ball for a 33 yard gain and he also threw an 18-yard touchdown pass.   
But as many of you know, the Heisman trophy is undeniablly one of the most biased awards throughout all of sports.  If you don't play for a team in the south and if your position doesn't take direct snaps from the center then bringing home this elusive trophy is harder than learning Calculus…which, by the way, is just one of the five classes Toby Gerhart is taking in his 21 unit semester.   
Texas' Colt McCoy, a preseason favorite for the Heisman, had a national stage with only a rather boring NFL game to compete with on Thanksgiving night, and he did everything possible to remind voters why they fell in love the gun-slinger in the first place. 
And while McCoy still sits behind Gerhart in ESPN's "Tracking the Heisman Candidates" standings, he still has the luxury of playing in his conference championship game to persuade any voters that haven't quite returned to the Longhorn's bandwagon.
This is just one of the many factors stacking against Toby Gerhart and his quest for a trophy that he most certainly deserves. 
Gerhart did everything he possibly could to convince voters that he is head over heels the best college football player in the 2009 season.
Toby leads the NCAA with 1,736 rushing yards and 26 touchdowns, something that current favorite Ingram cannot even come close to bolstering.
Gerhart has had 10 100-plus yard rushing games this season, Ingram has only had seven.
"White Thunder" has surpassed the 200-yard mark three times in 2009, Ingram has only done it once. 
The numbers speak for themselves.
But haters will immediately point out that the SEC has much tougher defenses and that comparing numbers between the two backs should be skewed towards Ingram.  A valid point, but voters of the Heisman should take something from the voters of this year's Cy Young Award.
Tim Lincecum and Zach Greinke hardly play for the toughest divisions in the MLB.  In fact, they both probably play in the worst divisions in their respective leagues.  But the fact that they played for lousy teams in crappy divisions and still put up amazing numbers swayed these Cy Young voters to write down the correct names when voting time eventually came.
The Cy Young, like the Heisman, is an individual award. So why should the voting be any different?
But for those of you who still want to believe that this award should go to the player who brings the most to his team, think of it this way:   
Without Gerhart, the Stanford Cardinal would not be anywhere as close to as successful as they were this season.  Take away McCoy and Ingram from their respective teams, and those teams would most likely still be in the exact, if not close to the exact, situation that they are currently facing. 
Gerhart is the most valuable player to his team throughout all of college football and it is time that voters begin to recognize this extremely obvious fact.
So when the time comes, do what you know is right and vote Toby Gerhart for the Heisman!
This article is
What is the duplicate article?
Why is this article offensive?
Where is this article plagiarized from?
Why is this article poorly edited?

Stanford Football: Like this team?