Georgia Sneaks Past Georgia Tech 30-24 In Stunner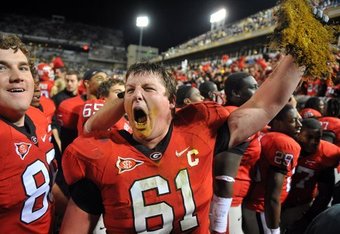 Georgia Tech is having their best seasons since 1990, when the Yellow Jackets won the national championship. Georgia is having one of it's worst seasons ever and coming off of a loss against Kentucky. The odds makers set the line at 7 1/2, no big deal we'll cover and laugh our way to a double digit win. Streak goes to 2 and we roll into the ACC title game, no problem.....
This is where you hear that load "screeching" sound.....
Georgia beats Georgia Tech 30-24 and the score is irrelevant here. Georgia was the better team the entire night and Tech played (limped) from behind the entire game. Georgia Tech quarterback, Josh Nesbitt, was knocked out of the game early, and although he did return, the momentum was never in our favor. The only highlight for me was when the Yellow Jackets scored first in the third quarter and tightened the score, but even then it was nearly impossible to stop the Georgia running game and Georgia quarterback, Opie Taylor, was surely not going to throw the ball very often.
Georgia Tech's down by six points late in the fourth quarter and we have the ball.... Perfect scenario to play for the win, right? Paul Johnson is Georgia Tech's head coach and serves as his own offensive coordinator. He doesn't even have one of those laminated play lists you see the coach's with;he doesn't need one since he's been running this type of offense for longer than a lot of his players have been alive. It's no secret that we are going to run the option, the triple option, on nearly every play, and when we don't we're throwing the ball - Duh! Run the ball 95% of the time, throw the ball the other 5%, makes sense to me. What do we do? We throw three long passes - all incomplete. Fourth Down........ We throw a pass for a first down to keep the drive going late in the fourth quarter to set up the win and we throw it to our best receiver, Demaryius Thomas, and he drops the damn ball.
Game over = Georgia 30/Georgia Tech 24
Now we have to answer all the questions and hear the Bulldog Nation for another full year, just like they have had to answer my questions and hear me rant and rave for all of this year. The one high point is that Georgia Tech plays Clemson for the ACC title next Saturday and like us Clemson is coming off of a loss to their rival as well. This should be an interesting game and hopefully we'll come out of it the ACC champions and go to play in the Orange Bowl. Georgia will likely play another ACC team in some lame named bowl, but their season is now less of a failure with the big win over Georgia Tech. I expect a lot of coaching changes for the Dogs and another mediocre season next year, while Georgia Tech will progress and we'll be at the top again!
This article is
What is the duplicate article?
Why is this article offensive?
Where is this article plagiarized from?
Why is this article poorly edited?

Georgia Bulldogs Football: Like this team?