Tiger Woods Rumor Roundup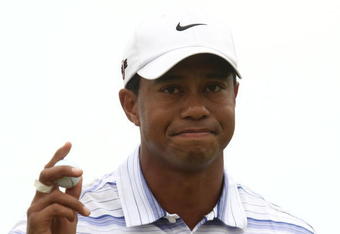 Quinn Rooney/Getty Images
As many of you know by now, Tiger Woods was in a one car crash at 2:25 a.m. Thursday night.

Information on the crash has seeped out at a steady pace, yet these decidedly odd details have given birth to wild rumors.

To help everyone out, including Tiger, I will first lay out the facts on the car crash, and then describe the rumors while also scoring them on a scale of 1 to 10, based on their veracity.

The Facts

Tiger was not drunk, yet crashed his car in the middle of the night

The air bags did not deploy, suggesting that Tiger was driving less than 30 MPH

Tiger was found on the ground, bleeding around the mouth

Tiger's lips look like they were stuck in a bag with a claustrophobic raccoon

Elin Nordegren smashed the back window of Tiger's car with a golf club

This is the most buzz golf has ever received in the history of time

Elin Nordegren is very hot. Seriously, any woman Tiger could cheat on Elin with would be a downgrade.

The Rumors

1. Tiger and Elin had a domestic dispute before the car crash

This seems to be confirmed by both Elin and Tiger's separate reports to the police. The only reason I am not calling this a fact is that it was reported by TMZ; the award-winning journalism site that has exclusive rights to the "Mini-me" sex tape. 8

2. Elin went Catwoman all over Tiger's face and smashed his window in anger

This one is kind of scary, TMZ is also reporting that the lacerations on Tiger's lips and the destruction of his window were both due to Elin's wrath. Elin reportedly was chasing after Tiger with a club when he crashed into a fire hydrant. It does seem a bit strange that she was wielding a golf club, though she could easily have gotten one from the trunk of his car to rescue him. This one could be true since the rumors line up nicely with the facts, but I'm going to keep it a rumor until Tiger presses charges. Once again, this story comes from TMZ, the breaking news outlet with brilliant reports such as "Brad Pitt dies in Plane Crash" and "Maya Angelou is Dead". 6

3. Tiger is having an affair with Rachel Uchitel

The National Enquirer reported earlier this week that Tiger has been putting his disco stick (golf metaphor's are boring) into another woman, Rachel Uchitel. Their facts to back up this claim? They both were seen checking into the same hotel at different times in Australia. Rigorous journalism. Even though there clearly seems to be some trouble in casa de Tiger, this story is too weak to hold any water. For what it's worth, Rachel has been adamantly denying the scandal to anyone who asks her on Facebook. 3

4. Elin is just a pawn, the true puppetmaster behind the destruction of Tiger is..... Jack Nicklaus

Yes, wily old Jack. He knew that Tiger would inevitably surpass his 18 career major victories. Tiger is too sound physically and mentally to not end up as the greatest golfer of all time. No, the only way Tiger could fail would be to attack his heart. Jack could move some money around, get some rumors going, and shake up Tiger's life. Think about it, Jack is rich and old. What is the one thing old rich people care about the most? Their legacy. Jack, you old coon, you thought you could get away with this, but I'm watching you. 2


Alright so the last rumor was completely made up, but it does bring up a major point. The next couple of days can determine the rest of Tiger's career, his public perception, and his ability to win tournaments. Tiger can fade away and become a tragic blip in golf, or he can shrug off all these media antics and return to normalcy. Honestly, I hope for the sake of golf that Tiger shuts down this circus and gets back to winning.
This article is
What is the duplicate article?
Why is this article offensive?
Where is this article plagiarized from?
Why is this article poorly edited?