College Football's BSC Could Go Bust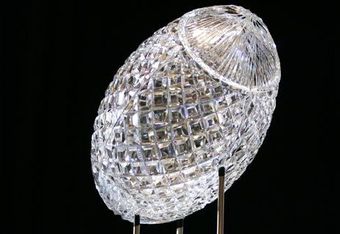 The perfect BCS-buster storm is brewing and playoff backers everywhere should be ready to call for federal aid once the carnage is over.
Obviously, the BCS brass wants to see a Florida vs. Texas matchup. 
Florida boasts the modern day "Touchdown Jesus" in Tim Tebow, who has won a Heisman Trophy and two of the last three National Championships. Texas has deadly accurate, gun-slingin' quarterback Colt McCoy, with the highest quarterback career completion percentage ever, and has won more games than any other player in college football history to boot.
But not so fast my friends.
At least once every three years, a scenario develops during the course of the college football season that, if everything breaks just right, exposes the current BCS format as dysfunctional at best and downright broken at worst.
This season, multiple conferences could present an undefeated team for the BCS's National Championship game consideration, only to be measured, weighed, and found inadequate, despite a perfect record. The BCS brass will then choose instead, a one-loss team from a more glamorous conference.
Cincinnati (10-0) from the Big East Conference, Boise State (11-0) from the Western Athletic Conference, and the Mountain West's best TCU (11-0) all could end the season undefeated and still end up on the outside looking in at the BCS Championship game.
Because Florida and Alabama play head-to-head, there will be only one undefeated team from the SEC. Assuming every undefeated team as of today wins out (except the SEC Championship game loser), there will be five undefeated teams vying for only two spots in the Championship game.
While this has happened before, here is the scenario that could quite possibly unfold in the next two weeks that would blow this year's BCS system into oblivion and foil the Tebow vs. McCoy finale:
If Florida (11-0) beats rival Florida State this Saturday, but loses to Alabama in the SEC Championship game next Saturday, that would leave them at 12-1. If Alabama loses to rival Auburn this weekend, but beats Florida in the SEC Championship game, they would have an identical 12-1 season record.
You could flip that scenario with Florida State winning, then Florida beating Bama in the SEC Championship game.
Then let's pretend that Texas trips up in one of its last two games of the season at rival Texas A&M or against Nebraska at Texas Stadium for the Big 12 Championship game. Texas would end the year with the same 12-1 record.
Assuming Cincinnati beats West Virginia and a one-loss Pittsburgh team in the season finale, they become the only undefeated team in the country with an automatic invite to the BCS, thus guaranteeing them a spot in the National Championship game.
So whom does Cincinnati play? TCU? Boise State? Neither?
If the BCS brass chooses a one-loss team from a power conference, how do they differentiate between Florida and Alabama if they have the same record, and why would an SEC team with a late-season loss earn a spot in the Championship game over a team like Georgia Tech (11-1), whose only loss was an early season contest at Miami?
What if the same scenario listed above happens, but Cincinnati loses one game coming in?  Should TCU and Boise play for all the marbles?  If they slated the game, would you consider the winner of that game as the best team in college football?
Say Cincinnati loses. Imagine trying to determine which of the following teams should fill the two spots for the Championship:
13-0 Boise State, 12-0 TCU, 12-1 Florida, 12-1 Alabama, 12-1 Texas, 12-1 Georgia Tech, 11-1 Pittsburgh, or 12-1 Cincinnati.
Without getting into a debate on the merits of bowl games versus a playoff system, you have to agree that choosing between two of five undefeated teams is inherently subjective. As would be deciding which one-loss team has more merit than another one-loss team.
The deciding factors range from marquee players, to influential coaches, and trickle down to whether or not a team's fanbase will travel well and fill up the stadium. Arguably, the last factor is which team is the "best."
In a season without a dominant team, the last two weeks should provide plenty of drama with massive ramifications to the outcome.
Don't be shocked if Nevada upsets Boise in the season finale. Nevada has won eight in a row and is averaging 51.6 points per game.
Nebraska matches up well against Texas, who has played arguably the easiest schedule of any team in the country. The Longhorns have not played a single team that runs the ball well and their defensive rankings against the run have the making of a paper tiger ready to be shredded by any team committed to success on the ground.
Auburn has just enough offensive diversity to keep Alabama guessing and, with a jacked-up home crowd, could very easily pull off the upset against their most hated rival. BCS backers beware; we could end up with a Cincinnati vs. TCU BCS Championship game.
In that scenario, TCU would probably be the favorite. That's right. Not only is TCU in the Championship game, but they are also laying the chalk.
The storm winds are gaining momentum. Don't be surprised if by the end of the weekend, the college football landscape looks completely different.
This article is
What is the duplicate article?
Why is this article offensive?
Where is this article plagiarized from?
Why is this article poorly edited?