Hometown Hero: Greg Paulus' Lasting Effect on the Syracuse Orange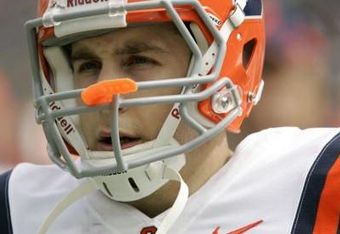 No one was surprised when future NFL defensive lineman Arthur Jones received a standing ovation from the 36,000 Orange faithful on Senior Day this past weekend against Rutgers.
Art will go down as an all-time great for the Orange and is one of the most charismatic and well-liked players in recent Syracuse football history.
However, the player with the second most cheers on senior night may have surprised some.
It was quarterback Greg Paulus.  
Paulus, a native Syracusan, became a legend during his high school football and basketball careers at local Christian Brothers Academy. He holds virtually every New York high school passing record and was named the Gatorade player of the year coming out of high school.
However, his decision to turn down offers from both Syracuse's football and basketball programs, and play point guard for Mike Krzyzewski at Duke, was not popular with many of the Orange faithful he lives amongst.
After an up-and-down tenure at Duke, Paulus made the nearly unprecedented decision to pursue another sport at another university after his career was finished. The legendary high school quarterback returned home to quarterback new head coach Doug Marrone's first Syracuse team.
It would have been hard for Paulus' one year at the helm for the Orange to be more wildly capricious. After being greeted as a savior during the beginning of the first game against Minnesota, he ended up throwing an overtime interception leading to a Syracuse loss, ruining a very impressive first performance in many eyes.
For every Northwestern game, where Paulus led Syracuse in a 37-34 victory with 346 yards and two touchdowns, there was the five-interception debacle against South Florida.
After South Florida, and other inconsistent performances throughout the season, many were calling for Paulus to be benched in favor of redshirt freshman Ryan Nassib, who plays in a few of Marrone's packages and shows a stronger arm. By the Cincinnati game on Oct. 31, Paulus entering the game garnered very audible boos from Orange fans.
However, Marrone has stuck with Paulus through it all, proving that he looks for much more than a cannon for an arm and gaudy statistics in a quarterback. With his seniority and experience as a Division I athlete, Greg can get through situations that no other freshman quarterback could think of handling.
This season, Syracuse lost over 20 players to attrition with the regime change. Ten players, most of them big contributors like Jones and All-Big East caliber linebacker Derrell Smith, have had season-ending injuries. Syracuse's best talent, receiver Mike Williams, quit the team midway through the season.
The Orange have been working with makeshift units all year, to the point where they were playing with 56 available scholarship players on Saturday's win, far fewer than the 85 that are allowed.  
It is impossible to tell how a player like Nassib would have reacted to the amazing amount of adversity that has beset the Orange this year. However, Greg Paulus knows adversity all too well. Not many things in college sports rival walking onto the court at the Dean Dome wearing a dark shade of blue. Paulus had walked through the fire for four years at Duke.
Last Saturday, the Orange played in what Marrone called their bowl game. With the decline of the Syracuse program, Rutgers was able to rise from longtime irrelevance to become a contender in the Big East scene. Rutgers and SU share a recruiting base, and many think it will be impossible for both programs to be successful at the same time in the current climate of Eastern football.
Giving up almost 30 players of depth to the Scarlet Knights, few expected the Orange to give them a game.  
However, Paulus and Syracuse delivered a message.  
Though the focal point of the offense was the potent Syracuse running game, which amassed 213 yards and three touchdowns, Paulus provided an ample threat through the air. His workmanlike performance, 13-of-16 for 142 yards and one touchdown, helped balance out the attack, which allowed Syracuse to blow out the then-No. 25 team in the nation.
This game will have a major effect on both programs, especially in the recruiting wars. It is the most important win Syracuse has had since Paul Pasqualoni was at the helm for that very reason.
Many teams would have packed it in for the season after losing bowl eligibility. However, with Paulus taking what will probably be his last few snaps of his football career, Syracuse has a leader and captain with nothing to lose.
After the clock struck 0:00 and Syracuse had secured a win, the players rushed the field, hugging and embracing each other after one of the most impressive team efforts in the Big East this season. They then lined up in the end zone and swayed with the band to the Syracuse Alma Mater.
After their helmets were raised at "to thy memory," they rushed to the student section and thanked the die-hard students who remained to celebrate the victory before exiting the field. The last player remaining was Paulus, who walked slowly off the field for the final time to a standing ovation from the students who lined the tunnel.
In a true blaze of glory, the short-lived Paulus era at the Carrier Dome was over, but with his help and undeniable leadership, the Syracuse program is back on the rise and will be a power in the Big East once again.  
This article is
What is the duplicate article?
Why is this article offensive?
Where is this article plagiarized from?
Why is this article poorly edited?

Syracuse Football: Like this team?