Meldrick Taylor: Two Seconds Away From Greatness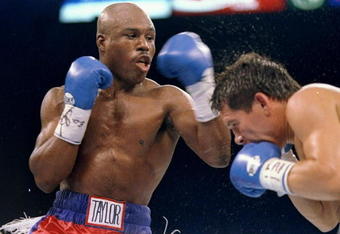 Al Bello/Getty Images
I was just five years old when Meldrick Taylor faced off with the legendary Julio Cesar Chavez.
Hearing my father and his friends always talk about Meldrick Taylor, I did my own research and came across the saddest story ever in Boxing.
Meldrick was a kid out of Philadelphia that rose through the ranks after winning a gold medal in the 1984 Olympics. Which would lead him to the biggest match of his life with Chavez.
The first time I saw this fight on tape, I watched it with my father. His reactions were as if the fight was live. I sat and watched as Taylor hit Chavez with combinations of a whirlwind and tornadoes. I couldn't believe what I was watching.
Chavez is probably the most revered Mexican fighter ever. His legend has no limit in the proud country.
The first nine rounds could have easily been scored for Taylor, but throughout the fight, I pointed out to my father that his face was becoming badly swollen from hard single shots from Chavez.
By the tenth round, Taylor sat in the corner, and his eyes were almost completely shut.
Chavez was throwing some bone rattling punches that systematically wore Taylor down. Despite the throws, he didn't win a round in my eyes, until the tenth round.
I knew the outcome of the fight and how disputed it was, but watching it for the first time, I still couldn't see where the drama would unfold, because of the sheer display of dominance that Taylor portrayed.
Then the 12th round ensued.
I heard my father say, "hear comes the b***s***." It amazed me how the outcome had resonated with him. The clock ticked down under a minute, approaching the forty second mark, and Chavez landed brutal blows to the head.
Winding down to twenty-five seconds left, Chavez landed a devastating right hand that rattled Taylor. They were in high pursuit of the title until the last secod.
Chavez floored Taylor with another flush right hand.
I heard the story for years, but still thought that Taylor would make it to the cards.
As the clock hit 10 seconds, and Taylor made his way to his feet, and he stood in front of referee Richard Steele. Taylor, obviously stunned by the knockdown, was asked by Steele "Are you okay?"
Simultaneously, what I later found out was trainer Lou Duva jumped onto the ropes,, which distracted Meldrick. Steele asked him quickly again, "Are you okay?" Taylor had previously quickly shook his head Yes. As Taylor went to look back at Steele, Steele waved his hands to stop the fight with TWO seconds left.
Shocked would be an understatement as to how I felt.
For a championship bout to be stopped with two seconds left, and both men standing on their feet, I felt that was the wrong call. Chavez however, fought a courageous fight, and deserved the accolades he received for sticking it out the way he did. A true champion.
Even in the aftermath of the fight and learning of the injuries that Taylor received, a true boxing fan can't help but think of him. It was the first knockdown of the fight.
A championship fight I might add.
He should have been allowed those Two seconds.
Thats the amount of time it would have taken for him to walk halfway back towards Chavez.
That's the amount of time it would have taken to walk onto the platform of greatness.
God Bless Meldrick Taylor.
This article is
What is the duplicate article?
Why is this article offensive?
Where is this article plagiarized from?
Why is this article poorly edited?