The Hand of Henry: Why the Former Arsenal Star Is Not a Cheat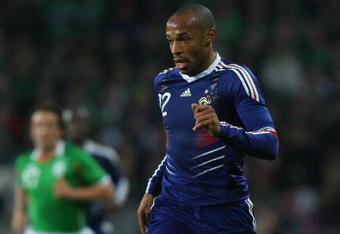 Stu Forster/Getty Images
First things first, the Irish boys were magnificent last night. They showed desire, passion, belief, bottle, and everything else you'd want in your national team.
If England showed a third of that passion and commitment, they would be very hard to beat in South Africa next year.
Unlike the first leg, Trapattoni's men came out to play and attacked the French at every given opportunity. Time and time again they cut through the fragile French back-four by exposing the obvious weak link—Julien Escudé.
Simply put, Ireland deserved to win the game last night.
However, the game will not be remembered for the way the Irish team played or the magnificently worked goal by Robbie Keane.
Sadly, the match will be remembered for one thing and one thing only:Henry's own version of "La Main de Dieu".
Minutes before this incident, the French players felt that they were denied a penalty when Nicolas Anelka dinked the ball past the on-rushing Shay Given, goes down under what looked like a foul from the keeper in the Irish penalty area.
The referee was having none of it and gave a goal kick. However, replay showed that Given had a sneaky grab of the striker's ankle as the ball went past him. To be fair to Anelka, he didn't complain about the referee's decision, but one thing's for certain - I've seen penalties given for a hell of a lot less. 
Minates later, William Gallas nods a Thierry Henry cross into the net, prompting wild celebrations from players and fans alike.  
At first, when the goal was scored, I was convinced that William Gallas scored with his hand, but the frame-by-frame replay clearly showed that it was, in fact, Thierry Henry that controlled the ball with his hand before feeding the Arsenal defender.
At the this point the linesman should've flagged, and the referee should've chalked off the goal. But they didn't, and the rest, as they say, is history.
However, to listen to some of the anger and indignation which spewed out  in the aftermath of the incident, you would think that the Frenchman had invented a whole new way of cheating.
Or even worse, that he'd killed someone.
The sad truth is this: every striker in the world would've done the same as Henry.
Robbie Keane himself claimed that he felt "cheated" by Henry and that he "wouldn't expect it from anyone."
Thats hypocrisy at his finest because Keane himself "cheated" in the past to win penalties and free-kicks and, given the chance, he would've definitely played-out his own version of the infamous Hand of God routine.
Furthermore, this hypocrisy also exists among fans, managers as well as the British media.
The collective thinking is this: "Cheating is terrible, we should get rid of it, and anyone caught cheating deserves to be punished, shamed, ridiculed....Unless its us."
Had Robbie Keane scored the winner last night in exactly the same circumstances, I'm fairly certain that we would not be seeing the same venom and vitriol from the British media aimed at Henry.
And this is basically what ensures that the culture of "cheating" continues to thrive in our beautiful game, never genuinely addressed or challenged.
In addition, the chances are that, next week, your favourite player will be rolling around, diving, faining injury, and doing whatever it takes to win a game, even if that mean blatantly cheating.
And will you be disgusted, ashamed or even call for his head? I very much doubt it.
All football supporters have this in common: They don't care about cheating at all; what they actually care about is being cheated against.
When their own players cheat, the talk is usually about how they were clever, streetwise and cute;or they simply smirk to each other, barely a peep about it.
Thierry Henry is a truly great player—one of the best players we've seen in the Premier league - but because of this one controversial act, many in the media are already trying to destroy his reputation.
And sadly a lot of arsenal fans are falling for this. Any notion that the "Hand of God" incident somehow diminishes anything he did for Arsenal is so hysterically fickle it's untrue.
What caught my eye after the game was the sight of Thierry Henry and Richard Dunne shaking hands, and even hugging at one point. Dunne is an experienced professional and therefore knows that one of his own players could've easily profited from a similar incident.
After the game Kevin Doyle told Sky Sports:
"It is just instinctive on his behalf, but it is that obvious that I'm sure he expected the free-kick straight away," the Wolverhampton Wanderers forward stated.

"I don't blame him as much as how it's not seen to be honest."
Henry is not the first and, certainly, will not be the last player to benefit from a handball incident.
Football history is littered with such controversies: Diego Maradona's Hand of God goal against England in 1986; Alan Hansen's handball clearance off the line against Everton in the League cup; and Henry himself was denied a goal via Stephen Henchoz's hand on the line against Liverpool in the 2001 FA Cup final.
Last Wednesday night, William Gallas scored a goal that shouldn't have stood. the referee, who's been excellent on the night, together with the linesman, failed to spot the handball by the French captain. 
On any other day, the referee would've awarded an indirect free-kick to Ireland.
However, he didn't, and the goal stood. Thus, the blame lies squarely at the feet of the match officials, not Thierry Henry. 
This article is
What is the duplicate article?
Why is this article offensive?
Where is this article plagiarized from?
Why is this article poorly edited?

Arsenal: Like this team?