The Minnesota Wild Stumble Out of the Gates, Fall To Phoenix 3-2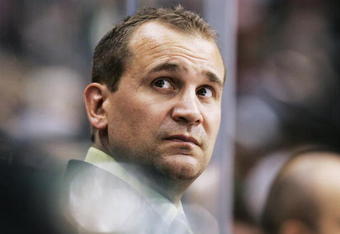 Genevieve Ross/Getty Images
Coming off of a four point road trip that many considered a disappointment, the Wild desperately needed to right the ship on Wednesday night against the Phoenix Coyotes.
To be fair, I really consider this loss to be my fault. The instant I got in to work, yesterday, I began talking to my co-workers about the Wild and the Coyotes—telling them that it was in the bag. A sure win.
I mentioned the stat that Ilya Bryzgalov was 0-5 against the Wild, with a 4.02 goals-against average and a .874 save percentage, and that was just at the X. Overall, I mentioned, he was 1-7 with only slightly better stats.
I also brought up that Niklas Backstrom has notoriously been a Coyote killer in his career, having only lost one previous game to Phoenix.
Not only that, but I brought up that the Wild had won their past seven games against the 'Yotes at the X.
It was in the bag.
What I didn't count on was Minnesota coming out as flat as a glass of Mountain Dew that has been sitting out for a week.
To be fair, the 3-2 final doesn't sound that terrible. I mean, the 'Yotes are a completely different hockey team this season, right? They're eighth in the West, a point ahead of the legendary Detroit Hall of Famers and two ahead of the Vancouver Roberto Luongos.
It doesn't sound that bad if you didn't watch the game.
If you watched the game, however, you saw a Minnesota team that put forth what their coach called their "poorest performance of the year."
The Coyotes came out and dictated the tempo of the game for the first 30 minutes, outshooting the wild 15-5 and pinning them deep in their zone early and often. During this time, the Wild could not get anything going—they could hardly even get a break.
This was none more evident than a phantom slashing call called on Owen Nolan with just seconds left in the first period—the 'Yotes ended up cashing in on the powerplay after the second period began.
"That's not the reason we lost the game," Richards said in his post-game presser. "We had chances in the third period and we didn't finish."
The slow starts and lack of finish have been an area of concern for the Wild this season and a large part of this has been due to Martin Havlat's absence on the scoresheet. Havlat, who was expected by many to replace the production of Marian Gaborik, has responded horribly to the added pressure that his new contract has given him, notching just one goal and two assists in his past 16 games.
In addition, he has struggled to find chemistry with anyone on the Wild's team and has been unable to create as the Wild expected he could.
A goal and a strong performance against the Maple Leafs last week had Havlat looking like he was turning things around, but he can't just settle for playing better anymore. The Wild need him on the scoresheet night-in and night-out if they are going to be successful.
The Wild have been plagued by let downs after big goals for quite some time now, and last night was possibly the worst of all. After the Coyotes carried a 1-0 lead into the third, Andrew Brunette tied the game early on for his eighth goal of the season, breaking a nine-game goal drought. Just minutes later, the Wild experienced their letdown, allowing defenseman Jim Vandermeer to score his second of the season on an odd man rush.
The Wild kept pushing, and Antti Miettinen tied it once again with less than five minutes left on the clock.
As has been a troubling trend for Minnesota, however, the team allowed the Coyotes to get right back in it just 19 seconds later with a Scottie Upshall goal off of what looked to be a bad rebound and a bad defensive play by Niklas Backstrom and Marek Zidlicky, respectively.
But, despite being dominated for most of the game early, the Wild were still in it. They still had their chances to win and didn't capitalize on them.
This tells me that this is a team that needs to figure out why they are not coming out of the gates with any jump in their step.
Richards has pointed the finger at himself, saying that he needs to reassess what he is doing on gamedays during the morning skates and in practice preparing the team and I would tend to agree.
Whatever the reason is, the team just does not come out with any pep in their step. Poor starts have now cost them three of their last seven games—something that is inexcusable at any level.
Injuries are undoubtedly hurting the team, with regulars Pierre-Marc Bouchard, Benoit Pouliot, Chuck Kobasew and Petr Sykora all keeping seats warm up in the press box, but the team has got to soldier on through this tough time.
A great start would be coming out strong against a surging Islanders team on Friday, especially with Lil' Herb Brooks in the house. Who knows. Maybe Richards will even recruit the youngster for a pre-game pep talk. Lord knows it couldn't be any worse than it already has gotten.
One thing's for sure though. I'll be keeping my mouth shut about this one.
This article is
What is the duplicate article?
Why is this article offensive?
Where is this article plagiarized from?
Why is this article poorly edited?

Minnesota Wild: Like this team?