Michigan 2009: Fail to the Victors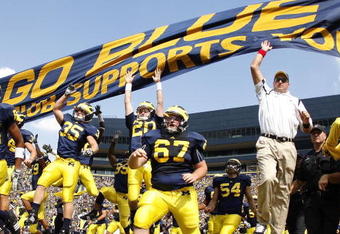 Gregory Shamus/Getty Images
No fan of the Spartans would ever have thought that almighty Michigan would be in such a state of duress. 
Sure, as a Spartan fan, it brings a chuckle.  However also as a fan of college football, to see this powerhouse reduced to such a pathetic state is tough to watch.
In most seasons, the annual battle of Ohio State vs. Michigan is a national event on ABC to determine the Big Ten champion and representative to the Rose Bowl. 
However this year's version is on the Big Ten Network at noon.  The Buckeyes have already captured the Big Ten title with their overtime victory against the Hawkeyes last week.  
In season's past, the coaches carry the torch of the rivalry.  Yet this season, the sweater vest vs. the red wristband have been through the fire of the fan bases in revolt. 
After Ohio State was defeated by USC with their freshman quarterback and Purdue in an upset even the Boilermaker fans didn't expect, calls for the firing of Jim Tressel and of a revolt for Terrelle Pryor being the quarterback were heard in Columbus. 
However, the team turned it around by defeating Penn State in Happy Valley and clinching the Big Ten title against Iowa.
In Ann Arbor, it has been a different call to arms.  Early in the season, revelations appeared in a Detroit Free Press article about numerous violations of how the team practiced. 
After a tearful press conference in response from Rodriguez to the alleged violations, many never imagined anything like this could happen in Ann Arbor.
To add insult to injury, there then was the season.  Michigan lost to Michigan State in East Lansing to mark the first time Michigan has lost to their "little brother" in consecutive seasons since Bubba Smith played for the Spartans.
They also lost to Purdue at home for the first time since Bob Griese quarterbacked the Boilermakers. 
Now if all of this wasn't enough, this week there are new issues with the Rodriguez practice style.  Logs of practices from last season were not properly turned in to the university. 
This new allegation doesn't seem like the kind of thing that the NCAA needs to step in about.  However, it does give credence to the idea that the program is taking on water.
There is not much thought to Michigan actually winning this version of "The Game."  However, if they get completely throttled, it does make Rodriguez a lame duck coach.
Even if they give him another season to turn it around, a third straight loss to MSU as well as losses to Notre Dame and Ohio State will send him out the door.
It also doesn't help his cause with a new athletic director taking over in a year once Bruce Martin officially resigns.  
University president Mary Sue Coleman did announce this week that she is fully backing Rodriguez but such talk is only talk and doesn't lend to the real fact that this whole mess is partly her fault.
The Michigan fan base has an attitude of entitlement to their program which is cemented by being the winningest college football team ever, as well as having Bo Schembechler as their Moses. 
The only true coach to take over the program must be an offspring of the Schembechler coaching legacy or played for him.  Gary Moeller and Lloyd Carr carried on the tradition until the hiring of Rodriguez. 
It is interesting to ponder if Bo was still alive, would he have allowed the university to hire Rodriguez or will he himself flew down to LSU and dragged Les Miles on the plane back to Ann Arbor. 
With Bo's input being impossible, Coleman and Martin decided to go outside of the box and spend four million on a buyout to bring the Rodriguez spread offense to the Big House. 
Rodriguez's departure from West Virginia left that fan base wanting blood for the betrayal.  Accusations of him shredding documents before he put on the block 'M' created murmurs, but not enough to have doubts.
But in Rodriguez's first year, his spread offense gave Michigan its worst season in 40+ years.  They lost to State at home for the first time since Desmond Howard fell in the end-zone, lost to Toledo at home and they missed their first bowl game since the 60's.  
Now the team is a joke compared to seasons before.  The Forcier/Shoelace combo is a disaster at quarterback and they have a defense that is lacking the ability to defend.
They may be getting the top high school quarterback in Devin Gardner for next season, however signing day has not occurred yet.
Michigan must once again end a season with their tails between their legs.  Their dignity as an elite program is tarnished. 
How do they save face may not be easy when there is so much written on the wall.  All they can do is try to put together a decent last game with OSU. 
However in the off-season, they will have quite a few questions to answer to pull out of this tailspin.  How long will Rodriguez stay?  Who will be the new AD? 
Will Coleman follow Rodriguez out the door if he is fired for her part in hiring him?  Who will be the quarterback in the first game against UConn when the Big House is finally finished?
Such is Michigan in this new era.  Even as a Spartan fan, it is tough to see the Wolverines reduced to the ferocity of house cats. 
However, it is up to the Maize and Blue to reestablish their identity or face the reality of not being part of the discussion of who gets to hold the rose at the end of the season.
This article is
What is the duplicate article?
Why is this article offensive?
Where is this article plagiarized from?
Why is this article poorly edited?

Michigan Wolverines Football: Like this team?