Arkansas Versus Louisville: Rick Pitino and John Pelphrey Face Adversity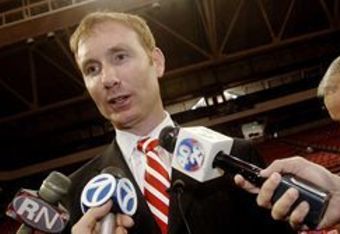 Arkansas and Louisville are set to square off Tuesday at the Scottrade Center in St. Louis in the opening game of the Hall of Fame Showcase, which will be aired nationally on ESPN2.
Louisville is ranked 16th in the nation and lead by Coach Rick Pitino, while Arkansas is unranked and coached by John Pelphrey. Louisville is the favored team against the short-handed Hogs, but the mainstream storyline for this game has little to do with the game of basketball.
The ideal storyline would be the mentor vs. student. Pelphrey played for Pitino at the University of Kentucky, and was one of four players dubbed the "Unforgettables." Now as the head coach for Arkansas he brings in his young team to take on his former coach.
There are rich details from their time together that one could focus on and hype up all the way until the game. Unfortunately, that is not the storyline. The storyline is far more than the typical tale of two teams.
Scandal and suspensions are the headlines instead leading up to this game. Both programs were surrounded with offseason turmoil that has both teams relieved to be finally playing basketball. The media has had their hands full covering the details of both programs off-the-court dramas.
Rick Pitino's offseason focused on his affair and extortion case with a women who claimed he paid her to keep things quiet. The women, Karen Sypher is being tried in a federal court case for trying to extort millions from him.
Pitino has blasted the media for their continued focus on his personal life, and has had an offseason that appears to be one of the worst of any head coach in all of college basketball.
John Pelphrey probably feels the offseason he has had could rival that of his mentor. He has had to deal with a rape investigation, academic struggles, personal issues, and a DUI case with his student athletes.
In total, five players are currently serving suspensions . Coupled with the pressures to turn the Arkansas basketball program around Pelphrey has had more than his fair share of adversity to deal with this offseason.
On the court these teams have faced off six times in the past and stand all square at 3-3 all time. The Cardinals have a deep bench and return a large amount of players from last years squad that made it to the Elite Eight.
Arkansas on the other hand is left with six scholarship players and a borrowed football player and a golfer due to all the suspensions. Pelphrey has had to have a special walk-ons tryout just to fill out the bench.The Razorbacks are coming off of a disappointing season where they only won two SEC games after starting the season 12-1.
When these teams take the court many expect to see a good game, but these non-basketball related factors will make it a great game. Confused about that? Let me explain why it will make it a great game.
Both Pitino and Pelphrey understand the game of basketball as good as anyone in the nation. When dealing with what seems to be a continuous bombardment of negative issues what do coaches do?
They bury themselves even harder into their work and preparation. The same goes for the players on these teams who simply want to play basketball.
Arkansas put on an early preview of this in their season opener against Alcorn State when they shattered numerous records , and displayed more heart and determination than people anticipated. Everyone expected Arkansas to come out short-handed and struggle with a weak opponent, but they did just the opposite.
Louisville on the other hand is opening their season against the Razorbacks and everyone should expect to see a similar emotionally charged opener from the Cardinals. Pitino will have his troops ready to play his vintage style of hard nosed basketball.
They will press the Razorbacks after every made basket, and will show relentless emotion in the huge relief of finally being back on the basketball court.
Both teams will try to continue to win and make positives to drown out the negatives that have been surrounding their teams. Rotnei Clarke coming off of his record setting night in the Arkansas opener talked about the adversity and the focus to win to try and move on past the negative issues surrounding the team.
He seemed uninterested in the records he had broken and more relief that the Hogs had given their fans something good to talk about.
In this match-up the outcome of the game very well may be determined by the deeper bench of Louisville or their higher level of talent and experience than Arkansas. However, what will make this a great game is the high level of emotion that each team plays with from the extra work the teams put in during the offseason.
The hard work to try to avoid paying attention to the off-the-court issues detailed. That is what will make this game more than just a simple tale of two teams, and instead will make this game an emotional kickoff to another great season of college basketball.
Image courtesy of ESPN.
This article is
What is the duplicate article?
Why is this article offensive?
Where is this article plagiarized from?
Why is this article poorly edited?

Arkansas Razorbacks Basketball: Like this team?