Halladay, Granderson to the Yankees- Give Me an Effen Break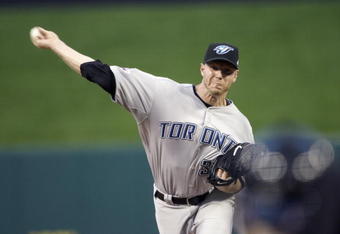 Pool/Getty Images
The latest rumors heard around baseball are that the World Championship New York Yankees are in the hunt to trade for Blue Jay's ace Roy Halladay and Tiger's outfielder, Curtis Granderson. GIVE ME A BREAK! If the Yankees were in my fantasy baseball league, I would quit.
Don't get me wrong. If I were the Yanks, I would try to get such an overwhelming advantage that playing the games would be merely a formality, too, but what about the little group of teams popularly known as "every other team in the AL universe?"
I'm an Indians fan so I don't even have a horse in this race. This provides me with some objectivity. Now imagine the team YOU support with a starting rotation with 2 Cy Young Award caliber pitchers at the top (kind of like we have, er, had in Cleveland), followed by AJ Burnett and Andy Pettitte. Oh, yes, there's also that Joba guy. A passable bullpen with the ageless Mo anchoring the end makes me feel that, on pitching alone, there is a juggernaut afoot. Too bad they lack hitting…
Sorry, I forgot about A-Rod, Jeter, Cano, Posada, and Tex in the infield and whatever stiffs they trot out on either side of Granderson (heck, they could put me in left field and still be pretty strong). Well, if the pitching goes south at least they have the best hitting team on the planet.
When it is all said and done, a team as good as the Yankees were this year, with the addition of Halliday and Granderson, cannot be considered anything but a mortal lock for a 28th World Series championship. Sure, the Red Sox can try and the Phillies can give it a good shot, but, blimey, the new look Yankees would be favored against an MLB all-star team- no kidding, do the math.
Though the thought of the Royals, with Yankee throw-away Wilson Betemit starting about 150 games at third, playing the Yankees would be amusing for the likelihood that there would be double digit shutouts against their entire staff other than Zack Grenkie, whom the Yankees might just acquire for a deal involving Johnny Damon and Ian Kennedy, I doubt that those resilient KC fans would crack a smile. I know that a visit to the field formerly known as the Jake to watch the Yankees play the Tribe would be like watching the Harlem Globetrotters play the Washington Generals, though it would probably be more fun watching Meadowlark Lemon after the 5th inning.
So, I ask the Yankees to, please, GIVE ME A BREAK. If you trade for these impact players, which, by all means, you should to improve your suffering team, then you should make things interesting like they do in spring training games where they send about half of their starters to an away game while the other half stays home for a simultaneous contest, filling the balance of the teams with prospects and backups. You know, guys like Wilson Betemit, Phil Hughes, and Melky Cabrera. Better yet, split the Yankees and give half of the team to the Pirates and the other half to the Royals so that those teams have a chance to win something. You could even take the discarded Pirates and Royals teams and let the Orioles (and maybe my own Indians- we could use yet another Cy young winner like Grenkie) scavenge them to create a .500 ballclub. Just a thought.
This article is
What is the duplicate article?
Why is this article offensive?
Where is this article plagiarized from?
Why is this article poorly edited?

New York Yankees: Like this team?