Uconn Enters a Much Needed Bye Week Preparing For A Chance Against ND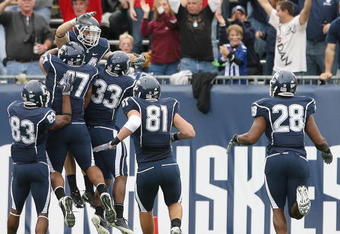 Elsa/Getty Images
Good teams find ways to win games, no matter what the situation is this saying always holds true.  This Uconn football team is like no other, they go into a much needed bye week with a record of 4-5 and just 1-4 in the Big East.  Their five losses have been by a combined 15 points, ya this team is a couple of plays away from being 9-0 and Storrs would be buzzing with BCS talks.  But that's not the case, we are as good as our record says we are but every fan should know we can play with any team in the nation.  We finally have a much needed bye to let the kids clear the heads about Jasper Howard's death and to rest up and get healthy.  The bigger picture is this bye week is an extra to get this team ready for a trip to South Bend on November 21st.  Really that games has so many headlines for Uconn, a win there is a program changing win for the Huskies, how about Zach Frazier returning to play the team he first played for before transfering, or how a win gets a step closer to becoming bowl eligible.  This game is as close to a must win game as there is, Uconn needs to win 2 of their last 3 games to become bowl eligible after Notre Dame, they have two home games against Syracuse and South Florida neither of these are gimmes.  Coach Randy Edsall's main focus should be on the defensive side of the ball, where Uconn really struggled on Saturday night against Cincy.  While facing an offense that has Jimmy Clausen, Golden Tate, Michael Floyd, and Armando Allen Uconn better be prepared for a shoot out again if their defense does not come to play.  But, something tells me Edsall will have his boys ready and this team finds a way to upset the Irish.  These five losses has got to be adding up and eventually we are gonna get a break hopefully it is this game, but some Irish fans may say im crazy for this but really why can't Uconn beat Notre Dame.  There is not one main reason Uconn can't beat this team, Notre Dame has a great tradition but tradition does nothing for you on the field, Notre Dame's defense has struggled all season and with the way Uconn's offense is clicking there is no reason Uconn can not put up 35 on the Irish.  Defensively Uconn matches up better than they did against Cincy, Notre Dame is not a spread offense they run a pro-style offense which Uconn has faced numerous times this year and has had decent success against.  Some teams they have faced with this offense are Pitt, UNC, and Rutgers all teams Uconn's defense did a decent job against which is all they will have to do if the offense continues its success.  But, Uconn fans as our bowl hopes seem to quickly fade this team seems to be getting closer and closer to getting that season defining win and I say it comes next Saturday in South Bend.
This article is
What is the duplicate article?
Why is this article offensive?
Where is this article plagiarized from?
Why is this article poorly edited?