Utah vs. TCU: Does a Win Mean BCS for the Utes?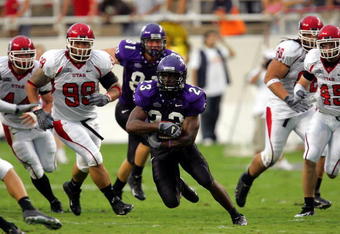 Ronald Martinez/Getty Images
Utah-TCU. The biggest non-BCS game of the year for the second year in a row. 
At stake, the MWC championship, a BCS berth and if TCU wins soundly and the cards fall right, a chance to play for the crystal football.
Most of the College Football Nation, especially Boise and Cincinatti area codes, will be pulling for the Utes while most of the Mountain West will be pulling for the Frogs.
With one of the most stifling and formidable defenses in the country, TCU has played it's way to a #4 BCS ranking.
The highest ever for a non-AQ team. 
TCU is seemingly just this one big win away from their first ever BCS berth.
A win over #16 Utah this Saturday and the Frogs will have a stronger resume than current #3 Texas and a strong case to make the National Championship game should the Longhorns fall.
The success is no surprise.
The Frogs are very well-coached and well-balanced across the board—on both sides of the ball, running and throwing, and even special teams.
While TCU's dream season seems so palpable, they still have to get over but one small hurdle in Utah. Unfortunately, it is the same hurdle that kept TCU out of the BCS last year.
It's the same formidable Utah team that was the last to beat Alabama, the only team to dominate the Tide in the Nick Saban era, a team that is 29-2 in its last 31 games, and 7-0 in games when both teams are ranked.
More significantly, it's the same Utah team that has defeated the Frogs in three consecutive seasons and the current home of the MWC Championship trophy.
That's still Ute property. And the Utes have no intention of giving back.
Even if a loss means a better bowl berth and a nice BCS payout for Utah, the Utes have too much pride to lay down for the Frogs.
They'll leave that to BYU.
Utah still has a lot at stake in this game. Much to the comfort of Boise and Cincinnati fans, the Utes are playing their best football and are the healthiest they've been all season. Just as they did in 2007 and 2008, the Utes have continued to improve week after week.
Most significantly, the offense has looked completely revitalized in the past two weeks that QB Jordan Wynn has played under center.
Granted, Wynn is a true freshman with limited D-1 experience. So you can expect he'll make poor decisions and some costly mistakes. Especially against this stifling defense.
But he is precocious with an impressive football IQ, a pocket presence and a cannon arm that  have completely opened up Utah's offense. Not only has he brought a vertical game to stretch out the defense, but his impact on the running game is noteworthy.
RB Eddie Wide III has effectively averaged 100-plus yards rushing per half with Wynn under center. Overall, Utah running backs have piled over 300 yards in the five quarters Wynn has been at the helm. 
If Utah can stay balanced on offense. Mixing a strong running game with some deep passes. Utah can stay with the Frogs so long as they secure the ball and somehow keep Wynn's errors to a minimum.
Either way, it's still a win-win situation for Utah.
If TCU wins, the Frogs would be a virtual lock for the BCS. Netting the Utes and the conference members an attractive payout while drawing tremendous attention and exposure to the conference.
With TCU gone, Utah would then be in the driver's seat for the Las Vegas Bowl or possibly an arranged meeting with Boise State (if the Broncos got snubbed) in San Diego should they get past BYU.
What Would a Win Mean for Utah?

First, Utah would be in position to finish the season with a top ten ranking for the second season in a row. A terrific accomplishment for a "rebuilding" year.
Second, Utah would then be returning their QB, star RB (and possibly RB Matt Asiata) and three starting WR's returning alongside a very promising defense, for next season. Possibly beginning the season in the top 10.
With Pitt, Notre Dame and Iowa State on the schedule, the Utes could be in prime position to compete for a BCS bowl on the national stage.
In terms of bowl allotment, a victory Saturday most likely would send the Utes to the MAACO Las Vegas to face a solid, possibly ranked Pac-10 team.
Utah - BCS Bound?
Outside of a Boise State loss, Utah would need a lot of help. Despite being the one
Here are the most likely possibilities:
1-6. Six BCS berths would go out to each of the AQ conferences
7. An undefeated Boise State would qualify automatically
8. The Alabama/Florida loser will take up the first at-large
This would leave two unclaimed at-large berths remaining.
The primary candidates would likely be:
USC
Ohio State/Iowa loser
Cincinnati/Pittsburgh loser
Miami
Utah
Oklahoma State
Houston
Penn State
Of these, Utah would have the fewest losses (tied with Houston), the most notable win (at TCU) and the most forgivable loss (at Oregon). But, the Utes would also have one of the smallest fan bases and overall TV draws.
Here's a breakdown of how Utah might compare to each at large candidate.
USC: A two-loss USC gets in ahead of Utah.
Big Ten Runner up: Utah gets in over a three loss Ohio State or a two loss Iowa.
Big East Runner up: A one loss Cincinnati gets in ahead of Utah. A two loss Pittsburgh falls behind.
Miami: Ahead of the Utes in all but the Fiesta Bowl.
Oklahoma State: The Orange or the Fiesta would probably take the Cowboys over Utah.
Houston: Heisman hopeful Case Keenum may be a more compelling draw but Utah is the more attractive team.
Penn State: Less deserving, with few strong victories to compensate for two blowout lossesat home. PSU has a much better draw nationally though, so it may depend heavily on the matchup.
Ultimately, it would come down to which bowls would be making the decision. This is how I'd see it play out:
1) Sugar Bowl: SEC runner-up.
2) Fiesta Bowl: USC due to proximity and draw.
3) Orange Bowl: An undefeated Cincinnati or Miami (if Cincy loses).
4) Fiesta Bowl: Boise State
5) Sugar Bowl: Miami or Pittsburgh (if Pitt wins the Big East)
The only scenario I could see Utah getting a BCS berth is if:
1) Boise State loses or 2) Cincinatti wins the Big East and both Miami and Oklahoma State lose, presuming Oregon wins the Pac-10, Texas wins the Big 12 and Georgia Tech wins the ACC.
In that scenario, it would play out like this:
1) Sugar Bowl: SEC runner-up.
2) Fiesta Bowl: Undefeated Cincinnati
3) Orange Bowl: USC
4) Fiesta Bowl: Boise State
5) Sugar Bowl: Utah over Iowa or Penn State
Barring a number of upsets, the BCS is still a long shot for a one loss Utah, but it's still possible. I think Miami, due to its fan base, history, and proximity to both the Orange and the Sugar Bowl will consistently get in ahead of Utah.
The only bowl that might take Utah ahead of the 'Canes is the Fiesta Bowl. But the Fiesta Bowl seems destined to host Boise State. And they would not take the financial risk of hosting two non-AQ teams.
In that event, the MWC could potentially finish with two top 12 teams and no BCS berth.
By winning, Utah would do a serious disservice to the conference. At the same time, they would claim their second consecutive MWC title and set the stage for a dream run next season.
This article is
What is the duplicate article?
Why is this article offensive?
Where is this article plagiarized from?
Why is this article poorly edited?

Utah Utes Football: Like this team?