Zenyatta: Horse Of The Year!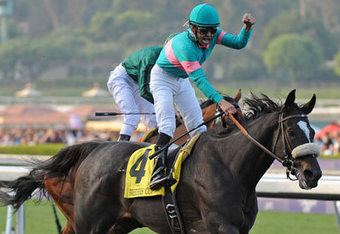 Isn't the cliche "It's not how you start but how you finish?"
For the better part of the year, Rachel Alexandra claimed the spotlight with win after win.  However, the decision not to run her at the Breeders Cup Classic has opened up the Horse of the Year debate.
We all witnessed racing history Saturday, when Zenyatta stormed down the stretch and won the Breeders Cup Classic.
After an extremely slow start, Zenyatta overcame a near dozen length deficit and passed Gio Ponti with about 50 yards left to become the first filly to win the prestigious race.
Now the question is:  Who is Horse of the Year?
At first glance, it appears Rachel Alexandra deserves that title but that's not the case.
Rachel Alexandra had an amazing 2009 campaign.  She won all eight of her starts and won five grade one races, which included three victories over male horses.
On the other hand, Zenyatta won all five of her starts, with four of them being grade one races.  Her "only" win against the boys came about 24 hours ago.
So, why am I picking Zenyatta?  Let's look at the facts and the double standard.
A lot of "experts" will point out that Zenyatta avoided real competition until the Classic and her other wins this year were against inferior horses that she had already beat.
What about Rachel Alexandra?  Did she not skip the Kentucky Derby and Belmont Stakes and only run in a small field at the Preakness?  What about her team passing on the Travers to run in the shorter and easier Woodward? 
If you want to say ownership was doing what is best for the horse, why is that reason good enough for Rachel Alexandra but not Zenyatta?
Another interesting "issue" is that Rachel Alexandra owner Jess Jackson is not a big fan of the synthetic track-especially after Curlin came up short in last years Breeder Cup Classic.
Maybe Mr. Jackson should remember that Rachel Alexandra ran on the synthetic track once at Keenland and handled it very well, so please don't use the surface as an excuse. 
If Rachel Alexandra had run in the Classic yesterday, I think she would have run very gamely because she is a fantastic horse.
With that being said, as we saw in the Woodward against good but not great field of horses, Rachel Alexandra began to falter at nine furlongs.  The Classic is 10 furlongs and there is no doubt in my mind that Zenyatta and Gio Ponti would have passed a tiring Rachel Alexandra in the stretch.
In 2010, I'm fairly confident that Rachel Alexandra will be an even better race horse than she was in 2009.  Remember, she's only three and not at the peak of her skill.  It would not surprise me to see Rachel continue to dominant the sport in the races that she enters and winning the 2010 Breeders Cup Classic.
People can continue to knock Jerry Moss and John Sheriff for not taking Zenyatta out of California for a dream match up against Rachel Alexandra but don't let Jess Jackson off the hook for not entering his talented filly in the biggest race of the year.
Rachel Alexandra is the best three year old on the planet and she had a wonderful 2009 but while Zenyatta won just one race against the males, she won the one that matters the most.  Not once in 2009 did Rachel Alexandra face a field as talented and deep as Zenyatta did in the Classic.
If I had a vote, I'd vote Zenyatta for Horse of the Year.
This article is
What is the duplicate article?
Why is this article offensive?
Where is this article plagiarized from?
Why is this article poorly edited?