Saturday Night Was Supposed To Be Cincy's Coming Out Party Not Uconn's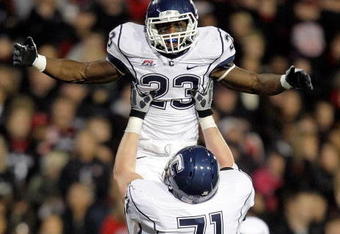 Andy Lyons/Getty Images
Saturday night was supposed to be all about Cincy football, it was their coming out party and their chance to be labeled as one of the elite teams in college football, but there was something that none of the experts predicted, the Uconn offense played its best game of the season.  The final score may have been 47-45 a cincy win but there is no way you can measure the amount of heart these uconn kids have down 30-10 at halftime it seemed this game was gonna be what Cincy was looking for a blowout on national television but something woke UCONN up and they battled all the way back to make it 40-38 until they gave up a 15 yard touchdown run on a 4th and 1. What everybody in the nation saw saturday night was a birth of a program growing and slowly becoming one of the best teams in the big east, they have been able to compete in every game this season.  All the top 150 recruits saw last night that Uconn does have a solid football team that can be flashy at times and compete with anybody, and who knows this game could really pay off and Uconn could finally sign a recruit ranked in the top 150. But when you look at the overall shape of this UCONN program their future is just so bright, think back to when UCONN first joined the Division 1-A ranks and now see how far they've come now.   Randy Edsall deserves great credit for where this program is today, yes they may be 4-5 this season but does anybody think we would have been able to even compete in the games we did this year a couple years ago or even last year.  In the past we have never had the offense to keep up with an offense like Cincy and this year we finally have shown that we now have an offense and when we are clicking we are very deadly.  With weapons like Jordan Todman, Marcus Easley, Andre Dixon, Zach Frazier and Cody Endres at QB Uconn could never had dreamed of having players of this capability.  This year has shown how far the program has come, losing close games to teams Uconn could never compete with in the past, but lets talk about this season for the huskies for a second, they have three games left in the season they travel to Notre Dame after a bye, then they come home for two home games against Syracuse and South Florida.  The question is can Uconn win two of these three games and become bowl eligible?  I say yes, is winning at Notre Dame really that out of the question this season? The Irish struggle on defense and run an offense that the Uconn defense tends to perform pretty well against.  If the Uconn offense performs like they did against Cincy they can easily win in Notre Dame, it will just come down to if the Uconn defense can just slow down the Irish offense enough to win the game.  But, I will ask this question about the growth of this team through the years, two years ago would we even be discussing if Uconn could beat a storied and legendary program like Notre Dame in their own house?
This article is
What is the duplicate article?
Why is this article offensive?
Where is this article plagiarized from?
Why is this article poorly edited?