Maple Leafs Dominate, Subdue Wings on The Way to The Cup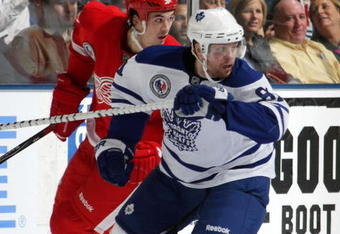 Bruce Bennett/Getty Images
Despite their recent play, t's going to take some time apparently before Red Wings fans realise it's not about a bad bounce or bad call, it's about which direction the team is heading. In the case of their drubbing at the hands of the Maple Leafs, it was obvious the Toronto team had suddenly turned a corner and is heading upward, really.
The so-called Hall of Fame Game proved statistics prove nothing. Essentially, the better team won, again. The Leafs were faster, and more accurate, with and without the puck; they hit with relish, they blocked shots like pros, cleared rebounds quickly and stopped the puck from getting behind The Monster all night long.
Indeed, the Wings veteran Osgood had been on a roll lately; now with the result in hand, maybe he was tired, or given his greatness, he just had a bad night. When neither Pavel Datsyuk nor Henrik Zetterberg, arguably two of the league's most formidable players who were coupled and played on the same line, could register a point against the Leafs, something has changed.
Most definitely. After all, playoff-bound Detroit signed Todd Bertuzzi in the off-season, and rely on Kirk Maltby to provide some requisite truculence these days. Two teams passed each other in the night last night, one going up and the other going down.
The Toronto Maple Leafs took a lead, built the lead and held the lead to win. Yes, Detroit is a team in decline, but that is no excuse for the tremendous effort displayed by the Leafs, and on the heels of their victory in Raleigh the night previous. And so with only two wins under their belt going into Saturday night's game, the odds did not favour Kessel & Co.
Kessel bounced back after a brief slump against Carolina and popped in first goal as a Leaf, with authority, after a shot by Blake had snuck through and was inching toward the line when Kessel smacked it into the twine. He is inspiring, and refreshing.
Again, the single-most critical factor for the win was in fact between the pipes: Jonas Gustavsson. He was both solid and spectacular, and dared Detroit's vaunted offense to shoot. Speaking of shooting and with authority, I thought Wayne Primeau scored a nice goal, a great shot off the wing, from a nice feed I might add from Colton Orr.
Gustavsson was peppered with 36 shots, and his goals against average improved, rather dramatically, as did his save percentage. Maple Leafs fans have witnessed a transformation of the team, of a gelling, from idle threats and empty promises to the product of goals, and the chemistry is delivering points, having now rewarded fans with a point in each of their last 7 games. Magic!
Predictably then, by garnering a few more points over the next week, the team leaps ahead of divisional powerhouses Florida and Atlanta, and will soon enough challenge Montreal and Boston in the Northeast, and dare I say Ottawa... and Buffalo. Montreal has lost 9 games already. Boston and the Leafs have lost 7, as have the Rangers.
Playing another great game after returning, Finger delivered a long-overdue goal with a great shot in the upper corner while attacking the net. (Yes, I dispute the commentator's call that it might have been deflected.) As well, hopefully Komiserak did not bruise his hip too badly after colliding with the boards, as his threatening presence is clearly resounding. Despite an admittedly rocky start, he is making a serious impact, and obviously on several levels.
Minnesota and Chicago are up next. The latter have lost 5, while the former have lost 10 already.
This article is
What is the duplicate article?
Why is this article offensive?
Where is this article plagiarized from?
Why is this article poorly edited?

Toronto Maple Leafs: Like this team?