Putting Jahvid Best's Injury Into Perspective: You Can't Question His Heart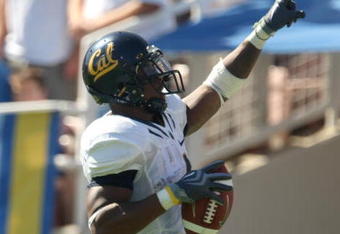 Stephen Dunn/Getty Images
When an injury occurs to a player fans get curious to see just how brutal the injury actually was. You can almost find any clip of a player being injured on Yahoo. In fact Yahoo Sports just had an article titled "The 10 Most Brutal Injuries of the Last Decade " written by Greg Wyshynski.
In the article you'll find the injury to Richard Zednik, who was inadvertently cut in the carotid artery by a teammates skate and you will also find the clip of Trent McCleary being hit in the throat with a puck as he attempted to block a shot.
So, it's easy too see that fans of the game are curious to see what actually happened when there's a breaking news in regards to a player whether it's college or professional. In this case it happened to be in college football.
You will find on the front page Yahoo Sports the article titled "Cal RB Best Taken to Emergency Room ." That title alone is an attention grabber so you'll read about the event or at least try to find the clip on Youtube.
Which you can find the clip here of Jahvid Best's horrific injury.  It's one of the more scarier injuries you'll see in a game. You heard from the clip that I don't know who it was for ESPN who stated this "when you see his arms extended like that the medical term is called posturing and it means that the brain has lost contact with the body."
Now, the question becomes did Best really have to jump to get into the end zone because if you look at some of the comments being made either on Youtube or on the article on the front page, you will find that question. 
I think it's incredibly hard to pass judgement on Best for jumping to score the touchdown. At that moment the Bears were already trailing 14-0 and needed to score a touchdown.
Best was doing all that he could to get the Bears the six points. It's not Best hasn't jumped and dived for a touchdown before this year either. I don't see anyone complaining about it. Here's an example from the game in Minnesota. Best dives into the end zone for the touchdown.
Questioning the play made by Best isn't going to help anyone. The most important thing is the health of Best. He made a great play with great effort, but the end result was catastrophic.
Best wasn't trying to show off on the play, he was just trying to get the Bears on the scoreboard and he felt that if he jumped he was going to score no matter what. If he didn't maybe he felt like the Oregon State defense could stop him just short.
It also didn't help that the Beaver defender pushed him, which helped propel him even higher in the air and because of this he was off balance so he couldn't really land on his feet. 
Also, hindsight is usually 20-20 and I think no matter how you look at the play there's no doubt that Best is going to give his all out effort and he was just doing what he felt was best for the team.
I don't think it's right to question the motives of Best on the play. In my mind Best was clearly trying to score that touchdown anyway possible. I guarantee you if it meant diving instead of jumping, he would have been diving to the end zone.
You saw Best diving earlier in the game when he was stopped in the backfield, but before he went down he dove forward to get the Bears a first down.
Second guessing Best isn't going to help. The only thing that really matters is that Best recovers from the concussion and gets to 100 percent.
This article is
What is the duplicate article?
Why is this article offensive?
Where is this article plagiarized from?
Why is this article poorly edited?

Cal Bears Football: Like this team?