The Akinori Iwamura Trade That Almost Was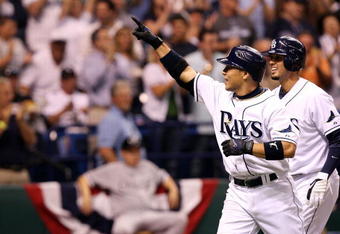 Doug Benc/Getty Images
Despite the anxious wishes of Twins' fans everywhere, the Twins have yet to make their first move this offseason.

Akinori Iwamura , 30, was traded to the Pittsburgh Pirates a few days ago for young reliever Jesse Chavez . Considering the relatively low price, it's a shame the Twins were unable to convince the Tampa Bay Rays they were the best recipient for their veteran second baseman.

I'm not sure why the Twins weren't able to top Pittsburgh's offer of Chavez. Surely a Rob Delaney or Anthony Slama would have been enough, right? Of course, this is assuming that Bill Smith was involved in the trade talks. Judging from the circumstantial evidence, I find it hard to believe that he wasn't.

Brian Buscher was outrighted to the minor leagues on Tuesday morning, just hours before the trade of Iwamura was announced. This freed up a spot on the 40-man roster, which was the main reason people thought the Twins were involved in the Iwamura trade talks.
Iwamura has a club option on his contract for 2010. The decision to either pick up this option or pay the $250K buyout needed to be made by the day after the World Series ended.
Considering the fact that Minnesota has all winter to shuffle their roster, the outright of Buscher before the end of the World Series could mean essentially two things: The Twins were either involved in trade talks involving a player whose team didn't want to pick up next year's option, or Buscher had shot Smith's dog.
Unfortunately, for whatever reason, Minnesota failed to acquire Iwamura.
Click here to read the rest of this entry.
Even though he would have come with a $4.25 million price tag, Iwamura would have been a perfect fit with the Twins.
It's no secret that the No. 2 spot in the Twins' batting order was a black hole consistently filled with ineptitude. The league average on-base-percentage for the No. 2 hitter this season was .337. For Minnesota it was .306.
Iwamura's 2010 ZiPS projection for on-base-percentage is .347, well above the league-average. Even though he wouldn't provide any power or speed to speak of, Iwamura would be able to consistently get on base, which is all you can ask of a No. 2 hitter.
To further articulate Iwamura's value, one needs look no further than his above-average plate discipline and the fact that he is one of the better line-drive hitting second baseman in the league.
Besides the offensive benefit Iwamura could have provided the Twins, his defensive versatility should also be considered. Able to effectively play third base, Iwamura could have manned the hot corner until Danny Valencia was deemed ready to take over.
Perhaps the only down-side to Iwamura is the fact that he would have been another left-handed batter on a team already chock-full of them.
Clearly, Iwamura could have solved a huge problem in the Minnesota infield. Unfortunately, he is no longer an option and Smith must move on.
Now, the question is "How desperate is Smith to get a second baseman now that his first choice is gone?" Will he diligently research and pursue another viable option, or will he throw away a few top prospects for the first free agent he sees?
Let's hope for the former.
This article is
What is the duplicate article?
Why is this article offensive?
Where is this article plagiarized from?
Why is this article poorly edited?

Minnesota Twins: Like this team?