A Heisman Vote for Nebraska's Suh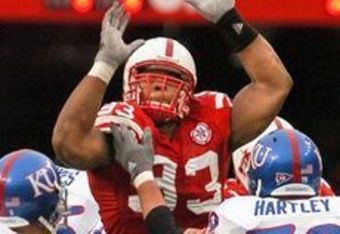 Every year, the Heisman Trophy is presented to "the most outstanding college football player in the United States." Since 1990, however, the award has been almost entirely limited to quarterbacks and running backs. Of the past 19 winners, 12 have been quarterbacks, five have been running backs, and the other two were a wideout (Michigan's Desmond Howard, 1991) and a cornerback (Charles Woodson, also of Michigan, in 1997).
Do I have any qualms about how the Heisman has been given out in recent years? Absolutely not. All of the past winners over the past two decades or so have put up amazing single-season numbers and clearly were worthy of such a distinguished award.
However, when looking over the potential nominees for this year's trophy, I must confess that the "typical" skill-position players likely to be up for the award have so far failed to meet the traditional expectations. When looking back at the past five quarterbacks to win the Heisman, you can't help but be impressed with the pure passing numbers each put up:
But when looking over the potential quarterback nominees this year, every one of their projected season-ending statistics falls short of the average of the past five quarterback winners:
Clearly, when looking over the possible quarterback nominees this season, none has the projected stats to match the past five winners. In fact, Notre Dame's Jimmy Clausen and Texas' Colt McCoy only meet the standard in one of the four categories, while Florida's Tim Tebow meets none. Boise State's Kellen Moore and Houston's Case Keenum both are projected to post numbers surpassing the previous winners in three of the four areas, but neither Boise State nor Houston play the level of competition needed to give them a legitimate chance of wining.
Consequently, if we conclude that none of the nation's top quarterbacks are good enough to win the Heisman from a statistical/competition standpoint alone, let's take a look at the running backs.
Here's a look at the past three Heisman-winning RBs, along with their single-season statistics from the year they won:
When analyzing the one running back who seems to have the only legitimate chance to win the Heisman, Alabama's Mark Ingram, he—like the quarterbacks we've discussed—falls short of the numbers established by recent past winners:
So after considering the statistics above, the point of all this is simply to say: There's no quarterback or running back worthy of taking home the Heisman this season based on statistics. And if there's one thing you need in order to win the trophy, it's stats—which is why Nebraska defensive tackle Ndamukong Suh should be seriously considered for the 2009 award. Not only is Suh one of the most dominating defensive linemen to come along in years—and not only is he going to be one of the top players selected in the 2010 NFL Draft—but the guy has the overall statistics to make a legit run for the Heisman.
To prove my point, I want to take a look at the only three defensive tackles since 1990 to receive votes and the statistics they posted those seasons:
Given their numbers, it's pretty remarkable that the closest any of them got to winning the award was fourth. But what if I told you that Suh is on pace to surpass all of them?
Suh currently has 28 solo tackles, 49 total tackles, 13 tackles for loss, five sacks, one interception, seven pass breakups, 14 quarterback hurries, one forced fumble and two blocked kicks—and we're only eight games into the season. He's on pace to finish the 2009 season with nine sacks, 23 tackles for loss, 25 quarterback hurries and an amazing 86 total tackles (based on Nebraska reaching the Big 12 championship game).
AP Suh has been a beast in the Big 12 this season.
However, the stats don't necessarily do Suh justice. He's also leading the Cornhuskers defense in solo tackles, total tackles, tackles for loss, pass breakups, quarterback hurries and blocked kicks. And the only reason he's no longer the team leader in sacks is because last weekend vs. Baylor, he commanded so much attention that it led to a five-sack performance from his teammate, DT Jared Crick.
When looking over Suh's projected stat line compared to former Washington DT Steve Emtman, who finished fourth in 1991, Suh would not only eclipse his sack total by 2½ but also beat his tackles-for-loss total by 3½ and his season tackle total (60) by 26—while also leading his team in nearly every major statistical category for a defensive lineman. And while Emtman is credited with having one of the most dominant statistical seasons ever by a defensive lineman, his stats still fall short of what Suh is projected to reach.
I know defensive line projections are anything but guaranteed, but we're talking about the best single-season performance since 1990 for a defensive tackle. And the fact that Suh is on pace to better all of them should cement him as a candidate for the Heisman. Given the fact this might be one of, if not the worst statistical years ever for quarterbacks and running backs in contention for the Heisman, doesn't it make sense to look at one of college football's most dominating defensive tackles ever?
Remember, the Heisman Trophy isn't given to the most outstanding quarterback, or the most outstanding running back, or even the most outstanding player on the best team. It's supposed to go to "the most outstanding college football player in the United States." 
After considering the statistics, it's tough to argue that Nebraska's Suh shouldn't be that guy.
Follow me on Twitter: WesBunting
Read more at NationalFootballPost.com.
This article is
What is the duplicate article?
Why is this article offensive?
Where is this article plagiarized from?
Why is this article poorly edited?

Nebraska Huskers Football: Like this team?