Urban Meyer's Eye-Gouge Punishment: Brandon Spikes Wins Over Gator Image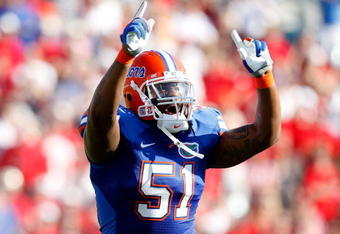 Kevin C. Cox/Getty Images
When Florida's Urban Meyer called a meeting with Brandon Spikes to review the issues surrounding the "eye gouge seen around the world," few outside the Gator community expected anything less than the worst for the defensive captain.
From the outside looking in, it appeared that Spikes had two strikes going against him as he walked into Meyer's office.
Yes, two strikes, since Spikes not only blatantly attempted to gouge the eyes out of Georgia's Washuan Ealey, but he did so without caring that he was on national television.
For those that know Meyer, it's hard to determine which offense is worse—Spike's attack on Washuan or the incident's impact on the image Meyer has so carefully crafted for himself and his Gators.
But immediately after this meeting, the college football world was caught off guard when it was announced that Spikes would only serve a half-game suspension for his behavior.
A half game against Vanderbilt.
As Spikes made his public apology and accepted his "punishment," word of Meyer's controversial decision put the Gator football program squarely in the middle of the debate over on-field behavior. 
And being in the middle of that debate is certainly NOT where Meyer expects to find his Gators.
The buzz generated also called into question Spike's character, Meyer's motives, and the moral compass of the Florida squad. 
So, what happened?  What made Meyer, the grand master of manipulating team image, decide to risk everything he had created by slapping Spikes on the wrist?
The answer is simple.
Meyer chose his team over his team's image.
Exactly what transpired during the Monday morning meeting between Meyer and Spikes has not been made public but it makes perfect sense that the two had a very frank discussion about the events leading up to the incident.
Spikes, perhaps citing examples of foul play on part of the Bulldogs, may have explained that his patience had run dry and the heat of the game compelled him to dish it out just like it had been served to himself and his teammates.
A valid assumption since Tim Tebow himself has confirmed that the Dawgs were not entirely innocent Saturday and that tempers were short on both sides of the line.
But regardless of the details, Meyer has indirectly acknowledged that there were extenuating circumstances influencing the incident when he suspended Spikes for only half of the Vandy game.
In the end, Meyer chose not to succumb to the demands of others for a more stringent punishment for Spikes.  Rather than make an example out of his captain, Meyer punished as he saw fit and in the process proved to his players that he is more than willing to take some heat on behalf of his team.
Did the punishment fit the act?  Many, including this author, say no.
Spikes should have been served a punishment a bit more severe and the NCAA may flirt with using this as an excuse to execute postgame misconduct video reviews.
But...
With all the controversies, illnesses, injuries, performance issues, and now behavior issues that have stung Florida this season, the last thing the Gator's needed to see was their coach sacrificing a team leader in order to protect his own future marketability.
On Monday, the only thing Meyer sacrificed was himself.
It was the perfect gift for an undefeated yet doubt-ridden team searching for unity and focus before seasons end.
This article is
What is the duplicate article?
Why is this article offensive?
Where is this article plagiarized from?
Why is this article poorly edited?

Florida Gators Football: Like this team?