Someone Upstairs Looking Out for Iowa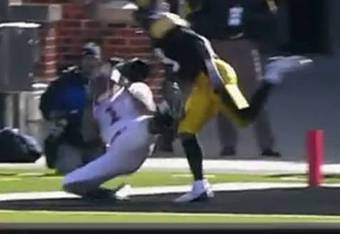 I like Iowa. I've been in their corner for most of the season thus far. I love defensive teams who win with grit and clutch play, especially on the road.
But I have a problem with today's game. A big one. Indiana outplayed the Hawkeyes for most of this game.
Somewhere early in the fourth quarter, the tide changed. Iowa took over the momentum and Indiana lost its way, looking like the 109th rated team they really are.
When did the pendulum swing in the Hawkeyes' favor?
When the replay official overturned a DEFINITE TD catch by an Indiana receiver. Following that "call," Indiana fell apart. It took the wind from the Hoosiers' sails, and Iowa capitalized.
While Iowa does deserve credit for taking advantage, it still doesn't make the victory legitimate. Instead this will go down as further evidence of a desperate conference using officials to support a BCS propaganda.

I'm sorry Hawkeye fan, but CFB nation is not that naive. We watched two very overturnable replays in the first half stay in favor of the Hawkeyes, hinting to us that the booth will generally lean in favor of the original call on the field.
While I thought some of those calls ought to have been overturned, I thought nothing of it at the time.
But when I first saw this touchdown, I was surprised that it was even being reviewed. The official who signaled touchdown was standing right in front of the play. And the replay showed visible evidence that it was indeed a touchdown.
So what's there to overturn? It wasn't the play itself but the outcome this game was headed towards.
This was BCS motivated. There isn't a booth in the country that would reverse that call. I guarantee you, if the roles were reversed and it was an Iowa receiver making the same play, the call would've stood.
I guarantee it.
If you disagree, I respect that, but show me again how you justify reversing this call. You can't. Once again, the lure of the BC$ trumps integrity.
And it makes sense. The Big Ten could very well place Iowa in the National Championship game and sneak in a second BCS berth.
These two outcomes have three things in common:
They both provide a bounty of lucre for the Big Ten.
They both provide much needed prestige for a beleaguered conference.
And neither would happen if Indiana were to upset Iowa on Saturday.
And while I really don't mind the outcome personally, as an undefeated Iowa makes for a much more intriguing season, I just want it come fairly. 
Unfortunately, this not only hurts the integrity of the BCS and college football but this will ultimately catch up to the Big Ten.
Because once again, it would mean that the Big Ten would be sneaking in a team to the BCS, that was not fit for its post.
All that would do is set up the Big Ten for yet another embarrassing BCS Bowl performance.
That is, unless they have one of their own manning the replay booth.
This article is
What is the duplicate article?
Why is this article offensive?
Where is this article plagiarized from?
Why is this article poorly edited?

Iowa Hawkeyes Football: Like this team?