Pittsburgh Penguins Players of the Month, October 2009
November 1, 2009
Although the Pittsburgh Penguins capped off the month of October with a Halloween loss to the Minnesota Wild, there has never been a better opening month in franchise history.
With 11 victories in October, they not only topped the best Penguins mark in the month, but also tied the best start by a defending Stanley Cup champion.
But the great success has came at a great price, as Evgeni Malkin , Sergei Gonchar, and Tyler Kennedy have all missed multiple games and nobody knows for sure how many more the trio will be forced to sit out.
Either way, the Penguins have waddled on without them.
Let's look at the players who made the biggest difference in their early-season success. All ratings are based off a scale from zero to 10, where 0-2 is abysmal, 3-4 is poor, 5 is average, 6 is a good effort, 7-8 is a standout performance and 9-10 is an awe-inspiring show.
Defensive Player of the Month
No. 3 Alex Goligoski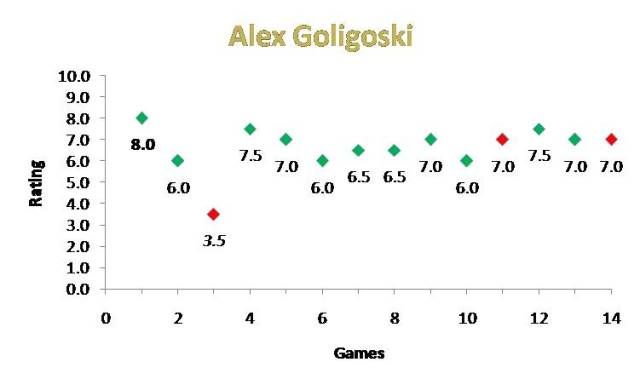 Average Rating: 6.61
Best Performance: Oct. 2 vs. New York Rangers.
On SCBR-Day, Goligoski came out with a purpose to prove that he belonged in the NHL. Earning time on the top powerplay unit alongside Gonchar, he showcased his strong passing abilities to set up the first goal of the season. But his offensive surge wasn't done, as he also fired the shot that Kennedy re-directed for the eventual game-winning goal.
But maybe more impressively, he also showed what he could bring defensively. Technically a replacement for the departed Hal Gill, he brought a new element of speed and agility to the defensive corps.
Shining Moment: His increased role.
After the Penguins utterly dismantled the St. Louis Blues on October 20, the team received a shocking piece of news that quickly brought them back from the exosphere. They would once again have to do without Gonchar.
But the door was kicked wide open for Goligoski.
In the final five games without Gonchar, he recorded three goals and five points in total and amassed a superb rating of plus-12. And he scored no larger goal than the game-tying marker in Columbus that gave the Penguins a chance to win the two points in a shootout.
Final Monthly Line: 14 GP, 5 Goals, 7 Assists, +12 rating.
Offensive Player of the Month
No. 87 Sidney Crosby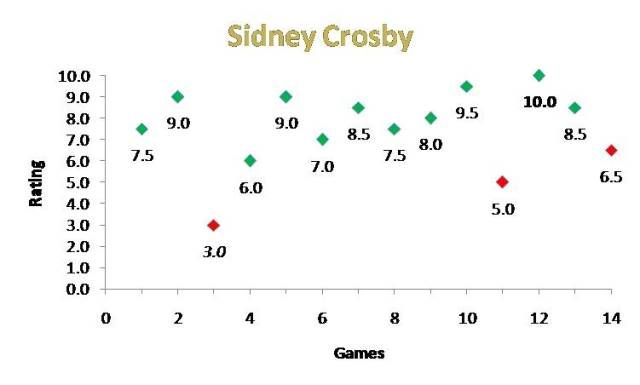 Average Rating: 7.50
Best Performance: October 28 vs. Montreal.
Oct. 28 will always hold a special place in the mind of Sidney Crosby. It was the date where he registered his first career hat trick against the arch-rival Philadelphia Flyers three years ago as part of an 8-2 eradication.
But coupled with the fact that the game is against his childhood favorite team, the motivation will always run higher. And boy, did he impress.
He scored with a dart of a wristshot from outside the left post. He scored from a 360-backhand to the spice cabinet. Then he scored one-on-one with Jaroslav Halak to put the finishing touch on the ensuing Mellon Arena hat shower.
And Bingo was his namo-o.
Shining Moment: Enduring Atlas.
In Greek mythology, Atlas was a Titan who was punished by Zeus for betraying his fellow mates. For his punishment, he was forced to the end of Gaia and hold up the Earth.
On Oct. 23, Crosby did his best to honor Atlas. On a day where almost no other Penguin showed up for work and the team gave up two first period goals to the Florida Panthers, he took matters into his own hands and did everything.
He won 21 faceoffs, he scored on the powerplay, he scored short-handed to tie the game, then he won the extra point by scoring in the shootout. When the Penguins needed someone to carry them, the Captain was willing and ready to do exactly that.
Final Monthly Line: 14 GP, 9 Goals, 7 Assists, +10 rating, 1-0 record in fights.
Unheralded Player of the Month
No. 17 Mike Rupp
Best Performance: Oct. 14 at Carolina.
He only saw 7:20 of ice time, but he sure made it count. Making the transition from the Devils' red-line trap to the Penguin forechecking assault isn't an easy one, but Rupp has done a tremendous job. He scored his first goal in a Penguin uniform in spectacular fashion, leaving Cam Ward staring to the heavens as if he'd just seen Haley's Comet.
Shining Moment: An increasing role.
At first, Rupp would be used in situational hockey, barely seeing six or seven minutes a game. Now, he has earned time alongside Malkin or Crosby and he hasn't disappointed, matching his goal total from a season ago in 12 games. Plus, an ongoing hitting competition with teammates Matt Cooke and Brooks Orpik isn't too bad either.
Ahead in November, a number of challenges await the Penguins. First, they will head west for an always-daunting three game set with Anaheim, San Jose, and Los Angeles. Then they will make another appearance on national TV when they take on the Boston Bruins on Versus.
Evgeni Malkin and Sergei Gonchar could both be back by Thanksgiving, and the Penguins close out the month with a trifecta of New York-based teams. Who will step up and be the Players of the Month in November?