A World Series In New York: The National Media's Dream Come True...Again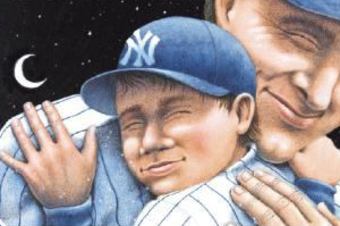 To some degree, I sympathize with New York Yankee fans. Granted, my tears are largely of the crocodile variety because I readily acknowledge they bring a lot of the exploitation on themselves.
Few fan bases are so quick to turn on their players when performance dips.
Arguably, only Philadelphia can compete with the Big Apple's American League representative in terms of a propensity to boo anyone and everyone after a string of bad days. There are exceptions to every rule, but I doubt even fixtures of excellence like Derek Jeter and Mariano Rivera have been spared the rod in their worst moments.
Consequently, the national media's tendency to overreact to everything Bronx Bomber can be justified by parties interested in doing so by pointing out it's merely a reflection of the rabid following's current mindset. The constant needling of the team when it's not humming along on all cylinders is partially on the pinstripe faithful.
Of course, raking the club over the coals also generates a lot of scratch, which is ample motivation for the treatment in itself especially in these trying economic times. Hence, my tepid sympathy for the average Joes and Josephines who are head over heels for the Yanks.
No group should be made an emotional pincushion in the name of the almighty dollar.
For example, FOX Sports' Jon Paul Morosi wrote the Yankees had reached a "crisis point" after their Game One loss to the Philadelphia Phillies in the World Series.
Really?
New York, which had the best record in Major League Baseball by six full games and has been marauding through the postseason up until the Fall Classic, faced a "crisis" after a single loss in the first game of a seven-game baseball war?
A franchise with current or former All-Stars at every position, a Cy Young winner, one of the better playoff pitchers in recent memory, possibly the best closer of all-time, and a payroll that dwarfs all but the highest spenders in the Show needed to hit the panic button because they were in an 0-1 hole and history says that's bad?
Good lord.
Hey, like most of America, I'm rooting for the Phillies to win. Hard. I sincerely hope the Yankees eventually do face a crisis (in the baseball sense). Nevertheless, if going down 0-1 is a catastrophe, what will Mr. Morosi write if they go down one game to three?
If a loss in Game One is a "crisis," what the hell would facing elimination for the remainder be? Boiling seas? Plagues of locust? Fire and brimstone?
In the wake of the Bombers' Game Two victory, Jon Paul is pimping a new angle—New York's still in trouble because the Phils have the secret to stifling Alex Rodriguez .
The Phightin' Phils can think happy thoughts because A-Rod is off to an abysmal start in his first Classic—hitless in eight at-bats with six strikeouts. That's brutal up, down, and sideways...and only part of the story because of the lineup he inhabits.
Yes, Rodriguez seemed to discover his bright light stroke in the AL Division and Championship Series. Yes, this was a major reason for the increasingly crowded New York Yankee bandwagon. Yes, his total absence would be a significant hurdle to overcome.
But remember, A-Rod is only one guy in a perpetually dangerous order.
The Yankees have little to worry about if Mark Teixeira's game-tying home run off Pedro Martinez heralds a return to form by the Other Free Agent. Big Tex had done essentially zip in the postseason until Thursday so his revival would flip the A-Rod/Teixeira paradigm that's been established in October, but it would make the Bombers no less potent than they've been thus far.
There's also the little matter of Alex Rodriguez being a supremely elite hitter.
Like him or not—and I don't really fall in either camp—the dude can mash. It seems a little unwise to announce anyone's figured him out on the basis of two games considering how torched the Pinstripes' third baseman has been and that one of the hat tricks was authored by Cliff Lee (who's been basically untouchable for everyone).
Regardless, to argue the Phillies have no worries simply because they have home-field advantage and an apparent stranglehold on one of nine perilous splinters belies common sense.
Which is the problem.
I understand Morosi is covering the Series for FOX with a Philly slant while Ken Rosenthal gets the honors for New York. I also understand the umbrella corporation is trying to inject as much drama into the World Series as possible for a variety of reasons and poking the hornet's nest in NYC usually achieves this goal.
But this is the WORLD SERIES.
Am I to believe the New York Yankee fans or Philadelphia Phillie fans or just baseball fans in general need to have smoke blown up their cabooses to get excited about it? I don't know about you, but the first two games have given me the distinct impression this baby is going to be close all the way down to the wire.
With the opening act in mind, look at the set-up—the defending champions against the most-storied franchise in the sport, the Classic tied at one game apiece, two ferocious offenses, two very good arsenals of starting pitching, two rickety bullpens, two of the best road teams in the Bigs, and two insane fan bases.
For all the marbles.
You're telling me we need artificial hype?
If you like baseball, fabricating intrigue is totally unnecessary (and a little insulting)—there's plenty of real intrigue to discuss without pretending one team is staring into the abyss after a single crushing defeat or that one flatlining player will dictate the outcome of the entire affair.
If you don't like baseball, these efforts to sell snakeoil won't matter one bit.
Not even with a New York Yankee label.
This article is
What is the duplicate article?
Why is this article offensive?
Where is this article plagiarized from?
Why is this article poorly edited?

New York Yankees: Like this team?