NBA Takes Donaghy Allegations Seriously: And If You Believe That...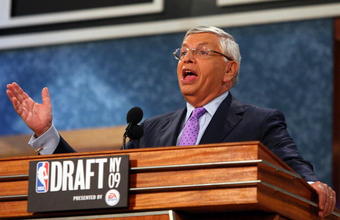 Jim McIsaac/Getty Images
According to an ESPN.com article posted Oct. 29, 2009, the NBA will review all of the allegations its former—and now "disgraced"—referee Tim Donaghy made in his yet-to-be-published book, Blowing the Whistle: The Culture of Fraud in the NBA.
Despite this supposed action the league will soon undertake, the NBA issued a statement regarding the entire situation surrounding Donaghy and his claims that the league, through its referees, routinely altered the outcome of key games and playoff series.
Whether one believes Donaghy or not, some of what the NBA claimed in this recent statement should be examined closer. Why? Because the league isn't telling the full truth itself.
For one, the league's statement read, "In 2008 Mr. Donaghy's allegations were thoroughly investigated by the FBI and the U.S. Attorney's Office. We are reassured that the U.S. Government completed its investigation finding that the only criminal conduct was that of Mr. Donaghy."
This is true, but there is a point the NBA doesn't bother to mention. If referees were intentionally altering games at the league's request, doing so is not a crime.
Donaghy's crime was accepting money from gamblers for inside information on NBA games. That is a crime, officially under the umbrella of "sports bribery." Donaghy was not arrested for fixing games, as if often misunderstood. His "objectiveness" was questioned with regards to his gambling associations, but the FBI did not pursue those potential charges against him. Had he done so, this too would've fallen under the sports bribery statue.
If the NBA had ordered its referees to fix games based on favoring certains teams or to up its television ratings as Donaghy has since claimed, this action would in no way be a crime. It is not illegal for the NBA to do this. It skirts the crime of sports bribery, but does not fall under its jurisdiction.
That is a key fact to remember. The FBI's investigation went no further than Donaghy because his revelations of the NBA ordering games to bend in certain ways wasn't a crime. As they say, "no harm, no foul." The NBA was free and clear.
Another point the NBA was quick to make in its statement was: "We take any question regarding the integrity of our game extremely seriously. At the time Mr. Donaghy's crimes came to light, we appointed Lawrence B. Pedowitz, a former Chief of the Criminal Division in the U.S. Attorney's office of the Southern District of New York to lead a comprehensive independent review of the NBA's officiating program. Mr. Pedowitz's review revealed that the NBA's core values of neutrality and accountability were not compromised by anyone other than Mr. Donaghy."
This is another half-truth. What Pedowitz revealed in his report was that every NBA official had in one way or another broken the referees' collective bargaining agreement with the league and engaged in some sort of gambling activity.
Every NBA ref had broken league rules and gambled. Some simply were involved in very minor gambling (like lotteries or NCAA pools), but others had done much worse. The problem was, Pedowitz had little authority in his investigations, and referees weren't under oath. Every referee, knowing what was at stake (his future in the NBA) when interviewed by Pedowitz, could've easily kept quiet on his worst offenses.
When Commissioner Stern and the NBA learned that every referee broke league rules by gambling, what was the result? Stern announced the league would change its rules and allow the referees to gambling because, he claimed, the rule was "too difficult" to enforce.
So instead of dismissing every ref, as should have been done according to the NBA's CBA with its officials, today's statement said, "the 59 NBA referees will continue to officiate games with the utmost integrity and the focus will remain on the 2009-2010 NBA Season."
Can anyone seriously believe that?
It is quite possible the NBA's referees are now even further under the league's thumb as a result of Pedowitz's findings. If that is the case, then fans better watch out because the NBA may be even more fixed than Donaghy has claimed.
This article is
What is the duplicate article?
Why is this article offensive?
Where is this article plagiarized from?
Why is this article poorly edited?