Is There a Solution to The Madness in Golden State?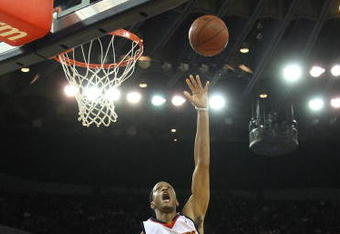 Jed Jacobsohn/Getty Images
Well many of you who have read about the warriors terrible offseason may be scratching your head, and there might actually be a logical solution.  WIN.  Look at the Denver Broncos, they had an even worse offseason by loosing their franchise quarterback, changing head coaches, and having their Pro-Bowl receiver want out.  Brandon Marshall wanted out and we all know that.  He complained like there is no tomorrow.  After they win the first 2 games, all of a sudden their problems cured themselves.  Now lets put this into retrospect: Stephen Jackson wants out and he follows the same steps as Marshall.  Complaining to the Media, not trying and being a negative influence on the young Golden State Warriors.  If the Warriors can get off to a quick start, watch out because I have a good feeling things will work out.  I mean the team is 10 times better than last year.  A healthy offseason-No moped injuries, which means a healthy Monta Ellis.  Monta can become one of the biggest playmakers and remember he is only 24 years old, and was named High School Player of the year in 2005.  Now the only loss we have this year is Brandon Wright.  I will choose Wright over Ellis any day.  Now we have the Promising Anthony Randolph, who looks like he could have a breakout season, and now since he is not a rookie Nellie will give him some playing time.  Plus we have the deadly Stephen Curry who had 14 pts, 7 assists, and 4 steals in his Rookie Debut.  Nba.com has Stephen Curry's efficiency rating at 20.00, Which is Phenomenal for anyone.  If curry can put up close to those numbers all season long the Warriors can easily go 41-41.  Remember this the Warriors lost 12 games last season by less than points.  That means if they would have won 41 games had they have won all of those plus had a healthy Monta Ellis the Entire season.  This actually might have been a blessing because now we have a legit point guard, and a healthy roster.  We also have Anthony Morrow + Anthony Randolph with more experience.  The warriors are a team not the be messed with, because nobody can keep up with Golden State at their best.  Look at the Celtics @ Golden State Game last year.  The Warriors beat the Celtics with only Stephen Jackson.  Few teams could keep up with the Celtics.  If you need more evidence look at the Cleveland Game:  The Warriors basically won that game, but because of LeBron James game winning shot as time expired the Cavs won.  There are very few teams who beat Boston and Cleveland.  As an honest opinion I think the Warriors could get that 8th place spot and make the playoffs
This article is
What is the duplicate article?
Why is this article offensive?
Where is this article plagiarized from?
Why is this article poorly edited?

Golden State Warriors: Like this team?