Atlanta Hawks-Washington Wizards: Key Matchups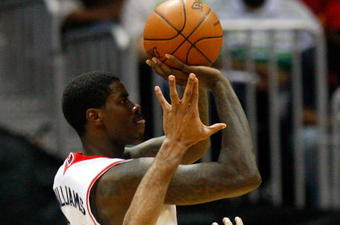 Kevin C. Cox/Getty Images
Tomorrow night, the Atlanta Hawks and the Washington Wizards square off in a big early season match up of two of the top three teams in the Southeast Division of the NBA's Eastern Conference.
Both teams are coming off impressive opening night wins. The Wizards traveled to Dallas and upended the Mavericks with a big fourth quarter. The Hawks found themselves trailing the upstart Pacers with about seven minutes left before ratcheting up the defensive intensity and winning easily.
The Hawks and Wizards are going to be fighting all year for the fourth seed in the Eastern Conference. Tomorrow night should be played with a ton of intensity by both teams. The Wizards are going to with a tight eight-man rotation, while the Hawks have more depth. Coach Woodson might have to shorten the bench to win this game.
This game will be decided by three key player matchups.
Marvin Williams vs. Caron Butler
Many Hawks' fans and some media talked in the summer about the Hawks dealing Marvin for Caron. They have very similar games. Butler is the more explosive scorer, but Williams is a much better defender and three-point shooter.
The good thing for Williams is the rest of the NBA has not discovered that he can make outside shots. If Butler helps too much on defense, Williams will burn the Wizards from long range.
Jamal Crawford vs. Gilbert Arenas
Yes, I know Mike Bibby will start at the point for the Hawks, but there is no way Coach Mike Woodson can allow Bibby to guard Arenas. Bibby will have to start on Mike Miller and hope that Miller is not aggressive on the offensive end.
Jamal Crawford is going to have to play major minutes tomorrow against Arenas. Crawford is long enough and quick enough to force Arenas into some tough shots. On the other end, Crawford will be able to score and penetrate against Arenas. Crawford had some quality assists on Wednesday against the Pacers.
The Hawks have to go with a bigger lineup to match up. If Crawford plays more minutes at point guard and can score enough to offset Arenas' production, the Hawks will be in great shape.
Josh Smith vs. Fabricio Oberto and Audray Blatche
Oberto will start for the Wizards, but Blatche is going to play more minutes. Josh Smith simply has to dominate Oberto with his quickness. Oberto will throw every defensive old-guy European/South American move at him, but J-Smoove has to attack the basket. Smith could go to the foul line 10-plus times in this game.
Blatche is a whole different story. It looks like Coach Flip Saunders is going to play Blatche and Brendan Haywood together. The twin towers unit will give the Hawks trouble if Smith is not active defensively. He is going to have to block Blatche out and keep him off the offensive glass.
To win this important early game, the Hawks have to win the rebounding battle and Josh Smith is going to be a major factor in that area. The Hawks' second unit has to play well and wear the Wizards down during the first three quarters.
And lastly, someone is going to have to take the challenge of guarding Arenas in crunch time. Joe Johnson figures to get that assignment, but Crawford can start earning some respect from Hawks' fans with solid performance on both ends of the court.
This article is
What is the duplicate article?
Why is this article offensive?
Where is this article plagiarized from?
Why is this article poorly edited?

Atlanta Hawks: Like this team?