Attention NFL Pundits… Parity Is Alive And Well In The NFL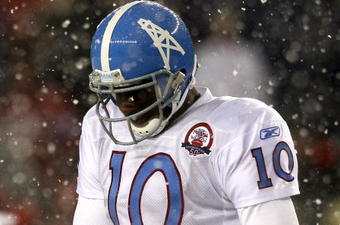 Jim Rogash/Getty Images
As I sat down watching Around The Horn today the winning columnist for the day stated that parity wasn't alive in the National Football League. His claim seemed backed by the fact that there were six blowouts during week seven contests and as a result Las Vegas saw their worst weekend in terms of revenue from football betting in years. In fact, they took a loss.
To this I honestly ask… "Who cares?!"
I'm not a betting man but the National Football League should be concerned about themselves and themselves only. If Las Vegas takes a hit every once in a while than I simply retort with "Big deal!"
I mean this is the same place that makes a living out of swindling people out of their money every weekend and I am supposed to care that they took a significant loss for once? I wonder if they felt bad for taking people's money in this downtrodden economy.
So there you have it; one of two arguments – both of which are very weak – as to why parity doesn't exist in the NFL this season according to national columnists, Vegas odd makers and pundits alike.
The second reason that these individuals believe that parity is lackadaisical or non-existent this season is because there are seven teams that are dead in the water in comparison to three that are undefeated.
Again, this is a very weak argument and if anything it supports the fact that there is parity in the NFL. In fact there is a high level of parity in the league this year. The seven aforementioned teams that are dead in the water are the Cleveland Browns, Tennessee Titans, Kansas City Chiefs, Washington Redskins, Detroit Lions, Tampa Bay Buccaneers and St. Louis Rams. Of those seven teams the Browns are two years removed from a 10-6 record. Additionally the Washington Redskins and Tampa Bay Buccaneers are one year removed from an 8-8 and 9-7 record respectively. Finally the Titans were the league's best regular season team during the 2008 season.
While the Browns and Buccaneers were expected to be rebuilding, if you paid attention solely to recent success than there is no way you would think that they would be bottom feeders. In short, the casual fan is surprised about how the Browns, Buccaneers, and Titans would all be bottom six teams. Now let's examine the opposite end of the spectrum.
The best teams in the NFL currently are the New Orleans Saints, Denver Broncos, Indianapolis Colts, New England Patriots, Cincinnati Bengals, Pittsburgh Steelers, New York Giants, Minnesota Vikings, and Arizona Cardinals in no particular order. Of those teams five were not post-season teams last year and four weren't expected to win their respective divisions. Not even the most die-hard fan felt that the Broncos and Bengals would be leading their respective divisions come the midway point of week eight, let alone a casual fan.
So let us review? Did you have the Broncos leading the AFC West while the Bengals lead the AFC North back in August? What about the New Orleans Saints looking like the best team in the league? On the opposite end of the spectrum did you have the Titans and Redskins as two of the worst – if not the worst – teams in the league back in August? If you say you did than I am humbly going to have to call you a liar.
Sorry pundits. Just because there are some bad – and I mean really bad – teams in the league this year that won't compete for a championship doesn't mean that parity is absent. It merely means that those teams have hit some horrible luck this season or in the case of the Lions, Raiders, Browns and Rams a strain of bad luck for a couple of seasons.
Despite the rash of undefeated teams in the league currently – a record three for after week seven – there is no clearcut favorite for the Super Bowl champion in my opinion. The Saints, Colts, Broncos, Steelers, Bengals, Falcons, Cowboys, Patriots, Giants, Cardinals, Eagles, Texans , Vikings, Packers, and even the 49ers, Jets, Jaguars, Ravens and Bears are all well and alive.
So allow me to end with this; Parity isn't the presence of a vastly differing spectrum but the absence of a clear cut favorite. We currently are enjoying the latter.
This article is
What is the duplicate article?
Why is this article offensive?
Where is this article plagiarized from?
Why is this article poorly edited?